Among all the different methods of removing blackheads, whiteheads and other types of blemishes available today, probably the safest and least problematic one is the old-fashioned manual skin makeover.
If you've been to such procedures before, you probably know that those can cost a whole bunch, especially if you need to perform them consistently. Luckily, there is a way around. Today we take a detailed look at BESTOPE blackhead and acne remover kit, which can help you do the same procedure at home, without overpaying.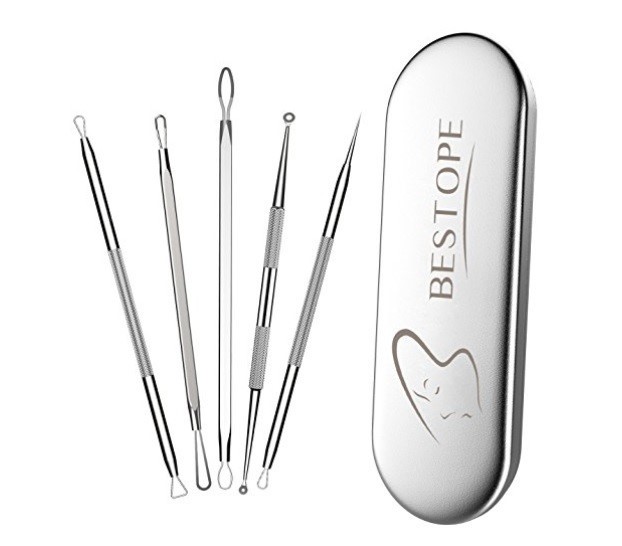 What it BESTOPE Blackhead Remover?
BESTOPE blackhead and pimple remover tool kit is a great, efficient, effective and safe way to remove blackheads, whiteheads and pimples at home, without the need to visit a professional clinic. The process may seem difficult at first glance, but when you understand all the steps and follow instructions precisely, you'll notice that there is nothing complicated.
The kit contains 5 tools in total and comes with diagrams that explain what every single instrument is designed to do and how to use it effectively, without causing damage to your skin. All the instruments are made of high quality stainless steel and the travel box is made of aluminum. The product is hypoallergenic, meaning that the instruments are electroplated and won't cause any allergic reactions regardless of your skin type.
The travel box is small enough to conveniently carry it anywhere you go, and the ergonomic design of the instruments fused with anti-slip grips, give you maximum control over every action you take. The tools are very solid and can't be bend during an extraction procedure, no matter how hard you squeeze (although, being gentle is very important).
Who Should Use BESTOPE Blackhead Remover?
The product is suitable for all skin types and tones, and doesn't leave scars if everything is done correctly. The kit can be effectively used to extract regular pimples, blackheads, whiteheads and even ingrown hair from any part of the face (including lips, ears and nose), back, chest, neck, shoulders, etc.
You can use the tools to extract pimples daily, however, it is inadvisable to try and remove styes – pimples on the inside or outside of the eyelid – with the help of the kit. All the instruments are very sharp and you may end up injuring your eyes. Try moist heat compresses or tea bags to make the pimples less painful and noticeable in that area, and seek professional assistance.
Trying to remove milia is also a bad idea. Milia are usually very thick (thanks to the keratin that forms them) and can't be popped easily. Seeking qualified cosmetologists or using some natural ingredients like coconut, castor or tea tree essential oil to treat milia is recommended. Here is great video showing how you can safely remove milia at home with the help of natural ingredients:
Cystic acne can be another concern. It's generally advised not to squeeze cysts since they may rupture inside the skin and leave a scar afterwards, while spreading to other parts of the skin. I'd advice to consult a dermatologist before going after cystic acne with any DIY tools and methods.
How to Use BESTOPE Blackhead Remover Kit?
The tools are fairly easy to use once you get the hang of it. The procedure doesn't hurt much if you're doing everything right.
Here are detailed instructions:
Make absolutely sure to sterilize the tools before and after each use with 70% isopropyl rubbing alcohol and antibacterial wipes.
Wash your face with warm water and antibacterial soap. Get a medium sized bowl and fill it with hot water. Hold your face over the steaming water and cover your head with a towel to conserve the heat and open up skin pores. Hold it for 5-7 minutes. Pat dry with paper towels, but leave the skin just a bit wet.
Pick an appropriate tool for the blemish you're about to treat, gently press down on one side of it and carefully glide the instrument in the opposite direction. You should feel the pressure of the blemish rising until it eventually pops. Adjust the angle of the tool and use the edge of the loop to ease out the blemish.
For blackheads specifically, you should place the remover's loop over the blackhead and apply gentle pressure until it comes out.
Cleanse the skin once more and apply revitalizing and nourishing products (face masks, toners, moisturizers, etc. depending on your skin type and individual chemistry) that you use in your skincare routine.
Here is a great video showcasing how to use those tools:
Make sure that the acne you're treating has matured. If it's still inflamed, feels stubborn and tight, and is painful to touch, avoid trying to extract it with any tool. This can make the acne worse.
Slight redness will almost always occur when using the blackhead remover since you'll need to apply pressure to the skin. The redness will disappear after a short while. However, if you're not careful and squeeze too hard for instance, you may leave pale marks and spots on the skin that, although revertible, will persist for several weeks and take a lot of scrubbing to get rid of.
In case you didn't sterilize the tools properly and your skin got infected, try using tea tree or lavender essential oil to ease the infected areas and inflammation.
How to Sterilize the Tools
Sterilizing your tool kit and keeping it safe from bacteria is always a priority. You should sterilize all the instruments before and after each procedure.
Here are detailed instructions:
Place the tools into a bowl of steaming hot water for a few minutes.
Take them out and sterilize with 70% isopropyl rubbing alcohol.
Use antibacterial wipes to clean the instruments occasionally while removing blackheads and pimples.
After the procedure is done, repeat steps 1 and 2, and place the tools back into the kit.
Remember that all the instruments are made of stainless steel so don't worry about getting them rusty – that won't happen.
Pros and Cons of BESTOPE Blackhead Remover Kit
Just like any other product, BESTOPE blackhead remover kit does have its pros and cons. Let's have a detailed look:
Pros:
Affordable price.
Made from high quality stainless steel
Fits all skin types and tones.
Can be used to remove most types of blemishes in almost any area of the body.
Cons:
Can't be used to treat milia.
Shouldn't be used to treat styes.
If you're not careful, you can end up leaving marks and scars on your skin.
Needs to be sterilized manually, before and after each use.
Customer Reviews of BESTOPE Blackhead Remover Kit
Customer reviews and reactions are generally positive, with most users reporting the kit to be and act exactly as advertised. A minor fraction of users seems to have problems with the instruments leaving marks and scars on the skin, and even shredding the skin in some cases (see below), however, that is most likely the result of careless behavior.
The product enjoys a solid 4 star user rating on Amazon, with over 2700 reviews to support it.
Here are some of the most impactful reviews: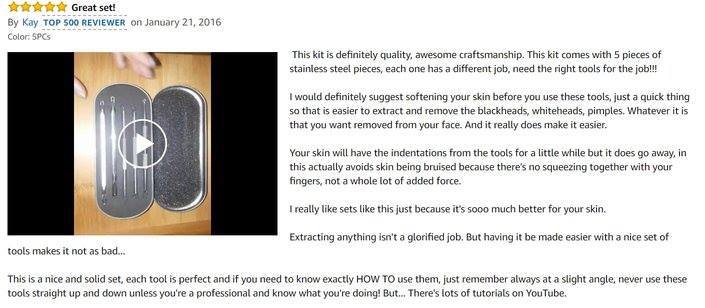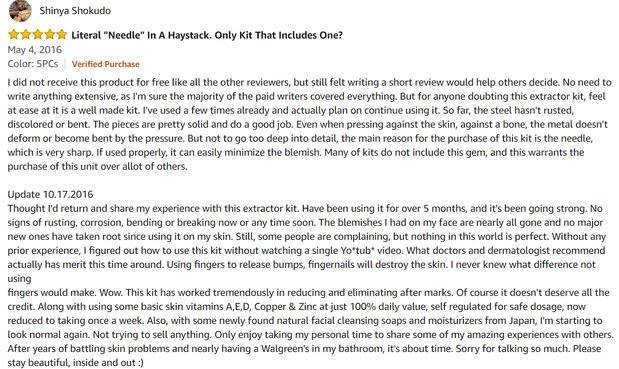 Where to Buy BESTOPE Blackhead Remover Kit
You can purchase BESTOPE acne and blackhead remover kit on Amazon, which is frequently getting discounted, making it even a better bargain for products in similar categories.
Questions to Consider Before Buying the Product
Does it work for all skin types and tones? – Yes. The tools work equally well for all skin types and tones. The only difference are the skincare products that you need to apply after each procedure based on your skin type.
What material are the tools made of? – All the tools are made of high quality stainless steel.
Can it be used to treat stye or milia? – It is highly inadvisable to try and treat styes by yourself, you'd better consult a professional. Milia is very thick thanks to the keratin and can't be easily popped by these instruments.
Does it remove whiteheads, blackheads, acne? – Yes, it works for almost all kinds of blemishes that have matured. The only ones you should look out for are cysts since those can rupture inside the skin and result in acne scars if you're not careful.
Does it leave scars or marks? – Not if you are careful and gentle with your skin.
Does it come with detailed user instructions? – The kit comes with a few small diagrams showcasing how each tool should be used, but it may not be enough for beginners. Watch a couple of tutorial videos on YouTube (linked above) to get a better understanding the procedure.
Alternatives to BESTOPE Blackhead Remover Kit
In case you can't get your hands on BESTOPE blackhead remover kit for some reason, here are two great alternatives to consider:
1. JPNK Blackhead Remover Tools Kits (6 Pcs)
JPNK blackhead remover kit works similar to BESTOPE and offers six instruments designed to extract blackheads and acne from your skin.
The tools are made of stainless steel and arrive in a comfortable, easy to carry, leather package. The usage instructions are the same as with BESTOPE, which is the standard for such cosmetic kits.
The product itself enjoys a 4 star user rating on Amazon, with close to 1300 reviewers sharing their experiences (mostly positive) with everyone else.
2. Chimocee Professional Surgical Blackhead Remover Tools
Another similar product in the category is presented to you by Chimocee, a professional make-up shop focused on delivering outstanding results in skin and acne treatment.
The tools are made of 100% surgical steel and work similar to the other two products. The usage instructions, before and aftercare are similar as well. The product enjoys a 4.5 star user rating on Amazon, with over 300 reviews to support it.
Final Opinion
Overall, BESTOPE blackhead remover kit a very good choice for people who don't want to waste loads of money on cosmetic procedures that can be easily, and rather safely, done at home. The tools are made of high quality materials and will serve for a long time if you're careful with them.
The kit may be difficult to use for beginners, but if you do your homework and follow user instructions correctly, there is almost no chance to harm yourself. Moreover, you should always remember that when you're unsure about a procedure, it's better to leave things as they are and research further or consult a professional to avoid any damage to your own skin.
Have you used BESTOPE blackhead remover kit before? What results did you achieve? Was it easy to perform the procedures yourself? What did you struggle with most? Share your thoughts and experiences with all of us in the comments!