Acne is a painfully common problem for many of us, and we strive to deal with it as fast as we can. In fact, the struggle is so real that we are prepared to try anything that has a chance to help us get rid of acne.
Today, we will take a detailed look at one of the proven and tested product lines on the skincare market – Lerosett – and understand whether it can help you clear your face for good.
How Lerosett Organic Acne Treatment Mask Works
Lerosett organic acne treatment product line is developed by the Swedish skincare company Gunilla of Sweden, which specializes in manufacturing acne-combating products since 1987.
Over the last 30 years, the company has continuously improved the formula of Lerosett products, aiming to creating one of the best, 100% organic, non-medicated (or at least naturally medicated) acne clearing agents on the market. Lerosett is trusted by thousands of physicians, and it has been tested and approved by dermatologists.
While Lerosett offers a number of acne-combating products including cleansers, moisturizers, healing serums, toners, supplements, etc., today we will focus on of their most iconic, award-winning products – Lerosett organic acne treatment clay (also known as face mask or spot treatment).
The two main differences between Lerosett and other skincare brands are connected with the main exfoliators and the exfoliation mechanism itself. The skincare products offered by the majority of other brands generally contain at least one of the two most common acne-fighting ingredients – salicylic acid or benzoyl peroxide. Also, they all work technically the same way – you take a pea-sized amount of the product, apply it to the affected areas, massage gently for a few minutes and rinse off.
Lerosett takes an alternate route. They have removed the chemical ingredients (benzoyl peroxide and salicylic acid) and have derived a unique form of clay called Rasul, which works by absorbing pimples, blemishes, excess oil, dead skin cells, toxins and other impurities from the skin, much like acne patches.
There is also a bit of physics involved. The ingredients of the Rasul clay come from a deposit which contains vast amounts of minerals like zinc, which is known for its antibacterial properties especially in high doses, and has a naturally strong ionic charge. Zinc also speeds up healing, minimizes oil production and reduces redness and swelling. The ionic charge attracts positively charged impurities, leaving negatively charged cells and nutrients untouched.
As a result, Lerosett face mask shrinks pores, removes excess oil, help prevent future breakouts, increases skin elasticity, improves texture and makes the skin stronger and more resilient. The product also helps extract any ingrown hair that's causing a lot of trouble for acne-prone skin types. Finally, the brand includes Aloe Vera in every product's formula, which is a highly effective acne-combatant.
Who Should Use Lerosett Acne Treatment Mask?
The product can be used by all skin types, but it's especially effective for oily and combo skin. Lerosett has been numerously reported to clean not only mild, but also moderate to severe breakouts when used consistently. It is highly recommended when trying to combat, reduce (and even prevent) acne scars.
When an inflamed cysts ruptures inside the skin, applying the clay mask helps enhance healing and regeneration of cells, while extracting all the impurities that are left inside after the rupture, dramatically decreasing the chances of scarring. However, keep in mind that Lerosett doesn't work on old scars. To treat those, you may want to try laser treatments or derma rollers.
Regardless of skin type, Lerosett face mask is recommended to people who have tried benzoyl peroxide and salicylic acid containing products, yet their skin didn't respond to the treatment (or got worse). It is also a good choice if you're allergic to chemical ingredients or have very sensitive skin that can't tolerate harsh ingredients.
Pros and Cons of Lerosett Acne Treatment Face Mask
Here are the pros and cons for Lerosett acne treatment clay.
PROS:
All-natural ingredients and formula.
A different exfoliation mechanism compared to other acne clearing products on the market.
Effective for oily skin.
Can prevent scarring.
Works against mild, moderate and severe breakouts.
Very low chance of allergic reactions and side effects.
CONS:
May cause excessive dryness if you have dry or sensitive skin.
Can be difficult to purchase during winter. The clay gets damaged at low temperatures so the company stops shipments during those times.
How to Use Lerosett Acne Treatment Face Mask
Lerosett face mask is easy to use. Here are detailed directions:
Cleanse your face with an agent that fits your skin type. Pat dry.
Apply the product to the whole face (or just affected areas) in a thin layer. Let it dry for 15-20 minutes. You should be able to feel how the impurities are being extracted from your skin.
Rinse with warm water.
Apply makeup and sunscreen as needed.
Repeat twice daily, until the skin is fully healed.
Continue applying once or twice a week after the breakouts are gone to maximize the effect and make it long lasting.
As a spot treatment, apply a tiny amount of the clay to blemishes three to four times a day. Repeat until the blemish is gone.
What Results You Can Expect After Some Time of Use
As with most natural skincare products, the results aren't going to be very quick. Although the company claims that the pimples will heal up to 5 times faster, most users report that it takes a while to get the ball rolling.
Also, depending on the severity of your case, your skin may look worse during the first few sessions, before it gets better. This is primarily caused by the clay bringing out all the impurities from the depths of the skin and as they get closer to the surface, they may get much more noticeable and red.
Customer Reviews of Lerosett Acne Treatment Face Mask
Customer reviews of Lerosett clay mask are generally positive. The product enjoys a solid 4 star review on Amazon, with over 200 users sharing their experience. Some negative reviewers have reported that, when ordering the product online, they have received outdated products and there have been multiple shipment errors.
Also, it's important to note that, other than not being able to clear their face and/or occasional cases of drying, there have been no side-effects reported. This means that the product is safe to use, doesn't cause allergies and you will not be risking anything (other than money) if you decide to give it a try.
Here are some of the most impactful reviews: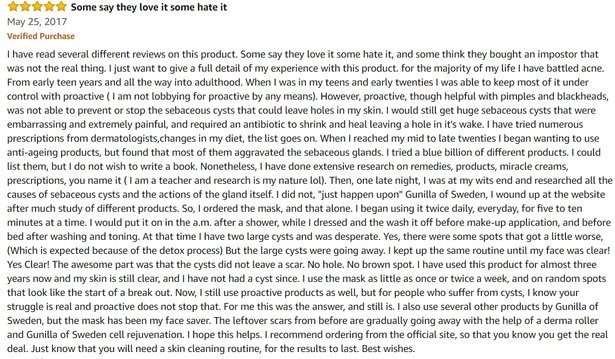 Where to Buy Lerosett Acne Treatment Face Mask
You can purchase Lerosett face mask on Amazon.
Also, make sure you're not buying skincare products from sellers you don't know or trust, especially if they offer a much lower price. Defective and/or counterfeit products are very common nowadays and saving a couple of dollars today may lead to some nasty consequences tomorrow. You don't want that.
Questions to Consider Before Buying the Product
Is it suitable for my skin type? – The product can be used by all skin types including sensitive, but it works best for oily and combo skin.
Can I wear it under makeup? – Yes. The product can be safely worn under makeup.
Can I use it in combination with other products? – Yes, the product is very friendly towards other skincare agents. However, it is highly inadvisable to use different products at the same time, so try to avoid that if possible.
Any allergies or side effects to worry about? – No, the product doesn't cause any side effects or allergies and is completely safe to use.
How long will it last me? – The container is fairly small – only 70 grams. With consistent use, it should last around two, maybe three weeks.
Alternatives to Lerosett Acne Treatment Face Mask
In case you can't get your hands on Lerosett clay mask for some reason, here is a great alternative to consider:
Eau Thermale Avène Skin Recovery Cream
Another great all-natural product produced by the French Avène skincare brand. Powered by Avène thermal spring waters that are unique to Cevennes Mountains in France, the product works great when fighting mild to moderate acne breakouts, even if you have highly sensitive or dry skin. The product is also hypoallergenic, 100% sterile, fragrance, colorants and chemical free.  You can read the full review of Avène recovery cream here.
In terms of customer reviews, the product enjoys a solid 4.5 star user rating on Amazon, with over 300 users sharing their experience with the product.
Key features
all-natural product
hypoallergenic
Final Thoughts
Lerosett face mask is a great choice for people who are sensitive to chemicals and/or have tried products containing salicylic acid and/or benzoyl peroxide before, yet to no success. The product is safe to use and doesn't cause allergies or side effects, meaning that even if it doesn't help clear your breakouts, at least you can be sure that it will not make matters worse.
The downsides are related to the high price, shipping issues and many defective products that have been reported by users. There is also the fact that the product isn't being shipped during winter, making it more difficult to obtain it regularly. If you can find a way to get the real thing from the official seller though, it is definitely worth a try.
Have you tried Lerosett face mask before? What results did you achieve? How long did it take you to notice those results? Did it clear your acne as expected? Share your experience with everyone in the comments!