We all hear about those magical treatments: "Revolutionary skin care system that treats acne, prevents new breakouts and returns the skin to its natural, healthy balance!", "results within in days", "Money back guarantee" and all this while having thousands of 5-star ratings!
Well, I found that the product line of Exposed Skin Care is one of those. In this article, I will thoroughly investigate if it can live up to its reputation.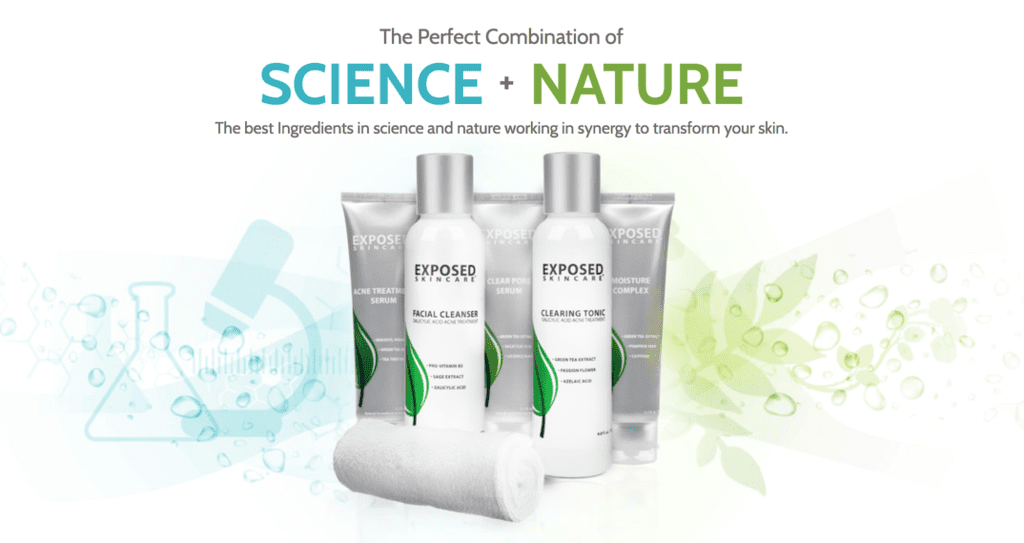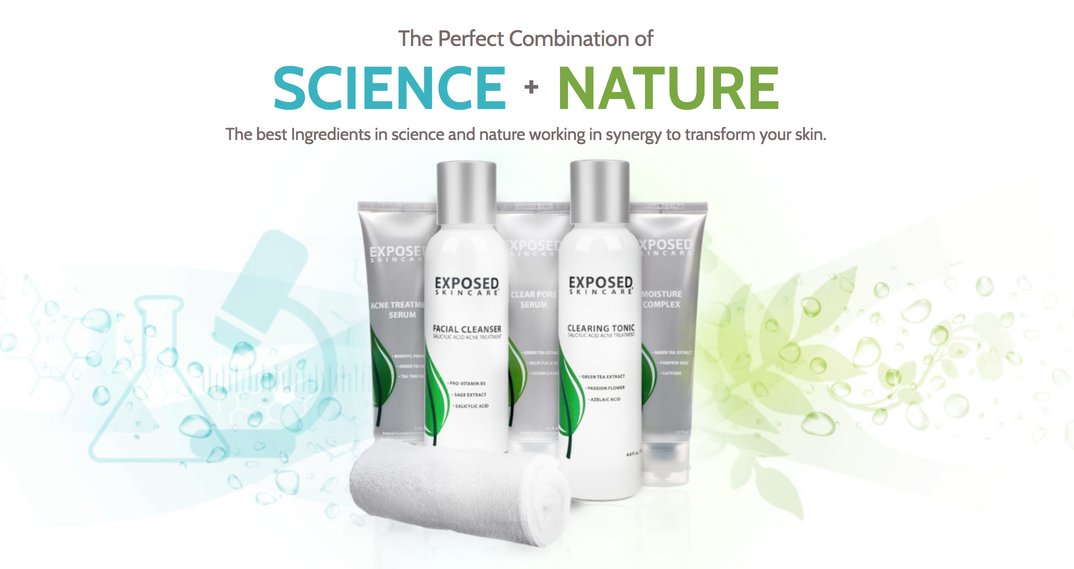 What is Exposed Skincare?
Exposed skin care for acne is a holistic product line that combines Scientific Actives and Natural Extracts to fight, clear and prevent acne while improving skin tone and appearance. You can buy their products separate or in 3 different kits the Basic (5 parts), Extended (6 parts) and Ultimate (9parts).
Exposed Skin Care ingredients
Exposed skincare claims to have found the perfect balance between science and nature – sounds nice, but why is that?
The Scientific Active Ingredients
These Ingredients have proven themselves in various acne fighting treatments throughout many years. Dermatologists and other specialists agree on their effectiveness, and thus it is no magic that Exposed Skin Care uses them but very rational.
Benzoyl Peroxide fights acne by
killing acne bacteria P.acnes
reducing excess sebum production
Glycolic Acid fights acne by
unclogging pores
breaking down dead skin cells
regenerating kin by exposing younger skin layers
helping to rebuilt collagen
Azelaic Acid fights acne by
preventing acne bacteria growth
reducing inflammation
Salicylic Acid fights acne by
unclogging pores
removing dead skin and dirt
shrinking pores and preventing from clogging
Sulfur fights acne by
absorbing excess oil
unclog ging pores
WARNING: can lead to dryness for sensitive skin
Pros of the active ingredients:
All of the ingredients are scientifically proven to have a positive influence on acne
One thing that I specifically liked is, that the exposed skincare team limited the concentration of active ingredients to the amount that has proven effective and thus, minimizes the risk of potential side effects (e.g. Benzoyl Peroxide is limited to a concentration of 2.5 % as higher amounts do not increase effectiveness)
Cons of the active ingredients:
Some of the ingredients seem redundant and it is not clear whether it is really necessary to use all of them at the same time. The combination can be harder on the skin as it is actually necessary. Only scientific experiments can prove the effectiveness of the combination (e.g. Salicylic Acid and Glycolic Acid both break up dead skin, unclog pores and prevent them from clogging again)
The Natural Ingredients
While a natural treatment alone also has a positive effect on acne it is their nourishing, healing and moisturizing power that makes them really interesting in synergy with the active ingredients.
For me the real winners in this section are:
Green tea extract – the antioxidant power horse
studies have shown that it fights all 3 causes of acne: bacteria, inflammation and hormones
can reduce sebum production by up to 70 %
rich in antioxidants which protect the skin and prevent bacteria growth
Aleo Vera – not hyped without reason, it has proven its effectiveness for hundreds of years
counters the drying characteristics of the active ingredients
speeds up healing
reduces inflammation
Tea Tree Oil – also a natural remedy for more than over 100 years
Antifungal, antibacterial and antimicrobial properties
Can be harsh in higher concentration
Reduces redness and irritation of the skin
fights acne scars
Other natural ingredients:
Passion Flower extract – originating from Peru where the indigenous people used it as a natural remedy against a whole range of problems including insomnia, anxiety but also for skin related issues. It's said to:
Calms redness
reduces irritation
anti-inflammatory
Licorice Root Extract
Calming
Scar lightening
Anti-inflammatory
Reduced redness
Sage Extract – natural treatment with scientifically proven antioxidant and anti-inflammatory effects
Powerful antioxidant (protects skin from free-radical damage)
Prevent dryness
Anti-inflammatory
Comment
Overall, exposed skincare has managed to find natural extracts that are proven as natural remedies for hundreds of years. The combination of antibacterial, anti-inflammatory and antioxidant properties but also their healing and nutritional powers seem to be a good answer to cope with the sometimes harsh impacts of the Active ingredients. Its makes Exposed Skin Care a comparably strong treatment with fewer side effects.
The only caveat is, that from other treatments we know that sometimes less is more. Some of the natural ingredients have redundant or very similar effects and it is not clear of either one of them alone might work better. Experience and continuous testing will tell.
A very big plus for me is, that exposed skincare actually takes over responsibility for our environment and drives a sustainable business approach, especially for the ingredients. They promise that all ingredients are:
Paraben/Sulfate-Free
Gentle, Non-Toxic
Pure Natural Extracts
Highest Quality Ingredients
No Animal Testing
How Exposed Skin Care works
Exposed Skin Care claims to be the first full spectrum system to clear and prevent acne. The natural and medically active ingredients work in symbiosis to fight and prevent acne bacteria, provide the skin with the necessary nutrients and support faster healing while supplying the skin with supporting nutrients.
It attacks acne on the full spectrum of causes and symptoms:
Unclog Pores
Kill and prevent acne-causing bacteria
Normalize sebum production
Aid healing
Reduce redness and inflammation
Prevent dryness (not the basic kit!)
The following two pictures illustrate the way the ingredients work:
What the Exposed Skin Care Treatment does. Compared to competing Product
The most important question for all is whether the Exposed Skin Care Treatment can really live up to its good reputation. To find out I dug deep into web and evaluated the bottom line of customer reviews, product tests, and expert opinion.
Exposed Skin Care Reviews
To start off with some numbers, because that's where a lot of the truth hides: 81 % of Amazon reviews are in the 4 to 5 Star and roughly 14 % in the 1 to 2 stars. Going a bit deeper into those numbers don't back up the claim that 96 % of customers saw improvements. However, if 81 % of the people actually see improvements that's about 50 to 80 % more than with similar treatment kits like ProActive or Zenmed. For illustration, on the effectiveness of Proactive around 55 % of customers agree.
Additionally, some of the negative reviews are biased, because (this might as well be true for competitive products):
reviews are Product unrelated (The service on Amazon doesn't have the same quality as ordering on the website)
Some complaints about dryness are due to over usage or the lack of the moisturizer (it's not included in the Basic Kit)
Customer Reviews 




Product Test – Before & After
Résumé – The Bottom Line
All in all, the evidence that the exposed skin care system is effective against acne outweighs the negative feedback by at least factor 6. In total, there are more than 250.000 satisfied customers. The price combined with a large potential for a successful treatment more than justifies to find out if Exposed Skin Care works for you!
It works outstandingly well for people with light to medium+ outbreaks and often manages to get rid of acne completely while improving the appearance and health of the skin. The natural ingredients help to quickly heal irritated skin and restore its natural strength!
For people with strong outbreaks and sensitive skin, the bottom line is that one has to be especially careful about the active ingredients that prone the skin to become dry – start slow and improve from there. Some people tended to use the kit without a moisturizer as it's not included in the basic package – that's a very bad idea, especially if your skin tends to be dry. Either use your own favorite moisturizer or go for the expanded kit which really isn't that much of a price difference. Never overdo it and follow the instructions to have the best outcomes.
Wait for the next section before you go and shop – I will evaluate which Kit makes the most sense for you!
The Exposed Skin Care Product Line
The Exposed Skin Care Product Line consists of 3 different product kits. The Basic, the Expanded and the Ultimate. They differ in price and composition of products.
Product Description
The Basic Kit includes 5 products that are designed to tackle your acne and get it under control within 30 days. The holistic approach is for cleaning the skin, killing and preventing bacteria, treat outbreaks and restore the natural health of the skin.
Products included
Facial Cleanser
4 fl. oz.
Clearing Tonic 4 fl. oz.
Acne Treatment Serum 1.7 fl. oz.
Clear Pore Serum 1.7 fl. oz.
Free Derm-X Cloth
Effects on Acne
kills acne-causing bacteria
unclogs pores and controls excess oils
soothes inflammation and reduces redness
formulated for all ages and skin types
...don't forget to enter one of our coupon codes. You find them under Tips for buying.
Comments
As the name is already saying, it's the most basic kit exposed skincare has to offer. Designed to last for 60 days, it offers an attractive price but one thing that's missing for a successful treatment is the moisturizer. In my opinion, you shouldn't be allowed to call an acne treatment set basic if the moisturizer is missing – preventing acne prone skin from becoming dry is a basic need!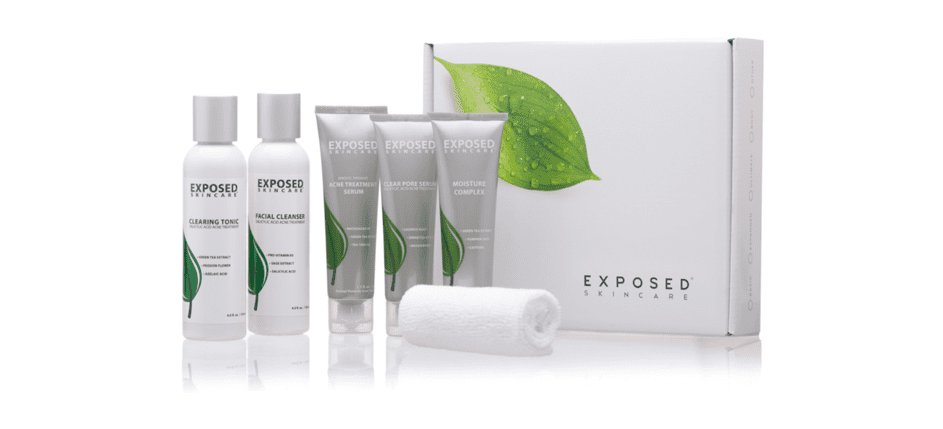 Product Description
Adding one product, this 6 product Kit adds an essential part to the Basic Kit – the moisturizer! The holistic approach is again for cleaning the skin, killing and preventing bacteria, treating outbreaks and restoring the natural health of the skin while preventing dryness. The moisturizer also adds some additional antioxidant and healing properties due to adding Green Tea and Vitamin E. Said to be the most popular kit, its also supposed to show results in 30 days.
Products included (highlighted products are added to the previous kit)
Facial Cleanser
4 fl. oz.
Clearing Tonic 4 fl. oz.
Acne Treatment Serum 1.7 fl. oz.
Clear Pore Serum 1.7 fl. oz.
Moisture Complex 1.7 fl. oz.
Free Derm-X Cloth
Effects on Acne
kills acne-causing bacteria
unclogs pores and controls excess oils
soothes inflammation and reduces redness
moisturizes and rebalances skin
formulated for all ages and skin types
...don't forget to enter one of our coupon codes. You find them under Tips for buying.
Comment
Here, expanded simple means an added Moisturizer. It comes at an extra cost of 10 $ which is reasonable for a high-quality product. One could argue about the names – Basic and Expanded kit – as they are probably only about pricing strategy. However, this Kit combines all necessary products that are needed for a holistic acne treatment.
Product Description
With 9 products in total, this kit really is the Ultimate Acne Fighting Composition. Adding a Scrub, Clarifying Mask and an orally taken Probiotic Complex it not only is a beauty and wellness experience, but it also fights acne from the inside out. A common cause of acne that is often totally neglected!
Products included (highlighted products are added to the previous kit)
Facial Cleanser 4 fl. oz.
Clearing Tonic 4 fl. oz.
Acne Treatment Serum 1.7 fl. oz.
Clear Pore Serum 1.7 fl. oz.
Moisture Complex 1.7 fl. oz.
Microderm Scrub 1.7 fl. oz.
Clarifying Mask 1.7 fl. oz.
Probiotic Complex 60 capsules
Free Derm-X Cloth
Effects on Acne
kills acne-causing bacteria
unclogs pores and controls excess oils
soothes inflammation and reduces redness
moisturizes and rebalances skin
removes impurities and dry, flaky skin
formulated for all ages and skin types
...don't forget to enter one of our coupon codes. You find them under Tips for buying.
Comments
One can argue if the additional products are really necessary for a successful treatment. For e.g. a balanced nutrition that is focused to fight acne will make the probiotic complex redundant. However, Exposed Skin Care managed to design some high-quality products, that can extend your acne treatment:
Clarifying Mask –  get oily skin under control, detoxifies and gives a feeling of freshness and cleanliness
Microderm Scrub – mild, exfoliates, cleans dead skin cells and rejuvenates the skin, prevents dryness and speeds up healing with aloe vera
Probiotic Complex – tackles acne from the inside out and helps the body by improving the digestion and supporting the skin with all the minerals and vitamins needed to detox, recover and become healthy. The composition is very well thought through and meets experts opinion.
Résumé
With the scrub and mask Exposed Skin Care added two high-quality products that add absolute proven classics to the acne treatment (bentonite, charcoal, and sulfur) which help to:
get oily skin under control
detoxification
exfoliation
rejuvenation
Another highlight is the probiotic capsules that add a very important dimension to the acne treatment. I'm not a huge fan of supplements, because you can achieve better results with the right diet, but they are a good starting point to supply the body with what it needs.
For people who love scrubs and masks, this kit might be the go! The price of 94.95 is pretty harsh but if you divide it by the number of products it equals up to 10.50 $ per Product which I believe is fairly reasonable. It will also be hard to achieve this if you look for separate product alternatives.
WARNING: If you have irritated or dry skin, you should be very careful with the mask and scrub. Sulfur gets rid off oily skin but also leads to dryness and the face scrub can worsen the irritation.
Given that there are so many users of exposed skin care it would be impossible to not meet any side effects. Some are related to individual allergic reactions – you should always check the ingredients and double check with your doc – and others are more interesting for the average user:
Dryness (to prevent: start slow, use a moisturizer, avoid the sulfur mask if you are prone to dry skin)
Skin tingling and itchiness
Redness
If any of the side-effects occur over a longer period of time (e.g. 3 days) stop the treatment and ask your dermatologist for advice.
How to use Expose Skin Care Products
There is no need to recapture that. On their YouTube channel, they have a professional and detailed video on how to use Exposed Skin Care products.
Tips for using
To maximize the probability of a successful treatment and minimize potential side-effects
Scanning through the reviews and customer experiences there are some important things that you should always keep in mind when using the exposed skin care product line or likewise any other products. Sticking to them will increase the likelihood of a successful treatment.
Always listen to your skin, if you associate dryness or irritation with a certain product stop using it and see if the dryness disappears – better start slow and build from there!
Don't overuse the products in quantity or frequency and stick to the recommendations
Continuity will lead to success! I can't highlight this one enough, your body needs continuous treatment to heal and fight acne
People with dryness-prone skin should be especially careful with the mask that contains sulfur and products that contain benzoyl peroxide (Serums). Start slow and let your skin get used to it, otherwise, you might end up being frustrated
Don't forget a moisturizer
Tips for Buying
There are a few things to mention that will give you the minimum price and the maximum service quality.
Where to buy
avoid buying the products at Amazon: there's no 1-year guarantee for first-time customers
service quality is said to be low at Amazon
buy on the original website
Coupons for Exposed Skin Care
Every now and then there are some coupon codes on offer, that will give you a little discount or free shipping. I will do my best to keep them updated. Just copy the code, go to the original website and enter it at the end of your order!
Code: VACATIONFREE for free shipping
Code: aoc5off for 5% off on any offer
Unfortunately, the Exposed Skin Care Product line is no magic in the sense that it will cure everyone's acne. For about 20 % of the customer is done yield significant results. Don't worry there is a big chance that something else will work for you. It could very well be that it was only one of the ingredients that your skin didn't like and which interfered with the whole treatment.
Here are some alternative acne treatments that we evaluated thoroughly
And there's a lot more you can do to fight and prevent your acne. It's not all about products and treatments but also about how you set up your daily routine: here you can find 10 daily practices that will help to prevent your acne!
Final Thoughts
Millions of people around the world have to fight against acne and acne scars. They have to struggle day in and day out, to achieve what for others is so normal – clean and healthy skin.
The evidence throughout the web that Exposed skincare is an effective ally in this fight is quite astonishing.
Scanning through reviews, product tests, and expert reviews I found that at least 80 % agree on its effectiveness. So indeed, Exposed Skincare seems to have found the optimal balance between powerful active ingredients and natural extracts.
Now it is up to you whether you want to find out to which of the two groups you belong – the odds for success are pretty good!
Some summarizing facts:
at least 80 % of customers see an improvement
Great combination of Scientific Actives and Natural Extracts
outstandingly effective for light to medium+ strong outbreaks
Experts and customers highly agree on its effectiveness
inside-out approach with probiotic complex
loaded with antioxidants that protect the skin
Have you ever tries Exposed Skin Care? What other methods of dealing with acne have you tried? What were the most successful ones? Share your story with us in the comments below!