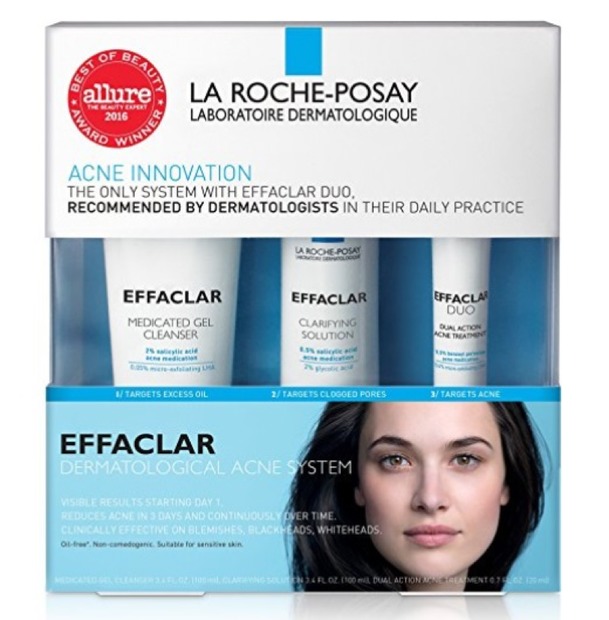 Dealing with acne on a regular basis is a pain that only people suffering from it will understand. Fortunately for us, modern skincare brands are going out of their way to create products that not only help deal with acne, but also prevent future breakouts and make the skin appear considerably smoother and sometimes, even younger than it actually is.
Today, we will be taking a detailed look at La Roche-Posay Effaclar Dermatological Acne Treatment System, understand the exfoliative mechanism, who should use it, what previous customers have to tell about it and whether it's worth a shot.
La Roche-Posay Effaclar Exfoliative Mechanism
The French beauty lab, La Roche-Posay, is one of the leading skincare brands in Europe. For the past two years, the company has been ranked #1 by leading skincare and beauty magazines like Allure (2015, 2016 Allure Best of Beauty Award) and TotalBeauty (Best Acne Treatment Winner 2015). La Roche-Posay is recommended by 25.000 dermatologists worldwide.
The Thermal Spring Waters found in the small town of La Roche-Posay make the core of the brand and are used in every product since 1975. Those Thermal Waters are rich in Selenium, which is a unique, scientifically proven antioxidant that helps sooth and calm the skin. The company is highly focused on the hypoallergenic side of their product line, as well as taking extra measures to suit sensitive skin.
La Roche-Posay Effaclar Dermatological Acne Treatment System ($29.99) consists of three products – Medicated Gel Cleanser, 100ml (1), Clarifying Solution, 100ml (2) and Dual Action Acne Spot Treatment, 20 ml (3). Here is what the exfoliative mechanism looks like:
The cleanser utilizes lipohydroxy acid to provide a gentle, cell by cell removal of excess oil, dust, dirt and other debris from skin cells. 2% salicylic acid combats acne breakouts.
The active ingredient in the toner, glycolic acid, penetrates deep into the skin pores and unclogs them, while perfecting skin texture. 0.5% salicylic acid helps remove any leftover, mild imperfections.
5.5% micronized benzoyl peroxide serves as the main exfoliator in the dual action treatment gel, which penetrates deep into the skin and combats acne causing bacteria and blemishes. Lastly, micro-exfoliating lipohydroxy acid performs precise, cell by cell exfoliation and further smooths skin texture.
The kit is recommended for the treatment of acne, blemishes, blackheads and whiteheads.
What Skin Types Does La Roche-Posay Effaclar Suit Best
The kit is made to suit all skin types (including sensitive skin), is hypoallergenic and has been clinically tested on 30 people (15-40 years of age). While some customer reviews have reported the kit to be ineffective for their specific case, there have been no reports of severe allergic reactions, dryness, itchiness or burning, which is a good sign for any skincare product.
Pros and Cons of La Roche-Posay Effaclar Acne Treatment System
No matter how good a product might appear to be, it will always carry a few negatives that we have to weigh against the positives. Here are the pros and cons of La Roche-Posay Effaclar Dermatological Acne Treatment System:.
Pros:
Manufactured by a highly reputable skincare company.
Contains strong active ingredients, clinically proven to be effective against acne.
Suitable for all skin types (including sensitive skin).
Customers have reported the kit to be highly effective against hormonal acne.
No severe cases of allergies, dryness or itchiness have been reported.
Cons:
Due to the aggressiveness of the ingredients, some users may find the kit unfitting to their skin (especially sensitive and oily types).
Some users have reported problems with consistency – the product doesn't work well after multiple implications, which is explained by the skin getting resistant to benzoyl peroxide (see customer reviews).
You will need to use a moisturizer along with it.
How to Use La Roche-Posay Effaclar Dermatological Acne Treatment System
Each product needs to be used exactly according to the usage terms to keep clear of any problems and achieve the best results, particularly when it comes to skincare. Here is how you should use La roche posay Effaclar acne treatment kit:
Wash your face with hot water and soap to open up skin pores. Dry it afterwards with soft padding motions.
Spread the cleanser evenly on your face and use your fingertips to gently massage the whole area in circular motions. Rinse thoroughly afterwards. Perform twice a day.
After cleansing, apply the toner on the dry face using a soft, cotton ball. DO NOT rinse afterwards. Repeat twice a day.
Apply a thin layer of the dual acne spot treatment to affected areas. Repeat up to three times a day depending on your skin type. If it dries your skin too much, repeat twice or once a day.
What Results You Can Expect After Some Time of Use
Like with any benzoyl peroxide containing products, positive results will be visible rather fast. You should start noticing improvements on day 2 or 3, and expect an over 60% reduction of acne after 10 days of consistent use. Some customers have reported cases of the product clearing their skin in under 5 days.
Customer Reviews of La Roche-Posay Effaclar Dermatological Acne Treatment System
It's important to remember that each person's skin is unique and doesn't respond the same to all kinds of treatment. Also, benzoyl peroxide containing products can make the skin worse for the first 1-2 weeks, before you start noticing any positive results. This is caused by the aggressive exfoliative ingredients that go deep into the skin to rid it of debris, oil, dead cells and bacteria. Don't be hasty to determine that the product is having a negative effect on your skin in case this happens. Be patient for the first 10 days at least.
In case of La Roche-Posay, their reputation seems to live up to it. Customer reviews are solid (the product enjoys a 4 star user rating on Amazon, with over 350 reviews), and while some users claimed that the kit was of little help in treating their acne, no severe cases of allergies or other side effects have been reported.
Where to Buy La Roche-Posay Effaclar Dermatological Acne Treatment System
You can purchase the kit on Amazon or the La Roche-Posay official website. There are no coupons or discounts available at the moment, however the product is fairly price – $29.99 for the whole trio – which, when compared to similar products of other brands, makes it really worth a try.
Be wary of defective and counterfeit products!
Only buy skincare products from sellers you know and trust, even if others offer a much cheaper price. The risk of ending up with nasty side effects isn't worth the discount.
Questions to Consider Before Buying the Product La Roche-Posay Effaclar
Is this product suitable for all skin types? – Yes, the French brand pays particular attention to sensitive skin and designs all of its products to fit dry, oily, normal, combo and sensitive skin types.
Can I wear it under makeup? – Absolutely. A lot of customers claim that it's very comfortable to wear under makeup.
Any side effects I should worry about? – The product is designed as hypoallergenic and is gentle on the skin. While no severe cases of allergies have been reported, mild cases of burning, itchiness and redness can be observed. Caution is always recommended.
Can I use this in combination with other products? – The kit is highly compatible with various skincare products and is easily paired with moisturizers and sunscreens. If you have sensitive skin, consult a dermatologist before mixing various products together.
How long does the kit last me? – According to several reviews, the kit lasts two months on average, depending on how frequently you use it. Additionally, some users have reported that the cleanser and toner run out faster due to more frequent use.
Alternatives to La Roche-Posay Effaclar
In case you can't get your hands on La Roche-Posay Effaclar Acne System Kit or it doesn't suit your skin due to a high variety of reasons, here are two great alternatives that you can consider.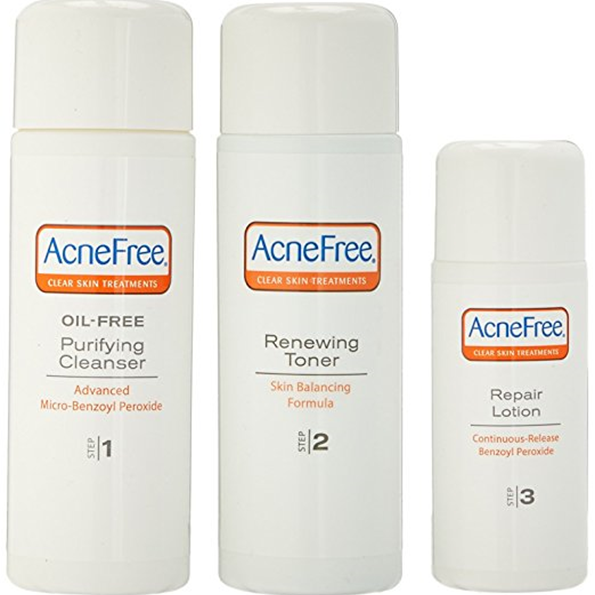 A budget alternative to La Roche-Posay, yet by no means worse, AcneFree system is a three step kit (cleanser, toner, repair lotion) designed to combat mild to moderate acne breakouts.
In terms of the exfoliative mechanism, the kit works similar to La Roche, bringing a high concentration of benzoyl peroxide to the table, which combats acne causing bacteria, while utilizing other ingredients prevent future breakouts and smooth skin's texture.
Visible improvements can be expected in as little as three days, however, depending on the person, it can take up to 8 weeks to cure acne.
Customer reviews are solid: 4 star user rating on Amazon with over 1000 reviews. There are also before/after images to consider.
NOTE: This is the regular kit designed to combat mild to moderate acne breakouts. For sensitive or severe cases, the company offers separate kits. Here are the links for sensitive and severe cases accordingly. Some customers have mistakenly used the severe kit to treat sensitive skin, and you can guess that the results weren't good..
Final Thoughts
All things considered, La Roche-Posay Effaclar Acne Treatment System is a solid choice for mild to moderate acne treatment, suitable for all skin types including sensitive skin. While the product is a bit pricey (taking into account the sizes of each bottle), it is worth a shot due to the great reputation of the brand and customer reviews that have confirmed the product to work as intended, and even better.
No cases of alergic reactions is also a reassuring factor, meaning that at least things won't get worse if the kit doesn't help. Dryness is a side effect that can occur with practically all skincare products depending on the individual, which makes it a less convincing argument against the product. Nonetheless, be prepared and have a moisturizer handy when using the kit, just in case.
Have you already tried La Roche-Posay Effaclar Acne Treatment System? What results did you achieve? How long did it take you to clear the acne? Share your experience with us in the comments!