For those of us who have acne prone skin, finding the one product that deals with it effectively is like a dream come true.
However, with so many cleansers, creams, gels and exfoliators available on the market, one might struggle to understand which is the perfect fit for their specific case (depending on skin type, genetics, specifications, etc.) or how to identify it.
In today's post we will provide a detailed review of La Roche-Posay Effaclar Duo, talk about the specifics, what skin type does it suit the most and how to use it effectively.
La Roche-Posay Effaclar Duo Exfoliative Mechanism
Effaclar Duo
is an oil free, non-drying, dermatologically approved (over 25.000 dermatologists worldwide have reviewed and recommend the product) cream for acne prone skin, designed to combat
mild to moderate acne breakouts
, as well as eliminate other blemishes, blackheads and whiteheads.
A very strong advertising point of the product is being hypoallergenic, meaning that there is only a tiny chance of being allergic to it, which makes it well suited for even sensitive skin types. However, some users have reported encountering mild to moderate allergic reactions when using the product (see customer reviews section), so caution is recommended.
The cream's prime cleansing properties are attributed to lipohydroxy acid – a derivative of salicylic acid that provides pristine, precise, cell by cell exfoliation to clean the skin from environmental debris, excess oil and dead skin cells – and benzoyl peroxide, which deals with bacteria and nourishes the skin from within.
La Roche-Posay Effaclar Duo is the only acne treatment available on the market that contains micronized benzoyl peroxide (5.5%), which allows to cleanse some of the deepest skin pores. It unclogs skin pores, kills and prevents the growth of harmful bacteria.
What Skin Types is Effaclar Duo Suitable For?
Effaclar Duo is most effective for people who have oily and acne prone skin. Although the product is advertised to be suited for "all age groups", a general rule of thumb for all benzoyl peroxide containing products is not to be used by people under 15. Benzoyl peroxide is a very aggressive ingredient and can damage young skin cells if you are not careful.
La Roche-Posay is also well suited for sensitive skin types, however, just like with any other product, make sure to test a small amount of the cream first to see your skin's reaction, before giving it a full go.
Pros and Cons
No matter how good a product seems to be, it always carries negative effects in addition to positive ones. Here is a concise list of La Roche's pros and cons:
Pros:
Utilizes strong, aggressive ingredients to cleanse the skin on really deep levels
Does not dry the skin too much during the exfoliation process despite containing benzoyl peroxide
Suitable for sensitive skin types
Absorbs fast by the skin
Being oil free makes it suitable for oily skin types
Tested and recommended by 25.000 dermatologists worldwide
You can wear it under makeup
Leaves you with a clean and smooth sensation after use
Cons:
Can make the skin scratchy and red after the first few uses due to the aggressiveness of benzoyl peroxide
Some sensitive skin types might find the product burning or itchy
It can dry your skin – you will need to use a moisturizer
Not suitable for normal and dry skin types, sometimes even with the additional use of a moisturizer
Allergic reactions have been reported by some users (see customer reviews)
Is a bit pricey
How to Use La Roche-Posay Effaclar Duo Effectively
As with any other product, it's important to know how to use it correctly to achieve the desired results and stay clear of any unwelcome effects. Here is how Effaclar Duo should be used:
Clean the affected skin areas with a cleanser
Use hot water to wash your face and open up skin pores
Apply the cream gently to affected areas and avoid eye contact/areas around the eyes
For more severe breakouts, use the cream to treat the whole face
Use twice a day – morning and night – and make sure to apply some kind of sun protection during the day since salicylic acid can make your skin sensitive to sunlight
Here is a great video that explains how to use Effaclar Duo in combination with the cleanser and toner of the same brand:
Customer Reviews and Testimonials
As you should probably know by now, there is no "one perfect product for all" type of thing in the world, particularly when it comes to skincare. All the products on the market are great for some, while being nearly useless for others – that's just how human skin works.
Concerning La Roche-Posay, customer reviews are generally positive (the product enjoys a solid 4 star rating on Amazon with around 400 reviews as of now, which is a pretty good result), showing that the French beauty lab knows their business well.
The only disturbing thing that I have noticed among all the reviewers is the mild allergic reactions to the product, especially when it is advertised as "hypoallergenic".
Nonetheless, the product can make wonders if you are a good fit for it. Here is a great video showing the considerable results of a young woman using La Roche-Posay Effaclar Duo:
Some cases have reported of achieving great results with Effaclar Duo, even though they had tried other products containing benzoyl peroxide to no success in the past: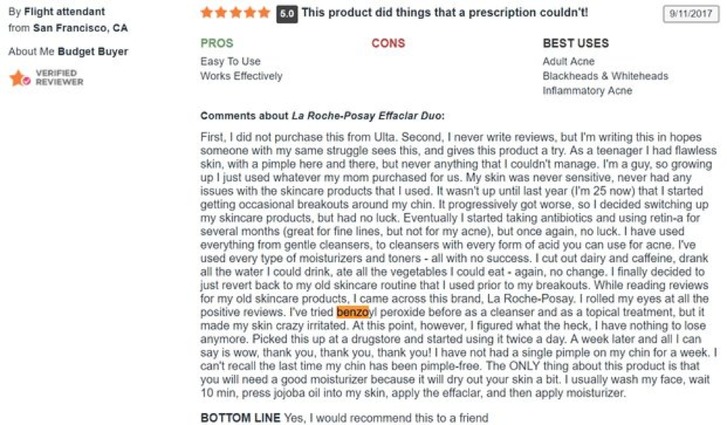 My advice would be to give the product a try, but take it easy at first and make sure you do not suffer from any allergic reactions, and observe how your skin responds to the cream. If everything goes well, keep using it as described above.
Where to Buy La Roche-Posay Effaclar Duo
You can buy the product from the
official website and get a free shipping
, or try
Amazon
and
Ultra Beauty
.
Dermstore
is another great option, especially since it frequently offers coupons to save 20% on your next purchase. You can also
get a sample at your local Walgreen store
to see how it goes before buying the full package.
Be careful of acquiring the product from unknown sellers or local stores that you don't trust, even/especially if they offer a cheaper price. Defective or counterfeit products are not uncommon nowadays, and saving a few dollars might lead to some nasty consequences in the future. You don't need that.
Questions to Consider Before Buying the Product
Can I use this in combination with other products? – It can be used with moisturizers and sun protection creams, however, using multiple acne treatment products at the same time may result in dryness, redness, itchiness and sensitivity increase due to the aggressive nature of benzoyl peroxide. Only do that if you have a doctor's prescription.
How long does a bottle last me? – The bottle is really tiny – only 40ml. If you're going to be using it twice a day, keep in mind that you will need to buy at least two bottles a month. If you have severe breakouts, you may need as many as three/monthly
Any side effects I should worry about? – Redness, itchiness and sensitivity have been reported by various users. Depending on your skin type, you might experience mild variations of these conditions.
Can I be allergic to it? – A few users have reported allergic reactions, which is the case with many benzoyl peroxide containing products. If you aren't sure, try a sample first.
Can I wear it under Makeup? – Yes, it goes very well with makeup.
Alternatives to Effaclar Duo
Depending on where you live, available budget and a bunch of other reasons, you might not be able to get your hands on Effaclar Duo. In that case, here are a few recommended alternatives:
#1 Clean & Clear Persa-Gel 10 Acne Spot Treatment Medication
Just like with La Roche-Posay, the active ingredient is benzoyl peroxide. It is suitable for normal and oily skin types, and enjoys a solid 4 star rating on Amazon, backed with
pretty reassuring customer reviews.
Compared to Effaclar Duo, it contains 10% benzoyl peroxide, which is pretty high for a skincare product.
Be careful when first using this cream and keep kids under 15 away from it. Some people have reported allergic reactions, which seems to be a common case for all products containing benzoyl peroxide. Try with caution.
#2 Spectro Acne Care Deep Pore Vanishing Lotion
Another great, budget alternative to La Roche-Posay. Spectro contains 5% benzoyl peroxide and a lot of natural ingredients, which is always great for the skin. It is suitable for normal and oily skin types.
I'd recommend getting it from
Well.ca
, which is an online beauty, health and skin store that offers free shipping on items over $35 and other discount options like refer a friend.
#3 Clinique Acne Solutions

Clearing All Over Clearing Facial Treatment Oil Free
Clinique offers yet another product based on benzoyl peroxide acting as the active ingredient, backed with Acne-fighting exfoliators – salicylic acid and acetylglucosamine – to reduce pore size, combat bacteria, cleanse the skin and prevent future breakouts.
The product enjoys a very high customer rating on the Clinique website (4.4 stars with around 500 reviews) and Amazon.
What I really like about the product, apart that it is reported to actually work as advertised, is the absence of allergic reactions.
Final Thoughts
Overall, La Roche-Posay Effaclar Duo is a solid acne treatment medication choice if you have oily, acne prone skin, are not allergic to benzoyl peroxide and have the budget for it (it is rather costly).
Customer reviews are reassuring and 4 stars user rating is rather high for any decent skincare product.
My advice would be to get a sample and try it at home to see how your skin responds to it. In about a day or two, you should notice visual improvements on your face. If all goes well, proceed with using it twice a day, and don't forget to use a moisturizer (in case it dries your skin too much) and some kind of sun protection cream along with it.