Looking after your skin is such an important habit to get into. In the current market, there are thousands of brands that all claim to clear things up like dead skin cells, oily skin, moisturize and provide anti-aging effects. If you search for the right one for you, it can take a long time!
The trouble with the majority of these products is their lack of natural ingredients. Many skincare ranges use harsh and potentially harmful ingredients that ultimately cause damage to our sensitive faces, and if you subscribe to their claims, that can be risky.
Thankfully, Misumi is here to make things better! Their range of effective and natural skincare tools have been proven by both science and raving customer reviews online, over email, and in-person to treat acne, maintain quality and reduce premature signs of aging.
Misumi skincare is the first premium skincare brand that is dedicated to treating blemish-prone and oily skin.
As we all know, those with oily problems tend to suffer from more breakouts and acne-related issues due to the excess oils and sebum they produce. These excess oils clog the pores and cause pimples.
Misumi skin care products have been designed to treat acne-prone skin and all of its related issues, including whiteheads, blackheads, hydration and even brightening dull skin. Their featured products rely on nature's best skincare ingredients to provide instant and long-lasting results.
Manufactured by a team of internationally-recognized skincare experts and dermatologists, this is a brand with 25 years of experience in the search for beauty.
Their use of natural and effective ingredients is what makes this brand genuinely unique. If you search for relief from acne and other issues, you will know that many treatments available on the market right now can actually irritate your problems further.
However, with the inclusion of natural acids, elements like chamomile and lavender as well as a range of natural antioxidants, this range is a clinically proven acne treatment. As far as skincare solutions that can cause healthy skin and maintain a youthful quality.
Products: The Menu
Misumi skincare currently has a range of five incredible skincare products, all of which rely on natural components to treat acne and maintain a high epidermal quality for natural beauty.
Depending on what kind of issues you have, this menu is guaranteed to have a product or two for you to help you with beauty and confidence.
#1 Clean Skin Salicylic Acid Cleanser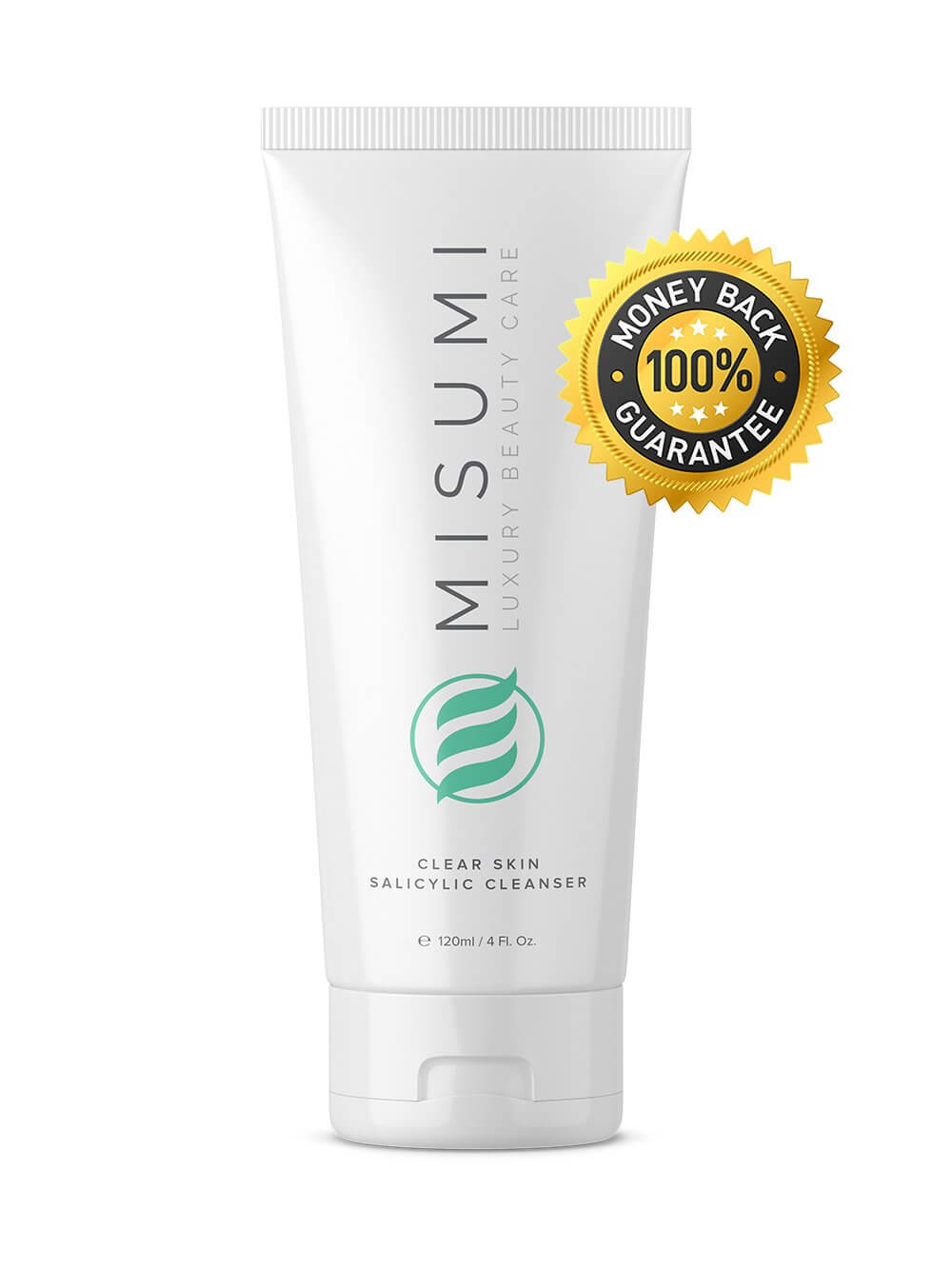 This Misumi skincare featured daily facial clear skin salicylic cleanser is effective in removing dead cells and excess oils, both of which clog the pores and cause pimples.
This clear skin salicylic cleanser can deeply penetrate the pores for an ultimate cleanse and works to soothe the face during a breakout, restoring natural beauty. The inclusion of salicylic acid makes this cleanser anti-aging, and it can improve the beauty and physical quality by smoothing and reducing fine lines.
Key features
Remove Dead Skin Cells
Anti-aging
Pros
Leaves you feeling clean and fresh
Calms breakouts
See results within 1 month
Protect healthy skin
Cons
Cant use if you are allergic to BHA
Slightly more expensive than competitiors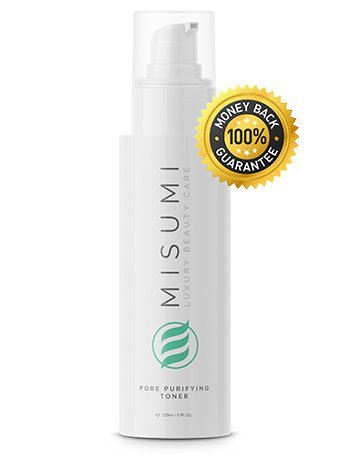 Misumi skincare Pore purifying toner is produced to be used after cleansing to shrink pores and prevent any dirt or debris from clogging the pores.
This Pore Purifying Toner is anti-bacterial and is incredibly effective in protecting you from environmental contaminants and impurities. This is so useful in our current climate as our atmosphere is so full of impurities that can significantly impact our skins and actually make our breakouts worse, increasing dead skin cells clogging pores.
Key features
Tighten Pores
Anti-bacterial
Pros
Great for sensitive skins
Doesn't dry you out
Has antibacterial properties
Cons
Bit pricey compared to competitors
Cant use if you are allergic to Witch Hazel
#3 AHA 10% Skin Perfecting Cleans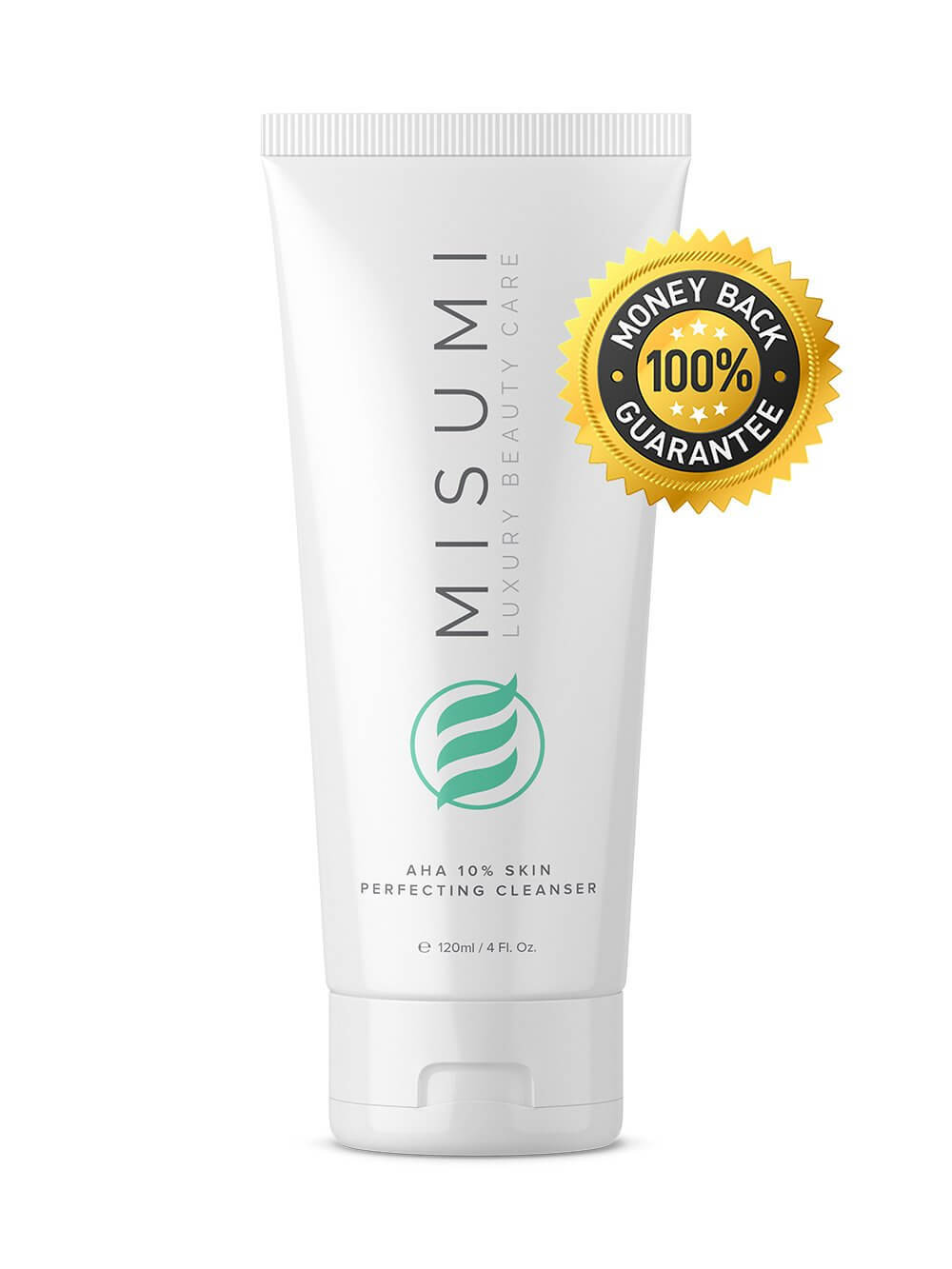 This Misumi skincare cleanser can also be used as a makeup remover and is highly effective in clearing dead cells, sweat, and other impurities from the skin's surface.
It is intensely hydrating, making it an ideal evening cleanser, and contains antioxidants that remove excess oils. These oils, along with the debris, can clog pores and cause unsightly pimples.
However, because of its hydrating and anti-aging properties, this cleanser will not dry out your face and cause any further issues, like many other similar products available.
Key features
Make-up remover
Clears dead skincells
Intense hydrating
Pros
Exfoliates, allowing the regeneration of new, healthy cells
Fast visable results
Only need to use a small amount
Cons
Need to check for potential sensitivity
Doesnt work on all skins types
#4 Blemish Clear Body Wash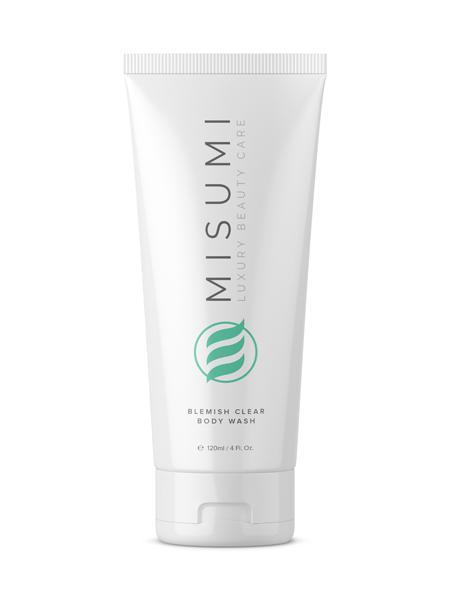 This Misumi skincare blemish clear body wash has been specifically designed for use on the neck, back, shoulders and arms.
It is an excellent acne treatment for those who suffer from breakouts across their body and can prevent any further spreading of bacteria. It works by cleaning impurities, sweat, dead cells, and excess oils from the body and prevents anything from clogging the pores.
The Blemish Clear Body Wash is moisturizing and will soothe you as you wash.
Key features
Prevent spreading of bacteria
Moisturizing & soothing
Pros
Visibly clearer in two weeks
Stimulates new cell growth
Cons
If you are allergic to Salicylic Acid, Glycolic Acid, or Lactic Acid, then unfortunately this product is not suitable for you
#5 Wrinkle – Free All Day Moisturizer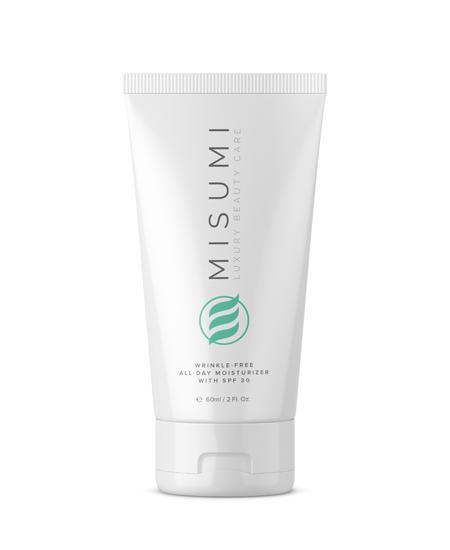 For 24/7 hydration, this Wrinkle-Free moisturizer is the perfect product. It is ideal for those with dry skins or for anyone who wants to reduce premature signs of aging.
This moisturizer is effective in locking hydration in and does not clog pores, meaning you will not have to worry about any further breakouts.
It works to improve the quality of the upper layers by providing long-lasting hydration. It is this hydration that makes the skin appear full, healthy, and glowing.
Key features
Wrinkle-Free moisturizer
Healthy and glowing results
Pros
Contains SPF 30 to protect you from UV damage
100% money-back guarantee
Smoothes out fine lines and wrinkles
Cons
This moisturizer is a bit more expensive than its competitors but definitely worth it
Salicylic Acid
Salicylic acid is a popular ingredient in most acne treatments as it is highly effective in cleansing and clearing the skin.
It has been medically proven to provide skincare solutions specifically to clear whiteheads and blackheads, as well as having incredibly anti-inflammatory properties that improve the physical quality of our skin. Salicylic acid is a natural and effective treatment for redness and swelling that is caused by pimples and can instantly enhance the epidermal layers.
Salicylic acid is a naturally derived beta-hydroxy (a natural compound) that can penetrate multiple layers of the skin and works to break down keratin.
Keratin is the natural glue that clogs pores and causes issues on the uppermost layers of our skin. Salicylic acid works to break down this component to eradicate issues and encourages the removal of damaged, dead cells to unclog pores.
Glycolic Acid
Glycolic acid is an alpha-hydroxy that works hand-in-hand with salicylic acid to create an effective treatment. This particular acid treats even the deepest layers of our skin and can elevate a wide range of issues, including acne pimples.
Glycolic acid is a medical-grade ingredient that is naturally derived from beetroots, sugarcane, and pineapple. It has been clinically proven to reduce and treat acne issues as it works as an exfoliant.
It is able to deeply penetrate multiple layers to remove many forms of dirt and dead cells. These elements clog pores and cause pimples, making glycolic acid an effective ingredient as it eliminates the cause of acne before it can impact the upper layers of our skin.
This acid is also effective in improving the quality of our skin as it has anti-aging properties. Glycolic acid increases collagen production in the upper layers, which ups elasticity and maintains a youthful appearance.
Lactic Acid
Lactic acid is naturally derived from fermented milk products, like yogurt, and is the gentlest acid component.
It works to balance pH and is an effective moisturizer that increases quality and strength. Lactic acid is also an effective but gentle exfoliator that works to unclog pores and reduces acne breakouts, including blackheads and whiteheads.
Lactic acid ultimately works by dissolving or removing the upper and most damaged layer of our skin, yet still maintains moisture and quality. This acid is a humectant as it works to reduce the epidermal loss of water to maintain a healthy and bright appearance.
This ingredient increases cell turnover, making it a quick and effective acne treatment and can reduce the pigmentation of breakouts.
Lavender Oil
Lavender oil is a popular and effective essential oil that is renowned for its calming properties.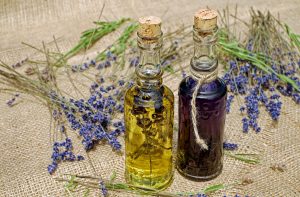 Lavender can calm our minds and our moods, it can be hugely effective in soothing acne-prone faces especially during a breakout. This is an ingredient that is used throughout this brand's products and has been noted to be incredibly refreshing and soothing.
Conclusion: Misumi Is The Best Natural Skincare
Misumi skincare products use natural acids, components, and oils to treat the skin in its purest form. By relying on natural ingredients, Misumi skincare is a range that is effective in treating acne-related issues while still being gentle and safe.
Not only will this range treat and remove any current breakouts, blemishes, or issues you may have but they will continuously work to prevent anything further in the future. They're also easy to contact via email, so if you have any questions, just drop them an email! Contacting this brand via email is also a great option if you have any concerns or issues, or if you prefer not to use email, they can be contacted by phone.