Dealing with acne on even an occasional basis is annoying to say the least. Every small zit on the face is like an angry ant, trying to do its worst just to make life a bit more complicated for us.
Luckily, there are skincare products that help deal with acne pretty effectively and while not every product is suitable for every case, the combination of modern research and technology allows many well-known brands to offer highly potent, diverse and efficient choices. All you have to do is find the one that works for your specific case.
Today, we will be taking detailed look at Nexcare acne patches, understand what they are, how they work, are they worth a shot and how to use them effectively.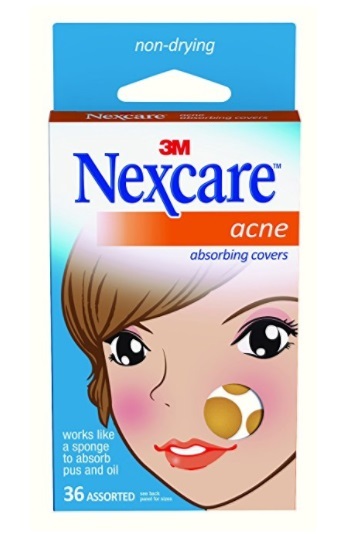 An acne patch (also known as a pimple patch, acne bandage or hydrocolloid bandage) is a small, round piece of material that is used to treat pimples, whiteheads and blackheads.
While we don't know where exactly they originated, acne patches have been widely used for the past decade in Asia, Korea and Japan as a fast fix for small, occasional blemishes. Rather recently, acne patches have moved to the rest of the world and Nexcare, owned by the healthcare company 3M, is some of the first brands to offer the product outside of the mentioned regions.
How do Acne Patches Work?
There are two variations of acne patches: medicated and unmedicated. Both come in sealed package and resemble variously sized, sticky dots that are applied to pimples.
The difference between the two types of acne patches is what material they are made of, what kind of ingredients are used in those and how they interact with the damaged areas.
Nexcare acne patch is a representative of unmedicated acne patches. Unmedicated acne patches are made of thick, flexible, hydrocolloid material that treats pimples like any other wound, since in essence, a blemish is a big, unpleasant and leaky lesion.
The hydrocolloid dressing works by forming a gel when exposed to fluid (including the pus inside the pimples, excess oil and sweat) and technically protects the area from both yourself – picking, squeezing and touching – and the environment – dust, debris, unexpected trauma, etc.
In addition, the hydrocolloid material is made in a way that allows to absorb more fluid than usually, essentially making the wound heal faster, and keeping the acne from drying out, which again, speeds up healing time.
Unmedicated hydrocolloid bandages work very similar to liposuction – literally drawing the gunk out of the blemish, which sticks to the patch and can be removed with it, away from your skin. After removing the patch a small, white shell is usually observed at the pimple's location. The blemish gets noticeably smaller, calmer and flatter after the patch is pulled off.
Medicated acne patches are the more common variations of the product, but the material is a lot stiffer in comparison to the other type and feels like plastic. These acne patches are very light, thin and almost invisible when applied to the skin, and are infused with different ingredients to treat the blemishes by accelerating exfoliation and recovery time. In the vast majority of cases those ingredients are salicylic acid, tea tree oil or the combination of the two, along with some secondary ingredients thrown in, which vary from brand to brand.
Unlike the unmedicated type, medicated patches don't work similar to liposuction. Instead, they create an environment that helps the ingredients stay on top of the blemish, preventing any outside intervention like dust or picking at pimples.
Side effects are close to non-existent. The only way in practice that you're going to feel uncomfortable is if you have sensitive skin, or are sensitive to salicylic acid (or aspirin), benzoyl peroxide or any other ingredient that is present in the product.
In that case, having the patch stuck to your skin can cause irritation, discomfort, burning and itching, especially because these products come with a high concentrated dosage.
On the other hand, since the patch is applied directly to the pimple, all the above mentioned side effects are limited to the blemish, not spreading to the other parts of your skin, unlike creams or gels that can cause dryness and irritation on a much wider area.
Which Type of Patch Should You Use?
The answer depends on the state of the blemish. While each person's skin may react differently to the treatment, in most cases, medicated patches are more suited for the early blemish stages – when they are inflamed, red, and itchy, and there is nothing visible about to come out. When applied overnight, medicated patches significantly reduce redness and irritation and make the zit smaller and less noticeable.
As for the more mature pimples, when you start seeing a whitehead or the pus gathering under the surface, a hydrocolloid bandage can be applied directly to it to siphon the gunk.
Pros and Cons of Nexcare Acne Patch
As with any other skincare product, Nexcare acne patches do have their pros and cons. Let's have a look at them.
Pros:
Affordable and easy to use.
Provides protection from the environment and do not allow to pick at pimples.
Reduced chances of acne scarring.
No side effects or ingredients that can cause allergies.
Can be used by all skin types and tones.
Doesn't cause dryness.
Gentle on the skin.
Can be used as many times during the day (and night) as needed.
Cons:
The zits get smaller in size and become less noticeable, but don't disappear overnight in the majority of cases.
Ineffective for severe acne breakouts and too many pimples.
You can't leave the house freely with the patch applied to your skin.
Isn't easily covered by cosmetics.
Need to be consistently reapplied to experience the full effect.
Poor adherence during the night may be an issue.
How to Use Nexcare Acne Patch
Nexcare acne patches are incredibly easy to use. Here are step by step directions:
Wash your face
with warm water and antibacterial soap to open up skin pores. Depending on your case, replace the soap with a cleanser or any other skin clearing agent. If you aren't able to use any cleaning agent at all, simply wash your face with warm water. Pat dry.
Do not use any medication before applying the patch.
Make sure the skin is properly dried. The patch doesn't stick well to wet skin.
Apply a single patch directly above a blemish and let it sit.
When the patch goes from transparent to white, it has done its work. Remove the old one and apply a new one if there is still a need. Repeat the process for each pimple as many times as necessary.
What Results You Can Expect After Some Time of Use
Nexcare acne patches are generally pretty quick to produce noticeable results. Generally, 2-3 applications (or an overnight application) is enough to make the blemish significantly smaller, flatter and less noticeable.
However it's important to note that the patch only takes care of the pus inside the pimple, meaning that, although less noticeable, the pimple still needs time to heal and go away along with the redness of the area.
Customer Reviews of Nexcare Acne Patch
Customer reviews are pretty solid for Nexcare acne patches (the product enjoys a solid, 4 stars user rating on Amazon with over 2000 customer reviews, which is an impressive number for a skincare product).
While most of the users have found the product to be pretty effective, some have reported that it did literally nothing to help them (or even made the acne worse than before), and there are a number of complaints related to the adherence of the patch.
It's important to note that there are a lot of comments about the company shipping already expired products. As mentioned on Amazon product description, the expiration date on the item is printed in the YYMMDD format. For instance, 180207 stands for February 02, 2018.
Here is a screenshot:

Also, here are some of the most impactful reviews: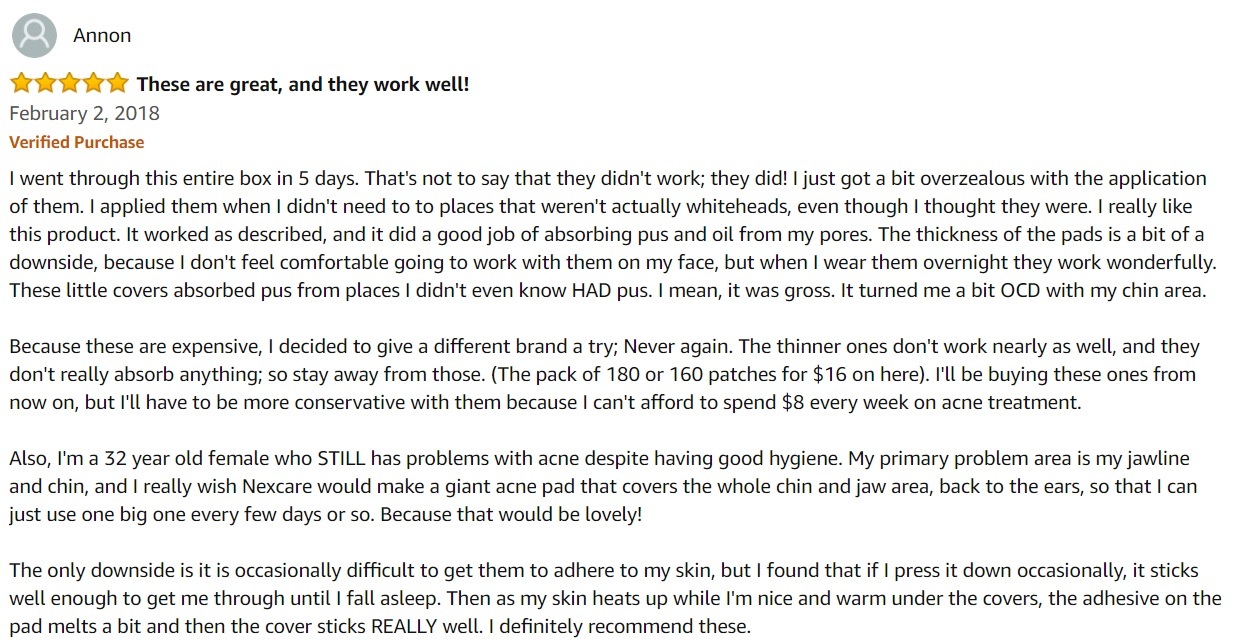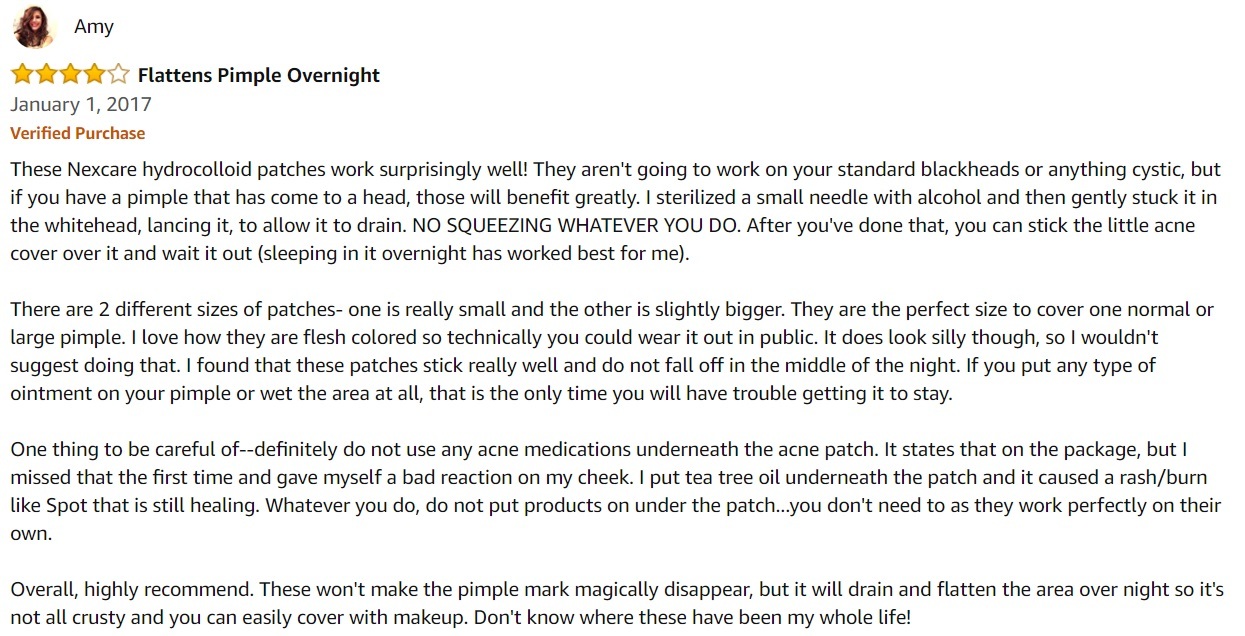 If you'd like to research some more, there are 2000+ reviews here.
Where to Buy Nexcare Acne Patch
You can safely purchase Nexcare acne patches on Amazon, Nexcare official website, Walgreens and MakeupAlley.
Never buy skincare products from sellers you don't know or trust, even if they offer a cheaper price! The market is flooded with counterfeit and defective products, and saving a few dollars today might end up being a decision you will regret for a very long time afterwards.
Questions to Consider Before Buying the Product
How long does one pack last me? – Generally, the pack has been reported my users to last for about 5-7 days on average, however, it depends on how many blemishes you need to treat.
Does it contain latex? – No, Nexcare Acne Patch doesn't contain latex so if you're allergic to it, there is nothing to worry about.
Can I use this in combination with other products? – Its highly inadvisable. Because the patch sticks to your skin for a extended periods of time, there is a chance that other skincare agents trapped under it will cause harsh skin reactions.
Does the patch cause dryness or irritation? – Only if you have sensitive skin. Nexcare acne patches are drug and chemical free, so they should be very safe to use.
Is this suitable for all skin types and tones? – Yes. The product is designed to fit all skin types and tones. You should only approach it with caution if you have sensitive skin.
Alternatives to Nexcare Acne Patch
In case you can't get your hands on Nexcare acne patches or the product doesn't work well for you, here are two great alternatives to consider: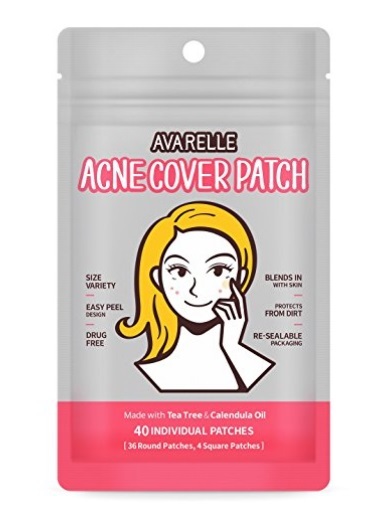 Avarelle Acne Cover Patch is an unmedicated type and works similarly to Nexcare. In addition to the hydrocolloid dressing, the product is infused with natural ingredients like tea tree oil and calendula to add extra soothing and calming effects.
The product is transparent, easy to use, comes in a high variety of sizes (from S to XL), blends well with all skin types and is safe to use. In terms of past customer experiences, Avarelle Acne Cover Patch has a 4.5 star user rating on Amazon with over 160 reviews to support it.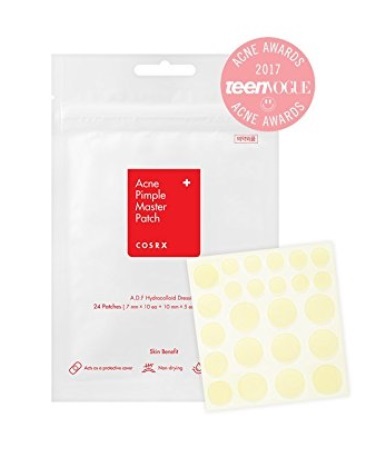 A medicated type of acne patch offered by the Korean skincare brand COSRX, Acne Pimple Master Patch brings highly effective acne-combating properties to the table in the form of Cellulose gum, Styrene Isoprene Styrene Block Copolymer, Polysobutylene, Petroleum Resin, Polyurethane Film, Liquid Paraffin, Tetrakis Methane. All the ingredients are safe for the skin and do not cause dryness or irritation.
The product is very light and almost unnoticeable on the skin, and provides gentle exfoliation along with calming and soothing effects. The adherence of those patches is reported to be among the best for similar products available on the market. The user rating is a solid 4 stars on Amazon with over 2000 reviews to support it.
Final Thoughts
Overall, Nexcare acne patches are, in most cases, highly effective with dealing with an occasional pimple or two. Leaving those up overnight can really help take care of those annoying zits on your face and restore your perfect look.
In addition, there are virtually no side effects, the product doesn't break the bank and it works for all skin types, making it definitely worth a shot. If it doesn't produce satisfactory results, at least you won't be left with even worse problems than before.
However, if you're experiencing severe/cystic breakouts, acne patches may prove to be a slow and inefficient method of dealing with those. In such cases, I'd suggest to try some of the stronger acne combating products like La Roche-Posay Effaclar Dermatological Acne Treatment System or Humane Acne Wash.