Discovered in Australia, Tea Tree Oil has been used as a home remedy to fight various skin related issues for more than 100 years.
Its antibacterial, antiviral and antifungal characteristics are said to be especially beneficial for acne treatment. In this article, I will investigate if Tea Tree Oil for acne really works, how to apply it most effectively and how you choose the right product!
If you're looking for the answers to some (or all) of those questions, keep reading. Today, I will examine the properties of Tea Tree Oil thoroughly and determine its effectiveness when dealing with acne.
Tea Tree Oil originates in Australia, mainly from the Northeast of New South Wales and Queensland, where it is isolated from the leaves of the tea tree, also known as Melaleuca Alternifolia.
The misleading name is likely to date back to the days of Captain James Cook, who was missing his beloved English Tea when he arrived in Australia. Searching for an alternative he found the leaves of the Tea Tree to be an excellent substitute – surely he didn't think about all the benefits he discovered indirectly with his love for tea.
Since then, the powers of the essential Tea Tree Oil where investigated and tested in different contexts. Followingly, it has proven to be one of the most effective antibacterial essential oils. Because of its natural benefits, it is found in different products like shampoos, massage oil, cosmetic products but also in laundry detergents and cleaning products. The main active ingredients of Tea Tree Oil are sesquiterpenes, monoterpenes and terpene hydrocarbons. Those components are responsible for the antibacterial, antiviral and antifungal characteristics which prevent infections and kill bacteria as well as fungi that are responsible for acne outbreaks. If you want to go more in-depth about the ingredients, then here you can find a scientific article about the effect and active ingredients of Tea Tree Oil.
BENEFITS
Due to its anti-inflammatory, antibacterial and solvent nature, Tea Tree Oil has potential to work as a treatment for Acne, because it:
Reduces redness and irritation of the skin (anti-inflammatory)
Helps to shrink pimples faster (anti-inflammatory)
Prevents Infections and acne outbreaks by killing bacteria and fungi which cause acne (antibacterial)
Helps to clean the skin and break up oil or dirt that is clogging pores (solvent)
positively fights the appearance of acne scars
First of all, there are different opinions about the effectiveness of Tea Tree Oil for Acne and I cannot give a definite answer to this question.
For some people, it yields great results as an overall treatment, for some it works best as a spot treatment (that is what I advice to use it for!) and for some people it doesn't show any results at all!
Research found, that compared to a control group, the treatment with Tea Tree Oil improved the appearance of acne by 3.75 to 5.75 on average.
However, people are different and thus its just logical that we also react very differently to the same treatment. Tea Tree Oil is a natural alternative to potentially more harmful chemical treatments and it is definitely worth a try to find out if it is the solution to your acne problems!
But one thing is for sure: If you can't see any significant improvements after using it regularly for a month or so, you should using it. In general, there is no need to put anything on your skin that doesn't help.
In order to get the best out of it and prevent eventual negative side effects, there are some very important steps to keep in mind when applying Tea Tree Oil. I will highlight those in the following:
1. Clean and dry your skin before applying Tea tree Oil
Use a gentle soap or cleanser (link) to clean your skin and then dry the surface before you apply the oil. On a dry and clean surface, it will be easier for the oil to carry out its healing power and work in your favor.
2. Test the Tea Tree Oil on a spot without acne
Depending on the type of oil you bought – some are highly concentrated – you might experience a little stinging sensation and if you already experience it as unpleasant you should decrease the concentration of the oil by adding water, argan, coconut or olive oil. Ratios to as little as 5 % of Tea Tree Oil have proven to be highly effective. I will capture "How to dilute Tea Tree Oil" later in the article.
3. Apply the Tea Tree Oil
Apply the oil to the palm of your clean hand and use your finger to gently dab it on the areas with acne. I recommend to use it as a spot treatment only, as essential oils, in general, are quite strong and interfere with the natural protection of the skin in places where it is still intact. Alternatively, you can also use a cotton pad to apply the oil.
4. Let it rest and do its magic!
After applying you should let it rest for at least 15 to 25 minutes and if you feel like it, you can apply a moisturizer afterward.
5. Use it only once a day
Preferably before going to bed so it can work all night long. I also do not advice to use it during the day as it makes the skin more sensitive to sunlight and fighting your acne while getting a terrible sunburn doesn't sound like a great idea! If you live in Scandinavia and its wintertime – never mind!
Don't apply it close to your eyes
Don't mix it with other spot treatments or use it in combination with other – this is never a good idea because possible interaction cannot be foreseen and are rarely studied.
Don't use it as a moisturizer or apply it all over your face. Albeit being a natural oil its strong powers might harm the natural environment of the skin in places where it is working just fine.
Don't swallow or drink it in any combination. As with all other essential oils, it is advised to never take them by mouth as they can have severe side effects due to their toxic nature when undiluted.
Stop using it if it hurts, dries out your skin or leaves you uncomfortable! Your body is the best indicator for yourself to see if something works or doesn't work.
Most likely you will not experience any side effects while using Tea Tree Oil as I described above, especially if you use it in a less concentrated dosage. However, some people with very sensitive skin might experience:
For people with acne it also sometimes causes:
Dryness

itching, stinging or burning
redness
In case that you experience any of the above issues I advise to stop using Tea Tree Oil as a treatment for acne or if you were using a highly concentrated oil you can dilute it or buy a commercial product that was directly suited to the needs of people with acne.
Which Tea Tree Oil to buy
You basically have 2 options, you can either buy:
a pure Tea Tree Oil and dilute it yourself
commercial products that were specially designed to fight acne
In both cases, it is always important to check the ingredients. A natural and organic product ensures that there are no potentially harmful chemicals inside the product that interfere with the benefits.
To make sure that you will only buy the best, I checked the ingredients as well as the origin of the products listed below:
1. Essential Oil Labs 100 % pure Tea Tree Oil
100 % pure Tea Tree Oil, Ethically Sourced with no Fillers, Carrier oils or Pesticides.
2. Naturenics Pure Tea Tree Essential Oil
A little bit more expensive but traditionally distilled with only the very best of the leaves to guarantee maximum efficiency. USDA Certified Organic. No Harmful Chemicals, No Sulfates, No Parabens, Gluten Free.
3. Pure Body Naturals Tea Tree Oil
This Tea Tree has been extracted through 100% steam distillation from the Melaleuca Alternifolia plant in Australia. It is not adulterated, modified or diluted. Never tested on animals; never contains gluten, parabens, phthalates/unnatural scents, petrolatum or SLS.
Top 3 Commercial Products containing Tea Tree Oil
Here you can find a collection of products that have already optimized the Tea Tree Oil concentration in different products, that function as spot treatment or cleanser.</p
1. Keeva Tea Tree Oil Acne Treatment Cream
Keeva is a natural acne treatment cream that works on all skin and acne types. If you have hormonal, bacterial, or cystic acne. Due to its optimized concentration, it is mild to the skin while maintaining its positive effects. Keeva also guarantees its organic production, no animal testing and an all natural product.
2. TreeActiv Spot Treatment for Cystic Acne
The product combines several natural ingredients around Tea Tree Oil to give a wholesome treatment that nourishes the skin with minerals, proteins, vitamins and many more. The main components are Tea Tree Oil, Bentonite Clay, Pink Grapefruit Essential Oil, peppermint and Spearmint and Lemon Essential Oil.
Probably, the customers favorite when it comes to fight outbreaks. Use it as a Spot Treatment only!
3. Majestic Pure Maximum Strength Tea Tree Oil Soap / Body Wash
Also a 100% pure and natural product that combines the benefits of several essential oils and coconut water to fight and prevent acne. Also organic ingredients; paraben-free; no harmful chemicals; made in the USA; Contains 5% tea tree oil.
How to dilute Pure Tea Tree Oil
If you have chosen to buy an undiluted Tea Tree Oil you can use either water or some other essential oil to alter the concentration and make it suitable for your personal needs. Water is a safe carrier to dilute the oil, however, other essential oils may have properties that work really well in composition.
The Right Concentration:
A concentration of 5 to 10 % has proven to show least allergic reaction while still retaining all the benefits for acne. Depending on the sensitivity of your skin you can find the concentration that works best for you. If you experience any of the side effects using a 5 % concentration you should stop the treatment with Tea Tree Oil – it just doesn't work for everyone!
5 % Concentration
Take 95 parts of water (e.g. 95 ml) or any other carrier oil and add 5 parts of the Tea Tree Oil (5ml). When using water always shake the bottle before applying because water and oils don't mix!
10 % Concentration
Take 90 parts of water (e.g. 90 ml) or any other carrier oil and add 10 parts of the Tea Tree Oil (10ml). When using water always shake the bottle before applying because water and oils don't mix!
Possible Carriers to dilute:
Water works just fine to dilute Tea Tree Oil but always keep in mind to shake the bottle before applying. Due to its hydrophobic nature and lower density the Tea Tree Oil will accumulate at the top of the bottle and if you don't mix it you will end up using the pure oil.
Jojoba Oil is a transdermal carrier and is said to enhance the effect of essential oils. It also contains lots of Vitamin E and other beneficial nutrients!
Here you can find a high quality, all natural Jojoba Oil!
Coconut Oil is rich in nutrients and contains essential fatty acids that nourish and hydrate the skin. If you tend to have dry skin this is the go in combination with pure Tea Tree Oil.
Heres an article about the benefits of Coconut Oil for Acne!
Almond Oil
Here you can find a high quality, all natural Almond Oil!
Lavender Oil has powerful antioxidant, antimicrobial and calming properties that can add to the benefits of the Tea Tree Oil to fight your acne. But watch out it's not safe to use for children that haven't finished their puberty yet because of its potential hormonal effects.
Here you can find a high quality, all natural Lavender Oil!
If you have trouble diluting the pure Tea Tree Oil, here's a video that I perceived as very helpful:
What do Customers say about Tea Tree Oil
In the following, I gathered some customer reviews from different products to give an overview of how they experienced the use.
In general, there are the following takeaways:
For most people, there is a positive influence on their acne

It burns if used pure – so dilute!
Some people don't like the smell of it
For some, it works wonders and is also used in very different contexts than acne
For some people, it doesn't work at all
it works best as a spot-treatment
Positive Reviews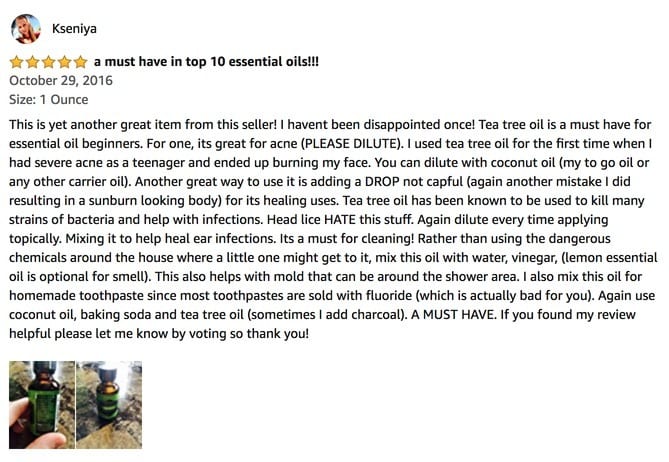 Negative reviews



CONCLUSION
Tea Tree Oil has proven its effectiveness for various skin related issues.
Scientific research, as well as customer experience, suggest that it works really well for acne because of its nourishing, antibacterial, -fungal, -inflammatory and solvent nature. Always keep in mind that essential oils inhibit great strength and it is best to dilute its concentration down to 5 – 10 %.
Even though it works for the majority of people with acne, it doesn't necessarily mean that it works for you too. However, it is a natural alternative to potentially more harmful chemical treatments like benzoyl peroxide and definitely worth a try! If you experience any of the side effects – stop using it! I hope I could give you some valuable insight in the treatment of acne with Tea Tree Oil
Alternative treatments to Tea Tree Oil
If you didn't achieve any improvements in the treatment of acne with Tea Tree Oil, there are various other options to effectively fight your acne.
Throughout recent years several products have proven to be very effective, I did a wholesome review on best products to fight acne here. However, you should always inform yourself and speak to your doctor in severe cases.
Feel free to leave a comment or share your experience with us! There is always something new to learn!