The nourishing power of shea butter is well-understood. It's one of the most potent and effective skin hydrating substances.
People who prefer natural concoctions for skincare could also be wondering whether shea butter could deliver any health benefits. The use of shea butter for acne usually comes up as a possibility.
If you are an acne sufferer and you have oily skin, you'll definitely be surprised to find out that shea butter does help such problematic skin. Is shea butter good for acne, regardless of the cause, your age and your skin type? The following guide will help you find the answer.
Before trying to find the answer to the question does shea butter help, let's first understand its specifics and composition.
Shea butter (you'll find it labeled as butyrospermum parkii oil on cosmetics) is extracted from the nut of the African shea tree. The oil can be raw, refined or unrefined. The specific production method determines its best use. Certain type of shea butter are used for cooking. They're particularly popular and widespread in countries like Nigeria, Ghana and Mali – some of the top shea butter producers. Other shea butter and oil varieties are specifically created for use within the cosmetic industry.
There's some evidence that shea butter can be applied to the skin for the treatment of various conditions. A few of the most common ones include:
Dandruff and seborrheic dermatitis
Burns and wounds to prevent infections
Inflamed skin
Dry skin
Eczema
Psoriasis and rashes (including urticarial rashes)
Itchy or flaky skin
Muscle soreness
Insect bites and irritation caused by plants
There are several reasons why African shea butter for acne is a highly effective option. To understand the main benefits, it's vital to take a look at the composition of shea butter.
Shea butter acts as a natural anti-inflammatory substance. In addition, it has a low comedogenic rating. The comedogenic rating is a scale from zero to five. An oil that has a comedogenic rating of zero will not clog pores. A rating of five means that the likelihood of experiencing pore clogging is very high.
The comedogenic rating of shea butter is zero, which means that it hydrates the skin without plugging the pores. This is the main reason why it's different from other hydrating oils. Nourishing options like wheat germ oil, coconut oil and cocoa butter all have a comedogenic rating of four or five.
Can Everyone Use Shea Butter for Acne?
Can everyone use shea butter to reduce the prominence of acne and make pimples disappear fast?
Clinical research suggests that most people will benefit from the application of shea butter on the skin. It features some powerful antioxidants, as well as beneficial lipids like linoleic, oleic and arachidic fatty acids.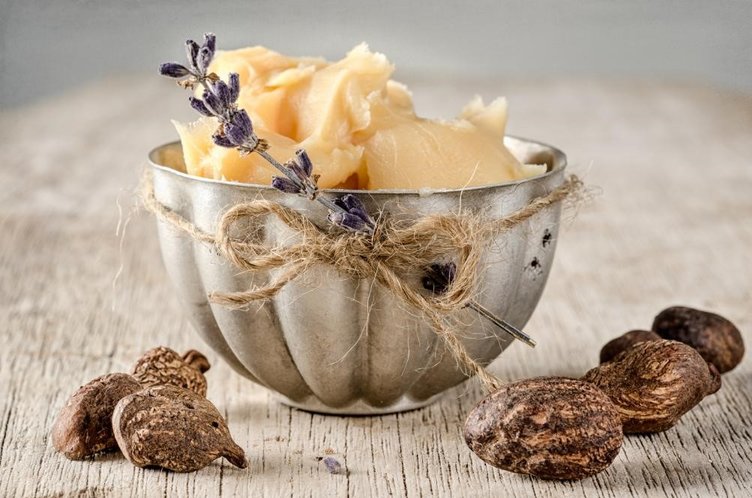 There's also evidence that shea butter is a powerful source of catechins – substances that are also found in green tea. They deliver the anti-inflammatory and soothing effect of shea butter. This is the reason why it can be used to control the redness associated to acne.
Younger people who have very oily skin are the ones who have to be careful about the use of shea butter for the treatment of acne. In their case, the butter could be slightly comedogenic. It's a good idea to test shea butter on a small skin patch to figure out whether it would increase sebum production and the formation of blackheads. If an adverse effect isn't experienced, shea butter would be a suitable hydration and redness control option
Older people and women who experience acne due to hormonal fluctuations will benefit from shea butter.
One condition has to be met for the benefits to be experienced.
Unrefined, raw shea butter is the one that has medicinal properties. Refined shea butter has lost most of its healing power. In addition, it could feature many additives that are far from beneficial. Hexane is one of them.
How to Use Shea Butter for Acne
The manner in which shea butter is to be used is quite similar to the application of other oils for the treatment of acne. There may be a few differences on the basis of skin type and the specific composition of the oil being used.
The most important thing to keep in mind is that shea butter is solid at room temperature. To use it for skin hydration and the treatment of acne, you'll need a double boiler in order to melt it. During the process, you may want to add an essential oil to the liquid. It will give shea butter a pleasant scent, plus some essential oils are also recognized for their powerful anti-bacterial and anti-inflammatory properties.
Here's a simple preparation for skin hydration and the treatment of acne. You will need: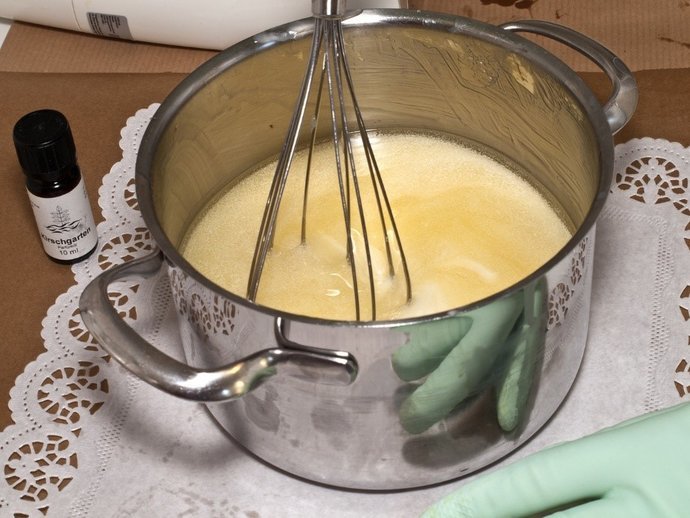 Unrefined, raw shea butter (about two ounces or 50 grams)
10 to 15 drops of an anti-inflammatory essential oil (clary sage, lemongrass, juniper, geranium, lavender, neroli or tea tree oil)
A double boiler
A microwave
A glass jar for storage
 You can either use the microwave or a double boiler to melt the shea butter. Both will yield the same results. Stir 10 drops of the respective essential oil in and let it cool down before moving the creamy substance to the glass jar. The texture of the oil should change – it should become creamier and easier to apply.
Always wash your skin and use a natural cleanser to remove dirt and sebum before applying any hydrating treatment. For best results, wash your face with lukewarm water. Hot water stimulates the functioning of the sebaceous glands and could aggravate the acne breakout.
To use the concoction, place a small amount in the palm of your hand. Rub it between your fingers before applying to your face. Massage gently and let the skin absorb the hydrating mixture – it's not going to need a lot of time. The shea butter anti-acne cream can be used on a daily basis. Alternatively, you can switch between it and another favorite natural remedy like evening primrose oil, for example.
Shea butter will also work great with OTC acne remedies. Many of the acne treatments you will find in pharmacies are based on salicylic acid. It works because it is a drying agent and it helps to unclog pores. The problem with salicylic acid is that it can have a profoundly drying effect. To prevent this outcome, apply a bit of shea butter to the skin after the use of a salicylic acid-containing OTC remedy.
As already mentioned, shea butter is not going to clog the pores, which is why it happens to be an excellent form of hydration for acne-prone skin.
African Shea Butter for Acne and Scarring
Acne sufferers have to deal with another serious issue and that is the formation of scars following an acne breakout.
Because it has hydrating properties and it increases the elasticity of the skin, shea butter could be a suitable option for the prevention of scarring and discoloration following an acne treatment.
Shea butter, just like coconut oil, features ingredients that prevent the formation of keloid scar tissue. Thus, shea butter helps for fast repair and recovery, even in the case of individuals who have been guilty of pimple popping or picking.
It's best to use shea butter as a preventative measure from an early age. It increases the production of elastin and collagen. As a result, scars are not going to be prominent and they will eventually disappear. People who already have acne scars could eventually reduce their prominence through the regular use of shea butter moisturizer. The only thing to keep in mind is that the treatment isn't going to be the most effective one, especially if the scarring has taken place years ago.
The Biggest Pros and Cons of Shea Butter for the Treatment of Acne
African shea butter is an excellent choice for the treatment of acne. Most people will see profound benefits because of its skin nourishing and anti-inflammatory properties. The biggest advantages of using shea butter include the following:
It is a powerful hydrating substance that makes the skin more youthful and inhibits the formation of acne scars
Shea butter has a low comedogenic score, which means that it's not going to clog the pores
It is rich in antioxidants and can improve overall skin complexion and radiance
Shea butter works well with other anti-acne natural ingredients like essential oils
It is approved by dermatologists (raw, unrefined shea butter)
Making a shea butter cream at home necessitates approximately five minutes
It is suitable for daily, long-term use
A single jar of shea butter is going to last you a very long time
To make this review comprehensive and useful, it's also very important to examine the eventual shortcomings of treating the acne-prone skin with shea butter:
Raw and unrefined African shea butter could be quite expensive, the market does feature other much more affordable options
Young individuals who have very oily skin could eventually experience a comedogenic effect
Some people dislike its nutty scent
May not be particularly suitable for application underneath makeup
Where to Buy Raw Shea Butter
If you do a bit of online research, you will come across dozens of shea butter offers. Avoid the most inexpensive ones. Whenever something appears too good to be true, it probably is. Raw, unrefined shea butter can be quite costly.
Sellers who offer it for a fraction of the actual price have probably done something to reduce the cost of the process, which has impacted the quality of the shea butter itself. Remember that you don't want any additives, just pure and unrefined shea butter.
When looking at unrefined shea butter, you will usually see two varieties – yellow and white (or ivory).
Raw shea butter is typically yellow or greenish in color. It has a strong nutty scent and there has been no filtering at all. No bleach or deodorizers are used but the extraction process may still rely on chemicals.
Ivory-colored shea butter has gone through some filtering but it still features the essential ingredients. It hasn't been subjected to the destructive refining process but the scent isn't as invasive as in the case of the 100 percent raw butter.
Avoid shea butter that's perfectly white. This is the refined variety that has been stripped of all its beneficial ingredients.
Getting certified organic raw shea butter is a good idea because there will be no harmful chemicals or additives utilized during the extraction process. If you do a bit of online research, you may come across wholesale butter from Ghana or other African countries. This is the most affordable option but you will have to order a larger quantity. This option makes the most sense whenever you're buying with friends and you're going to split the butter among yourselves
What Buyers have to Say about Shea Butter
Most people who have tried shea butter and creams based on the butter for the treatment of acne and blemishes are incredibly satisfied with the outcome.
Here's a screen grab that shows you some of the reviews on a shea butter balm that's especially advertised as a viable acne treatment option.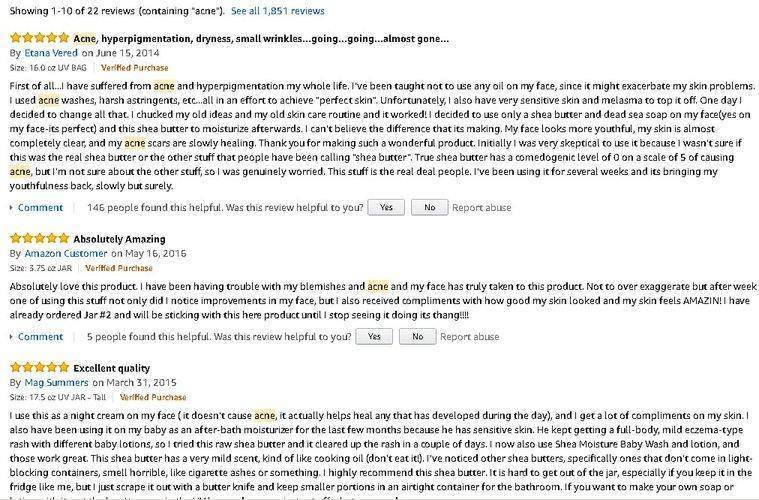 Final Verdict
Does shea butter for acne work? The reassuring conclusion is "yes."
While some people worry about the hydrating properties of emollients like shea butter and their potential to cause excessive sebum production, such natural products actually improve the condition of the skin.
The anti-inflammatory properties of shea butter work alongside its low comedogenic rating to soothe the skin without contributing to pore clogging. This is the main reason why shea butter can be used on a daily basis, why it's an excellent additive to standard OTC acne remedies and why it also helps for the faster healing of the skin without the formation of scars.
Warning: To experience the full range of benefits, you need to choose a high quality raw and unrefined shea butter variety. Refining strips it of all the beneficial antioxidants and fatty acids. In addition, some harmful additives could be utilized to make the butter creamier and easier to use. If you want to treat your acne the natural way, you need to choose an organic, raw and unrefined shea butter variety.