Who or what is Face Reality Acne Clinic?
Face Reality Acne Clinic is an acne clinic based out of San Leandro, CA. When they opened their doors in 2005, founder Laura Cooksey represented the cutting edge of acne-only clinics.
Cooksey had acne herself into her 30s, and after a life-changing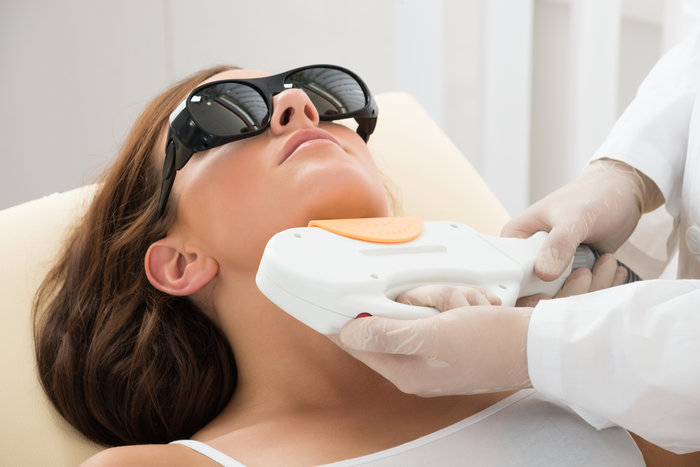 experience with an esthetician who took the time to craft a plan around Laura's skin type, diet, risk factors and what did or didn't work in the past, Laura was left inspired. She became a California state-licensed aesthetician in 1990, and until opening Face Reality Acne Clinic devoted herself to the study of acne.
The Face Reality acne clinic not only provides cutting-edge treatments and care, but also devotes resources to educating and certifying other estheticians, doctors and nurses. All around the country, more than 400 professionals have been certified by Face Reality Clinic. Cooksey even hosted the very first conference for acne specialists in September 2014.
So, even if you aren't local to San Leandro, there might be a certified provider near you
Who does Face Reality Acne Clinic serve?
Face Reality Acne Clinic does not discriminate based on age, acne type, or any other factors. As soon as you break out for the first time, or if you're an older adult who's struggled your whole life, they will treat you. They market primarily to patients who've tried multiple products, but with little to no success.
Face Reality lays out a few scenarios they speak directly to:
Have you grown tired of promises that a product was going to be the cure-all, when in the end nothing worked?
Have you used products that left your skin so dry or irritated that what good they did wasn't worth it?
Did you try something stronger like an antibiotic or Accutate, but not feel comfortable using it long-term with the potentially dangerous side-effects?
If you fall into any of these camps, Face Reality wants to talk to you. They expect their clients to be skeptical because of these types of experiences that usually lead to booking treatments with this acne-specialized clinic.
The only states currently without a certified Face Reality specialist are North and South Dakota, Wyoming, Iowa, West Virginia, Alabama, and Maine. However, there are stellar reviews of clients who chose to travel long-distance to a provider.
TIP: Check out our comprehensive guide – how to get rid of acne!
The Face Reality Acne Clinic Mission
This acne clinic's mission goes further than just treating acne, which—coupled with their 90% success rate—is why they've become so popular.
Face Reality sets out to:
Improve the quality of treatment and products for those suffering from acne
Educate, train and guide skin care professionals in the treatment of acne, and
Get and keep you clear
Their focus on education is apparent, particularly with the success of their Face Reality Provider Certification program. Their products and treatments are measurably successful, but do require regular use until you outgrow acne. If you're already an adult, you might be in for the long haul—but at least you'll be clear.
What makes the skin clinic acne treatment different?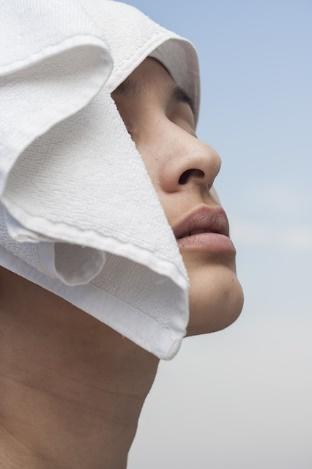 In order to make sure their programs work and are designed as specifically as possible for your case, only Face Reality productsare used when undergoing their treatments. Their product offering is huge, however, which is a direct reflection of what the acne clinic is all about: personalized plans that touch on every factor impacting your skin.
If we're honest with ourselves, we never really believe the ads that claim a treatment is a "one and done" for everyone. We get hopeful and decide to give something a shot, but some of the individual factors that lead to breakouts require real diagnostics and personalized care. And that's where you start at this skin clinic. Acne can be affected by genetics, pore size, oil production, skin cell reproduction, hygiene, skin sensitivities, hormones, stress and diet. And that's just to name a few. Face Reality takes all of that into account after doing an analysis of your acne, then devises the plan that makes most sense for you.
And it doesn't stop there. The acne clinic then monitors you closely to figure out what's really working, and change things up accordingly
Education at Face Reality Acne Clinic
This skin clinic is all about education, and for many audiences. Being a life-long sufferer of acne myself, I was thrilled to see the Information About Acne page on the Face Reality website. Most of it was stuff I've heard from one dermatologist or another, but having this type of information at-the-ready really demonstrates the mission Face Reality says they're out to achieve.
The education at Face Reality also focuses on making sure each client knows how to correctly use their products. The greatest reason behind the failure of any acne medication comes from improper use—even if you're convinced you've been good about following directions, sometimes you're missing steps or actually making your acne worse without even realizing it.
The greatest example of Face Reality's priority on education is in their robust Certification Program for providers around the U.S. Their successful model is being populated all over the country, and lives are being changed.
What treatments and products does Face Reality Acne Clinic offer?
Face Reality has some one-time treatments and evaluations, but their primary focus is around a long-term, twice-per-month acne treatment. This is the treatment they believe the most in, and focus their energies on—so much so, that you even get a free consultation if you book their acne treatment.
This primary treatment includes:
The determination of your skin type, acne type and skin tolerance
Recommendations for the products and treatments you'll need to get clear
Examination of and discussion around the aggravating factors in your lifestyle that contribute to your breakouts
A packet with all the information gone over in this initial consultation
Customization of a system to get you clear, where bi-monthly visits to your esthetician include:

Exfoliation of the skin so that home care products can penetrate your pores
OR Hydration of the skin so that your skin is more receptive to your products
Extraction of existing acne impactions, and
Killing the acne-causing bacteria inside your pores
And, of course, your care regimen—designed around the huge collection of Face Reality-branded products they offer—will be modified as necessary as they watch your progress over time. Most clients clear up or see major results within 3-4 months.
Tip! Take an extra look at that second-to-last point on "extraction." In case you weren't certain, that refers to the careful emptying of infected pores—that is, the burliest of the zits that have sprouted leading up to your visit. Most clients say this process is only a little uncomfortable, but the satisfaction of emptying pores out makes it well worth it.
Other Services They Offer
There are several one-time or when-you-need-it treatments available at Face Reality skin clinic. Acne treatment is their focus across the board. But they also provide:
A la carte exfoliation treatment, coupled with a consultation
Acne rosacea treatment*
Acne scarring*
The products they use and recommend for aftercare of these treatments are not included in the price listed on the page.
They are very specific on the website that they only treat scarring that shows as discoloration; for pitted acne scars, they refer you to your doctor.
Face Reality Acne Clinic Products
The product offering at this acne clinic is enormous, and it's no accident. The skin clinic acne care products cover the full spectrum of active ingredients and percentages so that they can recommend the combination that ultimately will be the most personalized and effective option for you. The have cleansers, washes and scrubs, plus toners and spot medications. This is also how—and why—they're so specific about not using non-Face Reality products while you're in treatment with them. They've got you covered, and wat to control all factors affecting your acne to better treat it.
The Face Reality website talks about reviews you can find on Yelp and Genbook, which we found to be in no short supply. But they're reviewed on plenty of other sites, too, and with consistently good reviews all around. The overwhelming majority of reviews speak to the quality of their service and treatments.

The skin clinic's reviews on Genbook have positive reviews about the success of their products.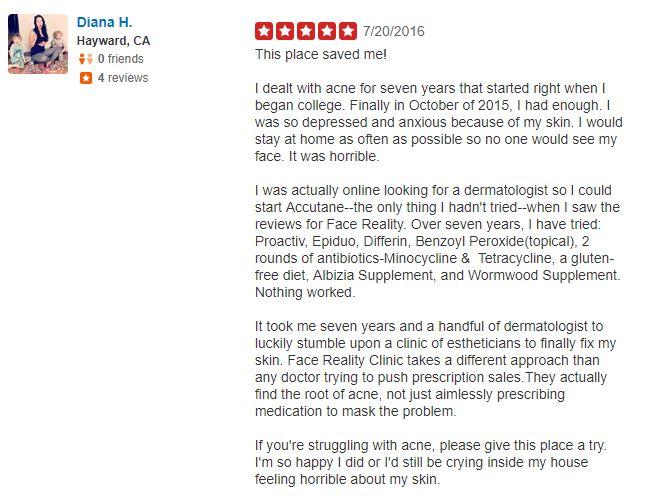 Yelp users appear to be even more vocal about their experiences at Face Reality. This clinic is clearly changing lives.
We also found reviews for the clinic's acne treatments on Birdeye.com, with an average 4.8/5-star rating.
Their Presence on Social Media
The acne clinic is active on Facebook—and half a dozen other social platforms—both as the acne clinic itself and as a networking platform for the hundreds of Face Reality Certified Professionals all over the country. Both of these pages continue to echo the clinic's mission of consistently educating people and providers about acne and acne treatments. I particularly recommend checking out their Pinterest account to see their phenomenal collection of before and after photos.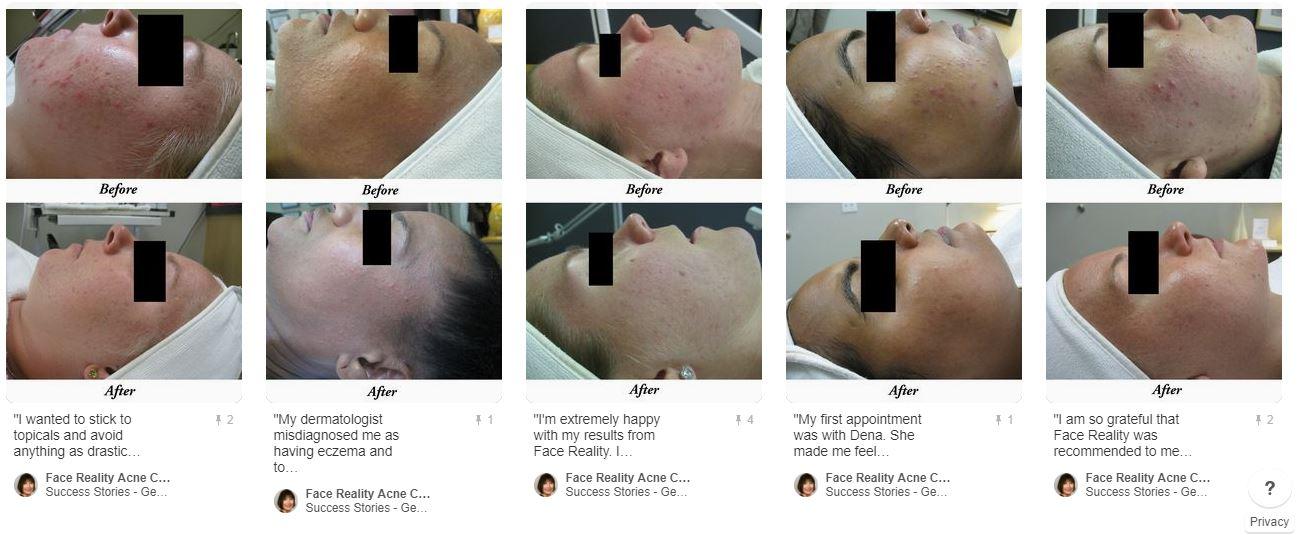 Google the clinic to see what news articles they've made it into, also. There's no shortage of published material out there for you to learn more about individual success stories celebrated by Face Reality Acne Clinic.
The focus on their long-term, bi-weekly skin clinic acne treatments is based on exfoliation, extraction, and the education for successful home care. But what does this mean?
Exfoliation is the process of removing dead skin cells from the surface of your skin. Especially on your face, which is a key producer of oils and has more exposure to the sun than any other body part, the regeneration of new skin cells happens rapidly. Sloughing off all that dead skin is a key first step in opening pores and readying your skin to benefit from the acne-fighting regimen recommended by the clinic.
Extraction is the process of emptying a pore of the sebum that's causing an acne infection. Each infected pore can be emptied and cleaned by your Face Reality Certified Esthetician, as oppose to popped at home. By having this done professionally, the pores are properly—and more exactingly—emptied, and cleaned properly thereafter to remove all of the infectious pus and to prime your skin for your home care treatments.
I'm never going to forget the first time one of my girlfriends popped a zit for me. I was 10, and already covered in pubescent pimples. My mom had told me not to touch my face, and to let the zits heal on their own—and I had followed her word religiously. But at a slumber party, a friend offered to pop and clean a particularly nasty zit for me. I fell asleep that night with an empty pore and a Band-Aid taped over my forehead.
However satisfying popping pimples can sometimes be, those of us who have suffered the woes of non-stop, can't-shake-it acne know that popping pimples at home is a dangerous habit. By undergoing this delicate cleaning with a professional who can be more precise, gentle, and hygienic, you'll be able to leave treatment with a real satisfaction.
A final word
Face Reality Acne Clinic says that their modalities are less expensive and more effective than any other, including medi-spa laser therapies, antibiotics and Accutane. And they're also much safer.
I'm from one of the few states that doesn't have any Face Reality certified specialists yet, but there were even some reviews on Yelp about clients who successfully underwent treatment with a long-distance drive. Needless to say, learning about Face Reality Acne Clinic has me inspired.
The acne clinic does take HAS and Flex Spending medical accounts, but does not pass treatments through traditional insurance providers. Consider looking up the closest provider to you and booking one of their a la cart exfoliations, or a consultation—based on everything we've learned about face Reality, you have every reason to check them out!