Dealing with acne can be one of the worst experiences of a young person's life, but thankfully, it's not the end of the world. There are numerous proven and worthy acne solutions available on the market nowadays, and all you need to do is find the one that fits your skin type.
In today's review we will be drilling down on MD Complete Breakout Spot Treatment Acne Clearing in every detail, talk about specifics, what you should know before buying the product and the overall effectiveness of it.
MD Complete Breakout Spot Treatment Acne Clearing Exfoliative Mechanism
MD Complete is a skincare company founded by Dr. Brian Zelickson, an expert dermatologist who helped develop many of the
acne treating laser therapies.
The exfoliating mechanism consists of two phases – bacteria elimination and rejuvenation. The
active ingredient
is 4.5% micronized benzoyl peroxide (kills acne causing bacteria), paired with
non-active
oleanolic acid (gives your skin a natural, healthy look) and various natural ingredients to sooth, calm and protect the skin from debris and future breakouts (skin rejuvenation).
The natural ingredients include Chamomile extract (used to calm irritated skin), Algae extract (improves the skin's resistance to acne formation and increases durability), Bisabolol (reduces acne inflammation) and Lentil seed (skin protection). All of these ingredients are
clinically tested and proven
to address various skin issues to a certain degree.
Of course, you can't expect each ingredient to perform at 100% in every given scenario. Depending on your skin type, cosmetics, other skincare products you use, genetics and a whole bunch of other variables, these ingredients might be less effective or more effective in different cases.
In case of MD Complete,
the concentration of benzoyl peroxide and natural ingredients is high
(4.5% is higher than average and due to the product having less amount of liquid elements, the effect of all ingredients is stronger), meaning that it's meant to hit acne harder than usual. While it's a good thing in general, it does sometimes backfire: customers have noted that the product has caused sunburn-like areas on their face (see customer reviews). Here is a great video demonstrating the results of a clinical study using MD complete:
Important Facts to Note
The manufacturer provides the full list of included ingredients publicly, which isn't exactly rare for a skincare product, however, a lot of producers keep their ingredients undisclosed not to reveal their "secret technique" – which can be untrustworthy. Having the complete list of ingredients is good for two things: one, the user can review the list and understand whether they are allergic to any of them, and two, it reassures you that there are no "gray areas" or questionable ingredients in the product.
MD Complete Breakout Spot Treatment Acne Clearing is ranked #1 acne treatment on the "9 Best Acne-Fighting Products" review by Total Beauty, a reputable skincare website.
What Skin Types Can Use MD Complete Breakout Spot Treatment Acne Clearing
As with all benzoyl peroxide containing products, its most suitable for oily skin types, however, it can be used by dry and sensitive skin types as well. The product is designed to fight mild to moderate acne breakouts, and is recommended for blemish-prone skin. As always, if you are going to use the product for the first time, take it easy and apply a small amount to affected areas and watch how your skin responds. Getting a sample of the product before buying the whole thing is also a good idea.
Be extra careful when buying the product for kids under 15. Benzoyl peroxide is a very aggressive ingredient and can easily harm young skin cells if you are not careful. That being said, some customers have reported that their kids had success with MD Complete with no harmful side effects (see customer reviews), but it never hurts to be cautious.
The product doesn't contain many chemical ingredients, which is probably why there have been no allergy reports. However, people can be allergic to natural ingredients as well, so check the list of ingredients to make sure it's safe for you. A handy tip: if you have used/are using other products containing any of the mentioned ingredients on the list, it means you aren't allergic to them.
Pros and Cons
No matter how good a product seems to be, it will always carry negative effects in contrast to positive ones. Here are the pros and cons of MD Complete Breakout Spot Treatment Acne Clearing:
Pros:
Contains strong, aggressive ingredients to combat acne breakouts and cure the skin relatively fast
Contains natural ingredients, reducing the chance of allergic reactions
Most ingredients are clinically tested and proven to ease acne related skin issues
Manufactured by a well-known and reputable company
The whole list of ingredients is publicly available
Suitable for all skin types
Affordable price ($19.99), if you buy the product as a kit in combination with MD Complete Clarifying Cleanser and MD Complete Healthy Skin Accelerator, you can get even better deals.
Cons:
Can make your face red and itchy due to the aggressiveness of benzoyl peroxide
Due to a strong concentration of ingredients, it can leave you with a burning sensation and pain after use
Sensitive skin types may find the product unsuitable
Benzoyl peroxide can discolor pillows, towels and other clothing
Some users have reported excess skin drying
Following the instructions on how to use each product is crucial for success and keeping yourself out of harm's way. Here is how you should use MD Complete:
Wash your face with hot water to open up skin pores
Cleanse the skin with a cleanser of your choice
Apply a pea-sized amount to affected areas and massage gently in circular motions.
When using the product to treat the whole face/other areas than the face, rinse it off after 5-7 minutes (3-5 minutes for sensitive skin types) and make sure to use an old towel or washcloth to avoid discolouration.
For the first two weeks, use the product every other day and only in the evenings. Beginning with week 3, start using it every evening. If your skin responds well and there is no dryness, gradually increase the usage to twice a day – morning and evening – for 6-8 weeks. (A single flask is advertised and supposed to last for 60 days).
What Results You Can Expect After Some Time of Use
Generally, benzoyl peroxide containing products are quick to show positive results if your skin is well suited.
Since MD Complete Breakout Spot Treatment Acne Clearing doesn't contain many chemical ingredients (and natural ingredients generally work slower in comparison), it may take more time than usual to notice positive improvements.
A full treatment period takes 6-8 weeks, but various customers have reported noticeable improvements in as little as 3 days, with full recovery taking less than 3 weeks.
Customer Reviews
Customer reviews are mostly positive (the product enjoys a 4 star rating on Amazon, with around 60 reviews) and there have been no reported cases of allergies or harmful side effects.
Most negative reviewers have reported cases of excess drying and "feeling as if your skin is sunburned", while some users haven't noticed any improvements (or worsening) at all.
Where to Buy MD Complete Breakout Spot Treatment Acne Clearing
To get the best deal, buy MD Complete on
Amazon
or their
official website
. There is also the option to get the full kit – cleanser, breakout spot treatment and nourishing mask – at a good price.
Be careful when shopping for skincare products and don't buy anything from sellers you don't know or trust, especially if they offer a discount or cheaper price. Defective or counterfeit products are very common nowadays and saving a few dollars isn't worth the risk of dealing with problematic ingredients, allergies or other side effects.
Questions to Consider Before Buying
Can I use this in combination with other products? – While MD Complete Breakout Spot Treatment Acne Clearing is a gentle product overall and there are no limitations as to using it with other skincare products, you should always consult a dermatologist before mixing things up. Various ingredients may contradict each other and cause harmful reactions.
Can I wear it under makeup? – The product is confirmed by customers to be wearable under makeup.
Any side effects I have to worry about? – Only a small portion of customers has encountered side effects in the form of dryness, itchiness and slight burns. No allergic reactions have been sighted.
Is it suitable for all skin types? – MD Complete Breakout Spot Treatment Acne Clearing is advertised to be suitable for all skin types, however, just like any benzoyl peroxide containing product, it is best suited for oily skin. Dry and sensitive skin types should use the product with caution to test the skin's reaction first.
How long does the flask last? – If you are following directions correctly, the flask should last for 60 days.
Due to various circumstances, you might not be able to get your hands on MD Complete, or it might prove to be too drying.
In that case, here are 2 great alternatives you can try:
#1 Basic Acne Treatment Kit by Exposed Skin Care
The Basic Acne Treatment Kit contains four products – cleanser, tonic, acne treatment serum and clear pore serum – and enjoys a solid 4 star customer rating on Amazon with over 800 reviews, which is pretty high for a skincare product.
The product is recommended for all skin types and contains pro-vitamin B5, which helps control and regulate oil production. Benzoyl peroxide is the active ingredient that combats bacteria, which is paired with natural ingredients to help nourish and revitalize the skin.
The company has a 60 day money back guarantee policy, which is reassuring. The product is a bit pricey ($63.95 and the kit will last for 8 weeks), yet highly recommended by customers.
Key features
for all skin types
natural ingredients
#2 Humane Benzoyl Peroxide 10% Acne Treatment Body & Face Wash, 8 Ounce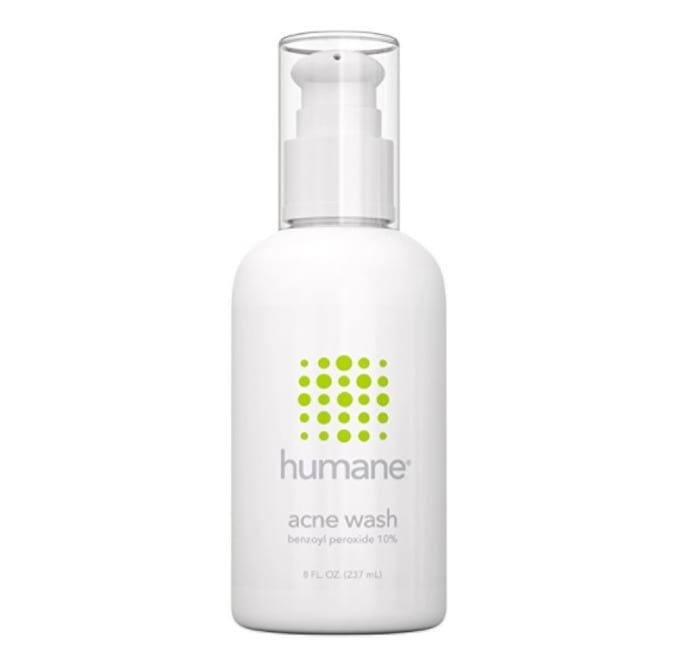 The number one best seller in facial cleansing gels on Amazon, Humane holds a solid 4.5 star customer rating on Amazon with over 1600 total reviews, which is crazy good for a skincare product.
The product utilizes 10% benzoyl peroxide as the active ingredient, which is rather high. However, most reviewers note that it doesn't dry the skin and works well for both oily and dry skin types.
As always, make sure to test a small amount before committing to regular use and read the detailed usage terms that are listed on the product page. Humane is on a 54% sale right now on Amazon.
Key features
doesn't dry the skin
utilizes 10% benzoyl peroxide
Final Thoughts
Overall, MD Complete is a safe choice for fighting blemishes and while it isn't the most powerful acne treatment solution on the market (many users reported that it did absolutely nothing in terms of curing acne), it carries no harmful side effects or allergic reactions, which makes it worth a try. It is also
slower to show positive results
or make a full recovery compared to other product, however, natural ingredients are always a plus and far better than chemicals. The price is affordable and if your skin does respond well to benzoyl peroxide, you will be very happy with the results.
Have you tried MD Complete before? What results did you achieve? How long did it take you to get there? Share your experience with use in the comments!