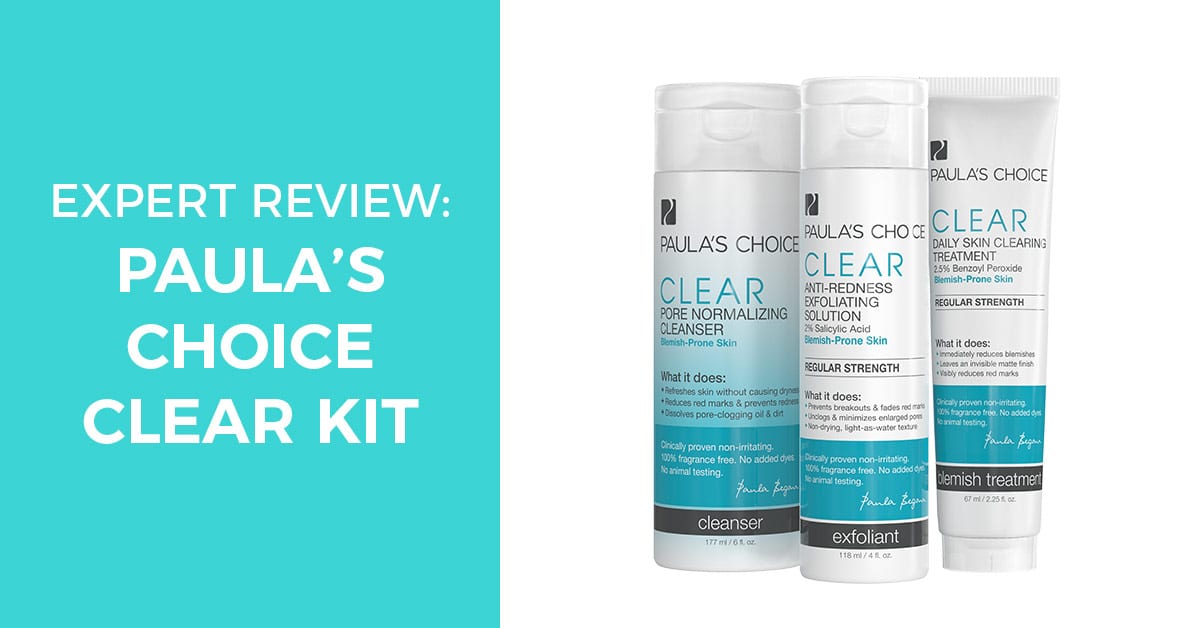 Paula's Choice CLEAR Regular Strength Kit Review – Everything You Need to Know
If you feel that being stuck with acne for the most of your teenage and adult life is probably the next worst thing after being hungry, I know what it feels like.
Don't get discouraged though!
I know I say this a lot, and it is easier said than done, but acne isn't wild magic – it can be treated effectively. All you need to do is keep looking for that one product that works for your specific case and skin type. In today's review we will be taking a close look at Paula's Choice CLEAR regular strength kit and go over every important detail.
BUY ON AMAZON
Paula's Choice CLEAR Regular Strength Kit Purification Mechanism
Paula's Choice CLEAR Regular Strength Kit consists of three products – cleanser (CLEAR Pore Normalizing Cleanser, 177ml), exfoliator (CLEAR Regular Strength Anti-Redness Exfoliating Solution with 2% Salicylic Acid, 118ml) and skin clearing agent (CLEAR Regular Strength Daily Skin Clearing Treatment with 2.5% Benzoyl Peroxide, 67ml). The skin clearing agent bottle is smaller compared to the other two, meaning you will run out of it faster. Keep this in mind.
The cleanser is a soap-free gel that gets rid of excess sebum (skin oil), various impurities, environmental debris and makeup. The exfoliator utilizes salicylic acid to keep acne under control, reduce pore size and unclog them, while soothing redness and irritation. The active ingredient in the skin clearing agent is 2.5% benzoyl peroxide, which combats acne-causing bacteria and significantly reduces their number.
The product is heavily advertised as non-drying, however, a lot of customers have reported mild to moderate cases of drying (see customer reviews) and recommend to use a moisturizer with it.
What You Need to Know About Paula's Choice CLEAR Regular Strength Kit
The product is designed for all skin types (including sensitive skin), combats mild to moderate acne breakouts and is generally recommended for blemish-prone skin. Though there are no age restrictions when it comes to sales, a general rule of thumb for all benzoyl peroxide containing products is not to be used by people under 15. Benzoyl peroxide is a very aggressive ingredient and can damage skin cells if you aren't careful.
A strong consideration point for the product is that it has been reported to be effective against hormonal acne, which is pretty rare when it comes to non-prescribed skincare products (see customer reviews).
Containing only 2.5% benzoyl peroxide, which isn't high, makes Paula's Choice suitable for youngsters. A number of customers have also reported that they acquired the product for their kids and had amazing results, but I'd suggest to be careful when using it for the first time, just to be safe.
Caution is also recommended for people with dry skin. Benzoyl peroxide is well known to dry the skin and make it redder for the first few times you use it, so keep a moisturizer handy.
Allergies may be another cause for concern. People allergic to aspirin (or salicylic acid) and benzoyl peroxide will experience harsh reactions, and such cases have been reported by customers (see customer reviews). If you are unsure about being allergic to those ingredients, do take caution when using the product for the first time. I'd also recommend getting a sample (not the whole package) for your trials.
Pros and Cons
Regardless of how good a product might appear to be, it will always carry negative effects that you have to deal with in addition to positive ones. Here are the pros and cons for Paula's Choice CLEAR Regular Strength Kit:
Pros:
Manufactured and sold by a highly reputable company
A solid number of positive customer reviews
60 day full refund policy if you purchase from the company website
Contains strong, aggressive ingredients to effectively purify the skin
Suitable for all skin types, including sensitive skin
Leaves a smooth, clean sensation after each use
3 in 1 kit makes it easy to give your skin the full treatment package
Great price compared to other, similar products ($46 for the whole trio)
Cons:
Can make the skin red and a little painful for the first few uses due to the aggressiveness of benzoyl peroxide
Can be too aggressive for sensitive skin types
People allergic to aspirin and benzoyl peroxide will find the product unusable
Some customers have reported skin dryness when using the product
How to Use Paula's Choice CLEAR Regular Strength Kit
It's important to use each skincare product correctly to achieve maximum effectiveness. Here is how you should use Paula's Choice:
Wash your face thoroughly with hot water to open up pores and apply a small amount of the cleanser to the wet face and massage in circular motions for a minute or two. Rinse with warm water and tap your face dry.
Apply a small amount of the exfoliator to a cotton ball and brush your face. Repeat the process twice a day. In case it causes dryness, use a moisturizer and apply the exfoliator only once a day.
Apply the skin care agent to aggressive spots, blemishes and other affected areas. Do this once a day and if no dryness occurs, gradually increase the number of times you perform the procedure to 2-3 times per day.
Always apply sunscreen protection when you go outside since salicylic acid can make the skin sensitive to sunlight.
What Results You Can Expect After Some Time of Use
Paula's Choice CLEAR Regular Strength Kit has been reported by customers to cleanse the face of imperfections, spots and blemishes in around 6 days, even in the case of severe cystic acne. Of course, depending on your skin type and genetics, results may vary.
Here is a great video (with before/after images included) of a young woman who got rid of her acne with the help of Paula's Choice:
In general, benzoyl peroxide and salicylic acid are fast to show positive results. Expect small improvements on the 2nd or 3rd day, and if your skin responds well to the treatment, the effect should gradually grow stronger. Keep in mind that benzoyl peroxide can make your skin red and itchy on the first two days of use, so don't panic if that happens.
Customer Reviews and Testimonials
Customer reviews regarding Paula's Choice CLEAR Regular Strength Kit are generally positive (the product enjoys a solid, 4 star rating on Amazon with around 300 reviews, which is pretty good for a skincare product, and 5 star rating on their official website).
Where to Buy
You can acquire Paula's Choice CLEAR Regular Strength Kit on the official website (and take advantage of their 60 day full refund policy) and Amazon. You can also get a sample at your local Walgreen store.
Be very careful when shopping for skincare products, and absolutely do not buy anything from untrusted websites/sellers you don't know well, especially if they offer an unusually cheap price. Defective or counterfeit products are very common nowadays and trying to save a few dollars isn't worth the risk.
Questions to Consider Before Buying the Product
Can I use this in combination with other products? – It can be used with moisturizers and sun protection creams, however, using different types of acne treatments at the same time might lead to excessive dryness, redness and itchiness. Consult a dermatologist before mixing things up.
How long will the pack last me? – The product lasts for a fairly long time. A customer has reported that after three weeks of use, around the half of it was still available.
Any allergies/side effects I should worry about? – Aspirin and benzoyl peroxide related allergies might lead to some mild reactions. Make sure to take an allergy test, or at least try the sample first.
Is it suitable for all skin types? – The product is advertised as such, and a lot of customers with different skin types (dry, oily, sensitive) have confirmed this. However, caution is still recommended for dry and sensitive skin types.
Alternatives to Paula's Choice CLEAR Regular Strength Kit
Due to various reasons, you might not be able to get your hands on Paula's Choice. In that case, here are two great alternatives you may want to consider:
Neutralyze anti acne solution enhances your skin's natural healing abilities and helps get rid of excess oil, dead skin cells and bacteria. The product is the world's first to use clinically tested nitric oxide as the active ingredient, which has shown amazing acne combating properties during studies. Exfoliating ingredients include 1% salicylic acid + 1% mandelic acid. Neutralyze enjoys a 4.5 star rating on Amazon and is on a 44% sale right now.
Like Paula's Choice, this kit comes with three bottles – Face Wash, Clearing Serum and Synergyzer – and works much the same way. It is suitable for all skin tones, and also dry and oily skin types. However, the product isn't recommended if you have sensitive skin.
Humane is the number one best seller in facial cleansing gels category on Amazon, holding a 4.5 star rating with around 1600 customer reviews, which is insanely good for a skincare product. Compared to Paula's Choice, it contains 10% benzoyl peroxide, which is pretty high. A few customers have attached before/after images where you can see truly amazing results.
Be careful when using it for the first time and make absolutely sure to test a tiny amount first, when buying it for kids under 15. The product is currently on a 54% sale on Amazon, available for $21.95. Lastly, don't forget to read the important notes listed on the Amazon product page before using.
Final Thoughts
Overall, Paula's Choice CLEAR Regular Strength Kit is a solid acne treatment medication with an affordable price, suitable for most skin types and carries almost no side-effects, unless you are allergic to aspirin or benzoyl peroxide. Customer reviews are very reassuring and a 4 to 5 star rating is great for a skincare product.
Just like with any skincare products containing aggressive active ingredients, my advice would be to try a sample first, or purchase it from the company website to get the 60 day refund possibility, and see how your skin responds to it. If all goes well, continue using Paula's Choice CLEAR Regular Strength Kit as described above and don't forget about the moisturizer and sun protection cream.
Have you tried Paula's Choice CLEAR Regular Strength Kit before? What is your opinion on it? Would you recommend it to others? Share your experience with us!
Results

Availibilit

Price

Overall satisfaction