Dealing with zits and blemishes on a regular basis, especially with most of them popping up at the worst possible time, is a struggle that is nothing new to over 80% of the world population.
Moreover, differences in skin types, individual chemistry, genetics and environmental factors makes it even harder to find the one product that works best in a specific case, which only adds to the frustration.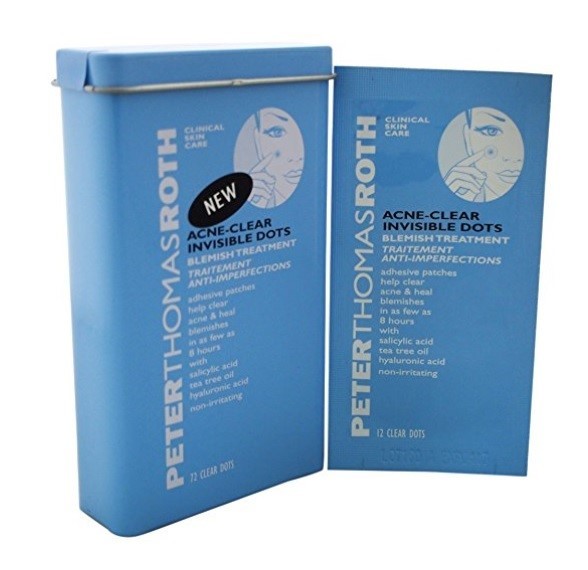 However, there are brands that go out of their way to produce and supply us with means to fight those nasty zits as best as possible, so only thing you have to do is keep searching for the right ingredients that have a positive impact in your case.
Today we will be taking a detailed look at Peter Thomas Roth Acne-Clear Invisible Dots, understand their strengths and weaknesses, and what makes them a great choice for fighting occasional pimples.
Acne patches are small (8-12mm in size), round-shaped pieces of material that are applied to blemishes as a fast (usually overnight) spot treatment. Also known as hydrocolloid bandages, acne spots or acne dots, these treatments originated in Asia (with South Korean brands being among the first producers) and have only recently appeared in European and American markets.
Various brands offer different sizes of acne patches (from S to XL), providing a wide array of choices to counter all kinds of zits. Depending on how they work, there are two common variations of acne patches – medicated and unmedicated.
Medicated acne patches are made thin, stiff and non-flexible material that feels like plastic. These patches are usually infused with common acne-combating ingredients that are present in many different skincare products (benzoyl peroxide, salicylic acid, tea tree oil or combinations of those), supported with secondary ingredients that vary from manufacturer to manufacturer.
These types of patches feel very light on the skin and work by isolating the blemish from the outside world (protecting it from both environmental dust and picking on with hands) and allow the active ingredients to work their magic with greater efficiency, speeding up exfoliation, healing and recovery time.
Unmedicated acne patches are generally thicker and more flexible. These are 100% drug and chemical free treatments where the main acne combatant is represented by the hydrocolloid dressing, which treats an acne lesion like any other wound. The hydrocolloid dressing acts as a protective layer (keeping dust away and discouraging you from picking at your face) and forms a gel when exposed to fluid (including pus, skin oil and sweat).
The exfoliative mechanism is very simple – the hydrocolloid dressing literally siphons all the guck out of the acne lesion, leaving a flat, less red and less inflamed area when removed, while speeding up healing and regenerative processes.
One thing to note is that hydrocolloid dressings in acne patches are specifically designed to absorb more fluid than usual, which effectively enables them to produce satisfying results overnight while draining up the pimple and speeding up skin recovery.
What Type of Acne Patch Should You Use?
While there is no single right or wrong answer since different people have different skin types, genetics and unique individual chemistry, as a general rule, medicated acne patches are well-suited for the earlier stages of the blemish – when there is a lot of redness, inflammation and itchiness going on – and unmedicated patches are used to deal with already matured pimples that can generally be described as "ripe for squeezing".
Side Effects of Acne Patches
Side effects of acne patches are either non-existent or very minimal. The unmedicated type contains absolutely no chemicals or drugs, and utilizes the physical mechanism of pus extraction to aid the healing processes, which is exactly why those are 100% safe to use.
In the worst case scenario, a specific patch might not work on the given type of blemish (different brands focus on fighting different types of blemishes including whiteheads, blackheads, cysts, pustules, etc.), but that's about it.
Now medicated acne patches are a bit trickier and here you'll need to have at least some knowledge about your own skin and how it reacts to various types of treatments. For instance, if you have dry or sensitive skin, or can't tolerate the active ingredients that the acne patch utilizes to deal with blemishes, you may experience itchiness, redness and dryness, which in some cases, can even make the acne look worse.
The good news is that those side effects will always be limited to the blemish area, since the patch cover a small section of the face, in contrast to creams and gels that are usually used to cover the whole face.
What are Peter Thomas Roth Acne-Clear Invisible Dots and How Do They Work?
Peter Thomas Roth is a specialized Hungarian skincare and cosmetics brand with a strong focus on acne-combating and anti-aging solutions.
Ever since the brand was launched in 1993, it has been utilizing the unique healing properties of muds and minerals found in the Hungarian thermal springs, combining those with various, mostly natural, ingredients and modern technology to manufacture high quality products that effectively cleanse the face without causing side effects.
Acne-Clear Invisible Dots represent the medicated type of acne patches, with 0.5% salicylic acid being the active ingredient in those. One big advantage that medicated patches have over their unmedicated counterparts is that, if your skin responds well to those, they not only significantly reduce the blemish before it can even mature (which, by the way, minimizing scarring chances), but also eliminate acne causing bacteria and prevent them from spreading.
Keep in mind that the concentration of salicylic acid in medicated acne patches is a bit higher and its effect is stronger than with usual products containing 0.5% salicylic acid, due to the patch isolating the blemish area from the outside world and sitting directly above it for a long amount of time.
The supporting ingredients are mainly focused on keeping the skin from dehydrating and becoming excessively dry, which can cause itchiness and redness upon removal. The product comes in two custom sizes that you can choose upon purchase and each pack contains 72 patches.
The patches themselves are thin, non-flexible and transparent, allowing them to blend well with most skin tones and be almost invisible in public. They also adhere pretty well and work for all skin types that are responsive, and not sensitive, to salicylic acid treatment. Finally, the patches work best for zits that are close to the surface of the skin and don't yet have pus inside them.
Pros and Cons of Peter Thomas Roth Acne-Clear Invisible Dots
As it's always the case, not everything is great about Peter Thomas Roth Acne-Clear Invisible Dots. Here are the pros and cons:
PROS:
Good adherence.
Almost invisible in public.
Easy to use.
Suit all skin types and tones.
CONS:
Contain chemical ingredients.
Not suited for skin types sensitive to salicylic acid.
Not suited for people allergic to Aspirin.
Ineffective against cysts and pus-filled blemishes.
Makeup or other topical products can't be applied over those.
How to Use Peter Thomas Roth Acne-Clear Invisible Dots
Acne-Clear Invisible Dots are incredibly easy to use. Here are step-by-step instructions:
Wash your face
thoroughly with warm water and antibacterial soap. If you use a cleanser, avoid using anything harsh or containing active ingredients. Pat dry.
Make sure to dry your face well. Patches don't stick to wet skin. Don't apply any medication under the patch.
Apply an appropriately sized patch to the blemish and make sure that it covers it from all angles. Gently press the outer edges into the skin for maximum adhesion.
Let the patch sit overnight or for a day to allow salicylic acid to work its magic.
Don't apply makeup over it.
Remove in the morning and reapply another one if needed.
What Results You Can Expect After Some Time of Use
Generally, acne patches are very quick to show results. A single overnight application is often enough to reduce the blemish substantially, make it flatter, less red and less inflamed. If you don't see any positive changes after at least 2 overnight applications, you're either using the patches on the wrong types of blemishes or your skin isn't responsive to salicylic acid treatment.
Also, while the blemishes do get significantly reduced, don't expect them to disappear the next day. The patch takes care of the infection inside the pimple, but your skin will still need some time to heal fully. The good news here is that once the infection is dealt with, you can over the area with makeup.
Customer Reviews of Peter Thomas Roth Acne-Clear Invisible Dots
Customer reviews of Peter Thomas Roth Acne-Clear Invisible Dots are generally positive, although there aren't too many reviewers sharing their experience (around 50 reviews available) compared to some other products on the market. Also, it's worth noting that this is a medicated acne patch and should be approached differently, and can't be compared to the unmedicated patches straight up since the mechanisms are very different.
Here are some of the most impactful reviews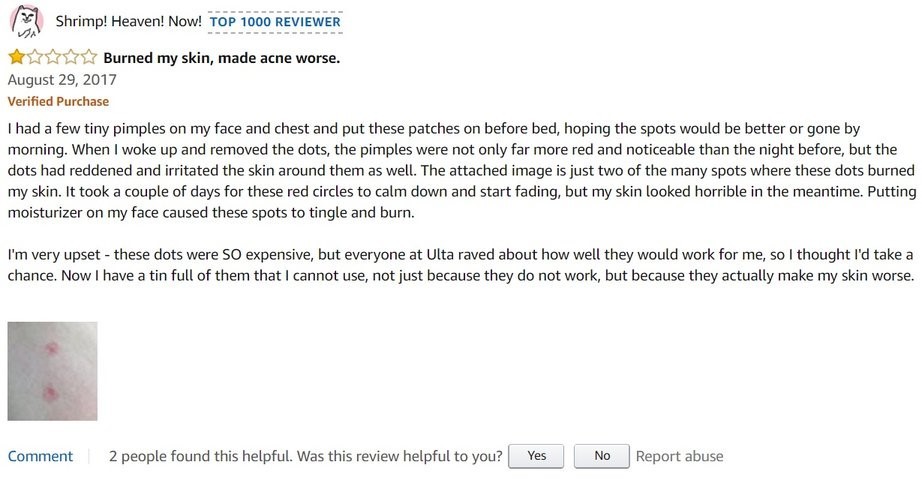 Where to Buy Peter Thomas Roth Acne-Clear Invisible Dots
I'd recommend buying the product either on Amazon or the official website, which offers free shipping on orders above $50. The product is somewhat expensive considering some of the alternatives available ($30 for 72 patches), but there always seems to be some sort of discount going on, bringing the price down to $20 range, which makes it a better bargain.
Questions to Consider Before Buying the Product
Can I use this in combination with other products? – No. You should never apply any sort of skin clearing agents underneath acne patches, especially medicated ones.
How long does the pack last me? – The pack will last fairly long, given that your skin responds well to salicylic acid. An average of 2 patches per blemish should make it last around 15-20 days.
Does it cause dryness or irritation? – Only if your skin is sensitive to salicylic acid or if you have a very dry and/or sensitive skin type.
Is the product suitable for all skin types and tones? – Yes, the product blends well with most skin tones and can be used by any skin type, as long as you're not allergic to aspirin.
What types of blemishes do these work best for? – The product works best for early stage blemishes that are located near the surface of the skin. It's less effective against cysts, pustules and aged pimples.
Alternatives to Peter Thomas Roth Acne-Clear Invisible Dots
In case you can't get your hands on Peter Thomas Roth Acne-Clear Invisible Dots, here are two great alternatives to consider: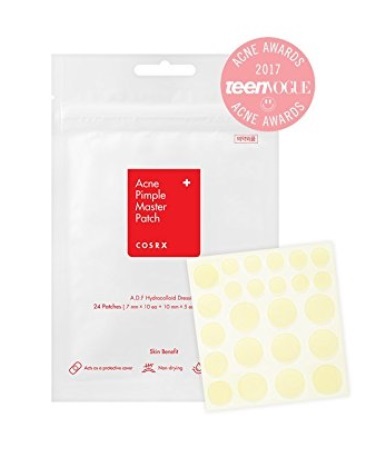 COSRX is a leading Korean skincare brand specializing in producing high quality, all natural skincare products and cosmetics.
The COSRX acne patches represent the unmedicated version and utilize the physical mechanism of siphoning the gunk out of the blemish with the help of the hydrocolloid dressing, and work pretty well for most types of zits including whiteheads, blackheads, cysts, etc.
The patches themselves are thick, flexible and transparent, blend well with most skin tones and, being 100% drug and chemical free, safe to use for all skin types. The adherence of the patches is among the best in class and the addition of some supporting ingredients allows to speed up exfoliation and skin recovery time. The product enjoys a solid 4 star user rating on Amazon, with over 2400 customers sharing their experience with the product.
Key features
Adult Acne & Scar, Beauty Tools, Skin Trouble
Hydrocolloid type
Pros
safe to use for all skin types
Convenient use
Low irritation
Cons
Won't work in super stubborn cystic acne
Nexcare is a specialized healthcare brand owned and operated by the company 3M, primarily focused on producing skin and wound care products. While not a cosmetics brand in its essence, when it comes to acne, Nexcare offers some of the best products on the market.
The patches represent the unmedicated type, are thick, flexible and transparent, which helps them blend well with most skin tones.
Also, they are 100% safe to use for all skin types and are best suited for fighting blackheads and whiteheads. The only slight downside is the somewhat poor adherence that has been reported by a high number of users. Nonetheless, the product enjoys a solid 4 star user rating on Amazon with over 2000 reviews to support it.
Key features
unmedicated type, are thick, flexible and transparent
use for all skin types
Pros
Gentle yet effective
Convenient use
Low irritationHelps reduce the urge to touch and pick at the blemishes
Cons
Not Made With Natural Rubber Latex
Final Thoughts
Peter Thomas Roth Acne-Clear Invisible Dots can be highly effective for combating occasional zits, given that your skin responds well to salicylic acid. Keep in mind that acne patches don't work against moderate to severe breakouts and take care only of the blemish, but the skin still needs time to heal fully.
The majority of users that have the suitable skin type are pretty happy with the product and I'd recommend giving this a try if you're looking for something that can reliably clear a few pimples overnight. In the worst case scenario, the product won't suit your skin type and unique chemistry, but at least there won't be much damage done, other than a bit of redness and itchiness in the blemish area.