Dealing with acne on a constant basis is more frustrating than anything and we all know that feeling when you wake up to see yet another angry zit on our face, ruining the day before it even started.
Luckily, there are products out there that do help, if not completely eliminate, then at least minimize their number and improve our moods. Today, we take a detailed look at one such product, COSRX acne patch, to understand how it works, how effective it is and what to expect of it.
An acne patch (also known as hydrocolloid bandage, acne bandage or pimple patch) is a small (around 1 cm in diameter) round shaped material that is applied on top of a blemish (whiteheads, blackheads, cysts, etc.) to accelerate exfoliation, healing and regeneration. Acne patches can be applied during the day and overnight, and come in a variety of sizes (from XS to XL) to fit almost any zit.
There are two common variations of acne patches – medicated and unmedicated.
Medicated acne patches are made of hard, non-flexible material that reminds plastic. They are usually infused with different medications that are proven acne-combatants like benzoyl peroxide, salicylic acid, tea tree oil or combinations of those, along with a bunch of other, supporting ingredients that vary from brand to brand.
Those types of patches are very light and almost unnoticeable on the skin, and work by deploying the medicine into the blemish inside a sealed, protected environment, reducing the chance for dust and debris to get into the lesion as well as not letting you pick on the pimples and thus, minimizing the chance of scarring. Medicated acne bandages also boost the healing effects of the ingredients since they sit directly on the blemish, accelerating healing and recovery time.
Unmedicated acne patches are chemical and drug free treatments that are made of thick, flexible hydrocolloid material, which treats a lesion just like any other wound. Those patches work by literally sucking out the guck from the pimple over time, while lessening inflammation and redness, and speeding up recovery.
The main acne combatant is the hydrocolloid dressing, which forms a gel when exposed to liquid like pus, skin oil and sweat, and creates a protective shell around the lesion (preventing picking and dust from getting inside). Hydrocolloid dressings are specifically made to absorb more liquid than usual, which helps accelerate exfoliation and recovery time.
Which Type of Acne Patch You Should Use
While the answer varies from case to case, usually, medicated acne patches are good against zits that have been formed recently – there is a lot of redness, inflammation, pain and no pus is looking to come out anytime soon – and unmedicated patches are great for later stages of the zits – like whiteheads, blackheads and those blemishes that you simply feel are squeezable.
Who Should Use Acne Patches?
Generally, acne patches are very safe to use for people of all ages, races and skin types.
Unmedicated acne patches are drug and chemical free, so there is no need to worry about allergic reactions, dryness, itchiness or any other side effect commonly associated with skincare products.
The only instances when you may feel some kind of discomfort is when using medicated acne patches (infused with benzoyl peroxide or salicylic acid) and being allergic to those ingredients, or if you have sensitive skin that doesn't tolerate these active ingredients very well.
It's also worth noting that medicated acne patches include more concentrated versions of salicylic acid and/or benzoyl peroxide because they act as a spot treatment. The fact that the blemish is isolated from the outside environment, meaning that the patch sites directly over it for long periods of time, can also cause itchiness or dryness.
On the bright side though, even if those side effects do occur in your case, at least they will always be limited to the blemish, in contrast to creams and gels that are generally spread over wider areas or even the whole face.
How Does COSRX Acne Patch Work?
COSRX, a leading Korean skincare brand, offers hydrocolloid bandages that represent a mix between medicated and unmedicated types. While these work by sucking out the pus out of the pimple, at the same time, they are infused with other ingredients that help speed up exfoliation, recovery and regeneration. None of those ingredients are chemical by the way, meaning that they are still 100% safe to use.
The exact ingredients are the following: Cellulose gum, Styrene Isoprene Styrene Block Copolymer, Polysobutylene, Petroleum Resin, Polyurethane Film, Liquid Paraffin and Tetrakis Methane. Some of those and used to make the hydrocolloid dressing and others are common in many food products we use every day.
COSRX acne patches can be used by all skin types and tones, adhere properly, blend well with your skin and are effective as both a daytime and overnight treatment, although many users insist that overnight treatment usually produces better results. The bandages can used to treat all kinds of zits including whiteheads, blackheads, painful cysts, etc.
Pros and Cons of COSRX Acne Patches
Just like any other skincare product, COSRX acne patches do have their pros and cons.
PROS:
Incredibly easy to use
Good adherence
100% safe from side effects
Transparent and blend well with your skin
Decently priced
Can be used during the day and night
Suits all skin types and tones
Chemical and drug free
Effectively remove most kinds of blemishes
CONS:
Noticeable under makeup
When wearing in public, people will eventually see them
Needs to be used consistently to produce sustainable results
Ineffective against severe breakouts and large amounts of acne
How to Use COSRX Acne Patches
COSRX acne bandages are incredibly easy to use. Here are detailed directions:
Wash your face
with warm water and antibacterial soap (or cleanse it if you prefer so) and pat dry.
Do not apply any other skin clearing agents under the patch as it may lead to unexpected reactions.
Make sure that your skin is dried properly, or the patches wont stick well. Use paper towels if necessary.
Apply the patch directly to the pimple and let it sit for a while. The time depends on the individual case. If you're going for an overnight treatment, just remove in the morning.
When the bandage turns to white from transparent, you know that its done its job. Remove it and apply a new one if necessary. Repeat as many times as needed.
What Results You Can Expect After Some Time of Use
COSRX acne patches are very quick to produce noticeable results. Even a single overnight application can be enough to substantially calm the blemish, remove the pus and make it less red and inflamed.
It's important to note though that the hydrocolloid dressing only takes care of the guck inside the pimple, meaning that it will still take time for the wound to heal fully. On the bright side, when the zit is dealt with effectively, it can be easily covered by makeup.
Customer Reviews of COSRX Acne Patches
Customer reviews of COSRX acne patches are generally positive. The product enjoys a solid 4 star user rating on Amazon with over 2200 reviews to support it, which is very impressive for a skincare product. While some customers have reported that the product did nothing to aid them in their case, others swear by its name and are ready to recommend it to everybody they meet.
As we all know by now, skincare products don't fit each and every case and there are products that work for some, yet completely fail for others. There is just no other way but to try.
Below are some of the most impactful reviews, with the full review list here: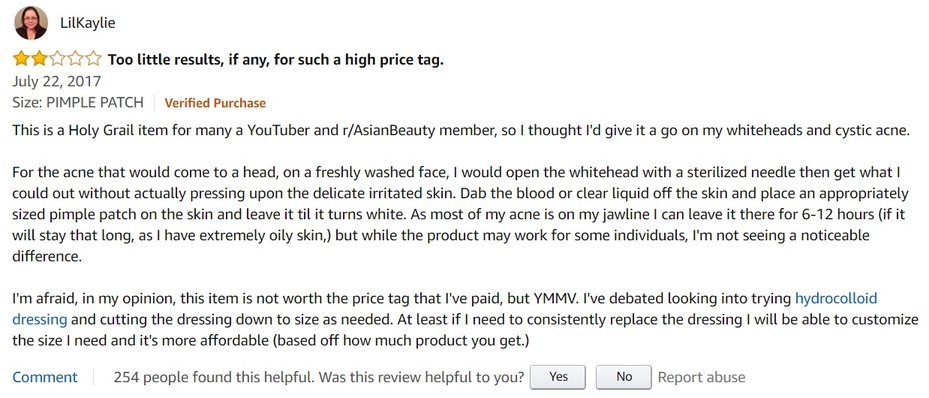 Where to Buy COSRX Acne Patches
As of now, I'd recommend to get COSRX on Amazon. They are very well priced (around $4-4.30) and the seller on Amazon is a reputable one. This is important because there are a lot of counterfeit and damaged skincare products on the market and you should always try to avoid getting stuff from sellers you don't know or trust.
The only downside is the availability – its very inconsistent. Users have reported that the product might be in stock for a while, then vanish for weeks, so I'd recommend to get 2 or 3 additional ones, just in case.
Questions to Consider Before Buying the Product
Can I use this in combination with other skincare products? – Its highly inadvisable to use any kind of skin clearing agents under the patch. The effects might be unpredictable and you could end up with itchiness, dryness or redness.
How long will the pack last me? – Although it varies from case to case, a single patch is enough to clear a single blemish, so depending on how many pimples you need to treat, expect around 10 days.
Does this cause dryness or irritation? – In the vast majority of cases, no. COSRX acne patches are drug and chemical free, meaning there shouldn't be any side effects.
Is this product suitable for all skin types and tones? – Absolutely. COSRX acne bandages are specifically designed to suit all skin types and tones.
Alternatives to COSRX Acne Patches
If you can't get hold of COSRX acne patches for some reason, here are two great alternatives:
Nexcare acne patches represent the
unmedicated type
and work similar to CORSX, extracting the guck out of the blemish while speeding up healing and regenerative processes. Again, it takes time for the damaged skin area to heal fully, just like any other wound.
These patches are very lightweight, transparent and barely noticeable, meaning you can wear them in public without too much discomfort. The product comes in a variety of sizes, blends with all skin types and works best for removing whiteheads and blackheads.
In terms of past customer experiences, the product enjoys a solid 4 star user rating on Amazon with over
2000 reviews
to support it.
Key features
unmedicated type, are thick, flexible and transparent
use for all skin types
Pros
Gentle yet effective
Convenient use
Low irritationHelps reduce the urge to touch and pick at the blemishes
Cons
Not Made With Natural Rubber Late
#2 MEDca Universal Acne Pimple Patch
MEDca acne patches also represent the unmedicated type and work by sucking out the pus out of the blemish. The product works with all skin types and blends well with various skin tones, allowing you to wear them in public without too much inconvenience.
The patches themselves are lightweight, breathable, easy to apply and adhere perfectly, making them a good choice for overnight treatment. The product excels at combating big, painful, cystic zits yet is a bit slow when trying to get rid of whiteheads and blackheads.
In terms of customer reviews, the product holds a 4 star user rating on Amazon with over 450 reviewers sharing their
experience with the product
.
Key features
use for all skin types
wear them in public without too much inconvenience
Pros
excels at combating big, painful, cystic zits
Reduce readness & swelling fast
Final Thoughts
COSRX acne patches are very well priced, adhere perfectly, blend with most skin tones, are safe for all skin types and don't cause any unwanted side effects or skin reactions. However, keep in mind that acne patches are good when combating an occasional pimple or two, and less effective when dealing with large, systematic breakouts.
Based on the, generally positive, experiences of previous users I'd absolutely recommend giving the product a try. In the worst case scenario, which is if the product does literally nothing to help you with acne, you won't end up in a worse state than before or spend a great deal of money on experimentation.
Have you used COSRX acne patches before? What results did you achieve? Did they adhere well? Were you able to wear them in public? Share your experience with everyone in the comments!