Dealing with acne is a tiring, stressful and unpleasant experience, especially when there is no choice involved – some people suffer from it, while others have a completely smooth and clear skin.
Fortunately for us, there is a wide array of skincare products available on the market, and most of them have become famous for producing simply outstanding results when it comes to dealing with acne breakouts. However, since each person's chemistry is unique, not all products produce the same results for all people. This leaves only one choice – find the one product that will work for your specific case, and vanquish acne once and for all!
Today we will be taking a detailed look at Dermalogica Clear Start Kit and understand all the specifics, who should use it, how to use it correctly and what results to expect after consistent use.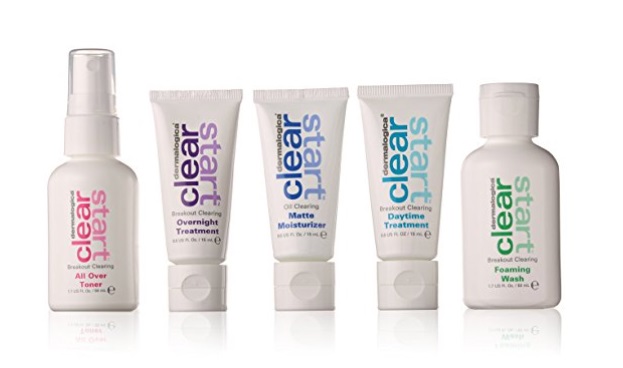 How Dermalogica Clear Start Kit Works
Dermalogica is a US brand founded in 1986 by Jane Wurwand, a professional skin therapist. It's one of the most well-known companies in the world, available in over 80 countries, with over 300 beauty awards and recommended by over 100.000 therapists.
NOTE: Dermalogica clear start kit is the updated version of Dermalogica Clear Start Breakout Kit. Both kits contain the same 5 products, it's merely a change of packaging.
The kit is comprised of 5 following bottles:
1. Clear Start Foaming Wash – Active Ingredient – salicylic acid 0.5%. The Foaming Wash acts as a cleanser and removes dust, excess oil, debris and dead skin cells, while unclogging pores and preventing future breakouts. Other ingredients like Tea Tree, Lavender and Camellia Sinensis soothe and calm irritation, while the Orange Peel Extract revitalizes and refreshes the skin.
2. Clear Start All Over Toner – Active Ingredient – salicylic acid 1.0%. Formulated with similar natural ingredients as the Foaming Wash, All Over Toner further exfoliates the skin from excess oil and reduces breakouts, while Argan and Lavender soothe redness, and Lemongrass refreshes the skin.
3. Clear Start Daytime Treatment – Active Ingredient – benzoyl peroxide 2.5%. The Daytime Treatment spray eliminates acne causing bacteria with the help of benzoyl peroxide. Other ingredients like Lavender and Cucumber Extracts soothe and calm the skin.
4. Clear Start Matte Moisturizer – Active Ingredient – Avobenzone, Oxybenzone, Octisalate. The Matte Moisturizer acts as sunscreen and protects from UV rays during daytime, while also minimizing oil production, reducing oily shine and keeping the skin hydrated thanks to botanical ingredients like Licorice, Birch and Willow.
5. Clear Start Overnight Treatment – Active Ingredient – salicylic acid 2%. As you sleep, salicylic acid further unclogs pores and reduces breakouts, while Cucumber and Licorice combat redness and protect the skin.
The apparent downside of the kit is it's size and tiny bottles, which make the whole thing rather pricey. The bigger versions of the bottles are sold separately, and are in the range of $15-30 each for 60 -120ml bottles.
Who should use Dermalogica Clear Start Kit?
Pros and Cons of Dermalogica Clear Start Kit
Like with any other skincare product, you need to weigh pros vs cons to determine whether its worth a shot. Here are the pros and cons of Dermalogica:
PROS:
Manufactured by a highly reputable brand.
Includes clinically tested and proven ingredients to combat acne.
Active ingredients are paired up with natural ingredients to help sooth and calm the skin.
Suitable for all skin types.
CONS:
High price.
Mild allergic reactions have been reported.
Not all products in the kit seem to work perfectly.
How to Use Dermalogica Clear Start Kit
It's important to follow the usage directions correctly to avoid any unwanted side effects and achieve maximum effect, particularly when it comes to skincare products. Here is how you should use Dermalogica clear start kit:
1. The correct order is the following: Foaming Wash, All Over Toner, Daytime Treatment, Matte Moisturizer, Overnight Treatment.
2. Apply a small amount of the Foaming Wash over the face, neck and back as needed. Rub the substance with your fingers using gentle, circular motions. Rinse thoroughly with hot water. Pat dry and leave the face a bit damp. Avoid eye areas. Can be performed morning and night.
3. Spray All Over Tone on the face, neck and back as needed to combat breakouts. Avoid eye areas. Let it absorb for 5-8 minutes. Can be used morning and night.
4. Apply a small amount of Daytime Treatment to affected areas. Let sit for 5-8 minutes.
5. Apply a small amount of Matte Moisturizer to all areas that you treated previously.
6. Perform the cleansing (2) and toning (3) procedures before bedtime. Apply a thin layer of Overnight Treatment and let it absorb for 8-10 minutes to avoid discoloration and bleaching of bed sheets.
Here is a great video of a young woman explaining the proper routine:
What Results You Can Expect After Some Time of Use
While there are no concrete notes as to how fast the product starts producing results, all benzoyl peroxide containing products are generally quick to show improvements. The time can greatly depend on each individual who uses the product, but generally, it takes from 5 days to 6-8 weeks to completely clear the skin. Some customers have reported the kit to make wonders after a week of consistent use (see customer reviews).
Customer Reviews of Dermalogica Clear Start Kit
The Customer reviews of Dermalogica Clear Start Kit are generally positive, and while there aren't that many on Amazon or their official website to objectively assess the effectiveness, customers are pleased with the results, even when dealing with hormonal acne. That being said, some mild allergic reactions have been noted, as cases when the kit produced little to no effect.
Where to Buy Dermalogica Clear Start Kit
You can purchase the kit on Amazon or the official Dermalogica website. The price varies depending on which seller you pick (around $41-$46 on Amazon and $42 on the official website). No discounts or coupons are available as of now.
Remember that you absolutely shouldn't buy skincare products from sellers you don't know or trust, especially if you are offered a much cheaper price. Defective and counterfeit products are very common nowadays, and saving a few dollars today can lead to very nasty consequences later. You don't want that.
Questions to Consider Before Buying Dermalogica Clear Start Kit
Is this compatible with other products? – The kit is compatible with other skincare products and also makeup. If you have sensitive skin, consult a dermatologist before mixing things together, just to be safe.
How long does the kit last me? – The kit is fairly small compared to similar products, it lasts around 2 months when used consistently.
Any side effects I should know about? –The product doesn't seem to cause side effects or allergic reactions aside from very rare cases, however, it can be problematic if you are allergic to benzoyl peroxide.
What skin types is this suitable for? – The kit is designed for all skin types, including sensitive skin.
Alternatives to Dermalogica Clear Start Kit
In case you aren't able to get your hands on Dermalogica Clear Start Kit for some reason, here are two great alternatives that you can consider:
The kit is designed to combat mild to moderate acne breakouts. The active ingredient is 2.5% benzoyl peroxide which eliminates acne causing bacteria, paired with 2% salicylic acid, which unclogs pores and exfoliates the skin.
A more affordable option compared to Dermalogica clear start kit (for almost the same price you get a Cleanser (177ml), Exfoliator (118ml) and Spot Treatment (67ml)) coming from a reputable brand, Paula's Choice CLEAR Regular Strength Acne Kit enjoys a solid 4.5 star user rating on Amazon with around 70 reviewers.
Be careful not to confuse this with Paula's Choice CLEAR Extra Strength Acne Kit designed for severe acne. These are two different products and won't work the same! The latter contains 5% benzoyl peroxide, which can be too harsh for sensitive skin, and mild acne breakouts.
Here is a great, detailed customer review on how Paula's Choice helped a young woman deal with severe, hormonal, cystic acne: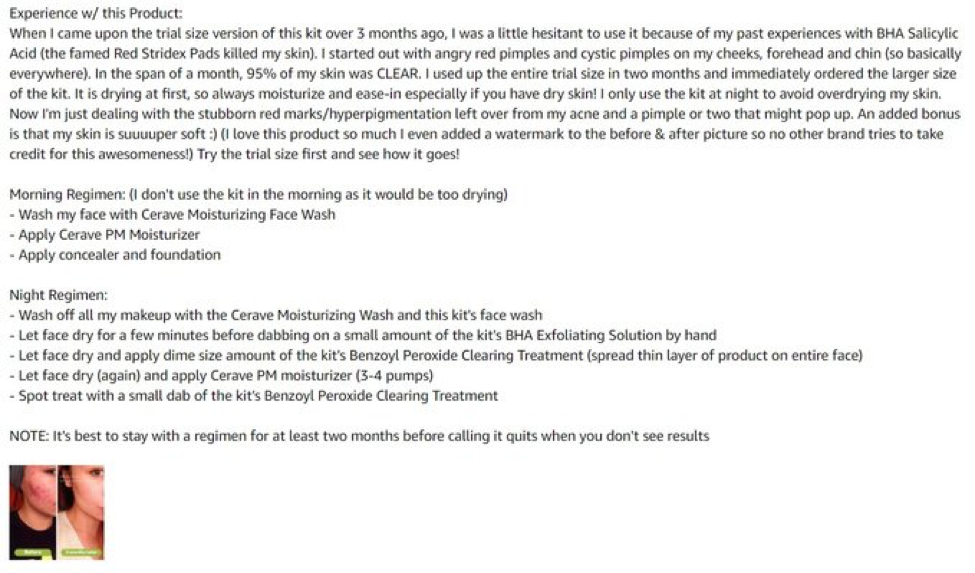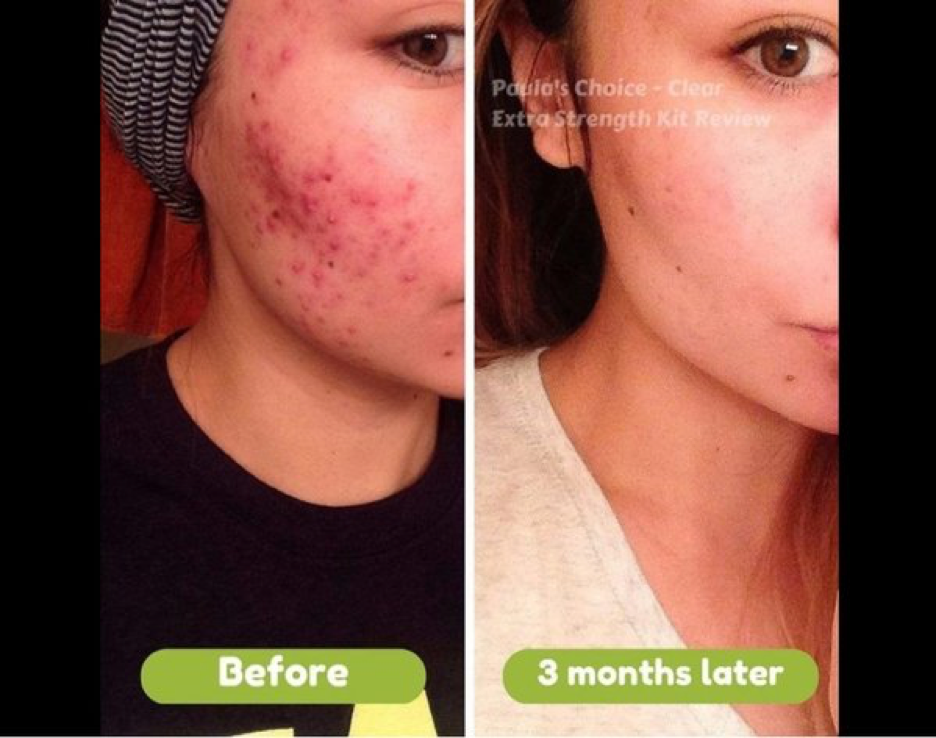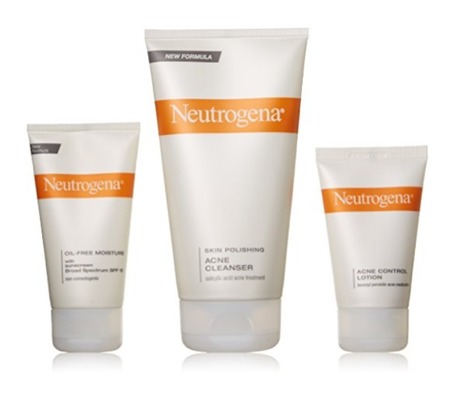 Neutrogena Complete Acne Therapy System kit contains three products – Cleanser (where the active ingredient is salicylic acid), moisturizer and Acne Control Lotion (where the active ingredient is benzoyl peroxide).
The kit is designed to reduce inflammation, cure and prevent future breakouts, as well as eliminate acne causing bacteria. The product suits all skin types and combats mild to moderate acne.
The customer reviews are reassuring (the product enjoy a solid 4 star user rating on Amazon with over 700 reviewers), and although mild allergic reactions have been reported by some users, it's a complaint that can be found on the reviews page of any skincare product.
Final Thoughts
Overall, Dermalogica Clear Start Kit is a good choice, if you have the budget for it. While it's not going to make wonders happen in most cases, the formula, ingredients and customer feedback makes it worth a shot, especially if no other product has worked for you before.
My advice would be to give the kit a try, understand which of the 5 products suits you best and keep replenishing only those ones to make it somewhat affordable.
Have you tried Dermalogica Clear Start Kit before? What results did you achieve? Share your experience with everyone in the comments!