All of us have experienced the pain, stress and annoyance of dealing with acne on a daily basis. Nothing compares to waking up to yet another angry zit on your face, making you find a solution for it yet again.
Luckily, there is a high variety of skincare products you could try to eventually find a way to deal with the acne. Today, we will be taking a detailed look at MEDca acne patches, understand how they work, how effective they are and whether they are worth a shot.
An acne patch (also known as a hydrocolloid bandage) is a small (around 0.8-1.2 cm in diameter), round shaped piece of material that is applied to the acne and acts like a spot treatment.
Most brands offer a variety of sizes (from S to XL) so you can always get a suitable one depending on the size of the blemish. Acne patches are used to treat almost all types of zits including whiteheads, blackheads, cysts, etc.
There are two common variations of acne patches – medicated and unmedicated.
Medicated acne patches are made of stiff, non-flexible material that feels like plastic. They are usually infused with various acne-combating ingredients like benzoyl peroxide, salicylic acid, tea tree oil or combinations of the three, along with a bunch of other, supporting ingredients that vary from brand to brand.
These patches are very light on the skin and work by creating a concealed environment around each blemish that protects the damaged area from dust and getting picked on, while also allowing the active ingredients to work their magic with greater efficiency, speeding up exfoliation and recovery time.
Unmedicated acne patches are drug free acne treatments and are made of thick, flexible hydrocolloid material, which treats pimples just like a normal wound. The main acne combatant here is the hydrocolloid dressing, which acts as a protective layer (discouraging picking at pimples and protecting the area from environmental dust) by forming a gel when exposed to liquid (including pus, skin oil and sweat), and literally sucks all the pus from the pimple, leaving a flat, less red and less inflamed area when removed.
Hydrocolloid dressings in acne patches are specifically made in a way to absorb more fluid than usual, accelerating the exfoliation process and speeding up recovery time, while also not allowing the pimple to dry out, which again, helps the wound heal faster.
Which Type of Acne Patch Should You Use?
The answer to this varies from case to case and individual to individual, but as a common rule, medicated acne patches are more suited for pimples in their early stages – when there is a lot of redness, inflammation and nothing is going to come out of the pimple anytime soon – while more mature pimples – those than can generally be described as ripe for squeezing – can be effectively treated with unmedicated patches.
Side Effects of Acne Patches
The great thing about acne patches is that they have virtually no side effects. The only instance where you could experience discomfort, itching and pain while wearing the patch would be if your body is sensitive to the active ingredients of medicated acne patches (sensitivity towards aspirin, benzoyl peroxide, etc.).
Even if that is the case though, since acne patches are limited to the area they cover, they will spare the rest of your face and all the side effects will be limited to the blemish, in contrast to creams or gels that are usually applied to the whole face. In any case, it's a good idea to test the patch (or test for allergies) before committing to it.
How Does MEDca Acne Patch Work?
MEDca acne patches represent the unmedicated type, meaning that there will be no undesirable side effects, and the major acne combatant is the hydrocolloid bandage. When applied to the damaged area, MEDca acne bandages absorb all the liquid (including pus and oil) and cleanse the pore thoroughly, while protecting it from the outside environment.
MEDca acne patches are advertised as suitable for all kinds of blemishes, however, based on the experience of previous users, we concluded that they don't work too well against whiteheads and blackheads (although a small number of reviewers said they do), yet excel at fighting pus-filled cysts of any size.
The patches are also suitable for all types of skin, adhere properly, are waterproof, breathable, transparent and unnoticeable, and you can apply makeup over those. The product comes in a high variety of shapes – including round, star and heart shaped bandages – and a few sizes including a handy travel size version.
Pros and Cons of MEDca Acne Patch
Like any skincare product, MEDca acne patches have their pros and cons. Let's have a look at them.
PROS
Easy to use
Breathable, light, transparent and waterproof
Good adherence
No side effects
Works as both a daytime treatment and overnight treatment
You can apply makeup over it
Suits all skin types
Fragrance, chemical and drug free
CONS
Doesn't effectively handle all kinds of blemishes
Still noticeable under makeup
Needs to be used more than once to achieve the desired effect
Ineffective against many pimples and severe breakouts
How to Use MEDca Acne Patches
MEDca acne patches are incredibly easy to use. The only thing that you should pay attention to is whether you should pop the pimple before applying the patch. While the product is advertised that you don't need to do so (and many users confirm this), a sizable chunk of users found that their zits heal much better when they inflict a tiny hole in the pimple, usually with the help of a small needle, so that the patch extracts the pus faster. I suggest you try both variants to see which is more effective for your case.
Here are detailed directions:
Wash your face
with warm water and soap (or a cleanser) to open up skin pores. Pat dry.
Make sure you've dried your face properly and don't apply any medication under the patch.
Apply the patch directly to the blemish and let it sit (possible to apply it overnight). You could inflict a tiny hole into the pimple with the help of a needle as mentioned above. Once the patch goes to white from translucent, you'll know its job is done.
Remove the old patch and apply a new one if needed. Repeat as many times as necessary.
What Results to Expect After Some Time of Use
MEDca acne patches are usually pretty quick to show results. Even a single application can be enough to make the blemish significantly flatter, less red and less inflamed. However, note that the hydrocolloid bandage takes care only of the pus inside the pimple, meaning that it will still take time for the wound to heal properly before it's gone, along with any remaining redness in the area.
Customer Reviews of MEDca Acne Patch
Customer reviews of MEDca are generally positive. The product enjoys a solid 4 star user rating on Amazon with over 450 reviews, which is not bad at all for a skincare product. Most users report the patches to adhere pretty well and accomplish the job fairly quickly. There are some users that have reported the patches to not work in their case, but no other major complaints.
Here are some of the most impactful reviews: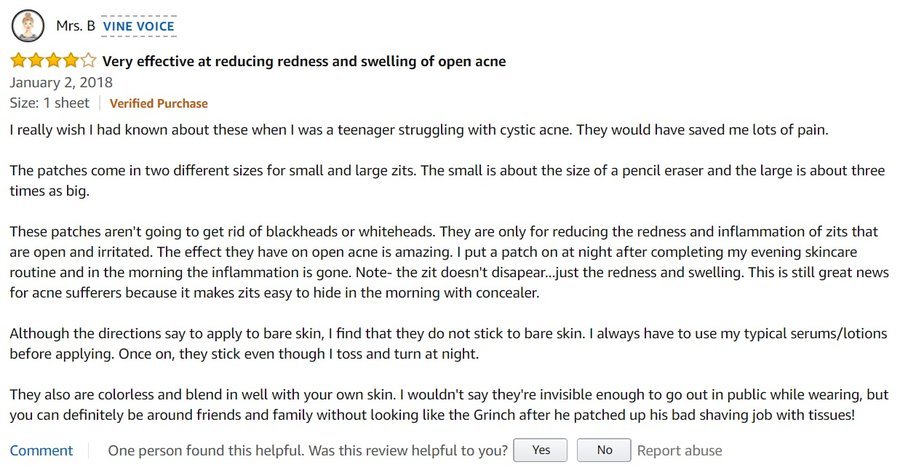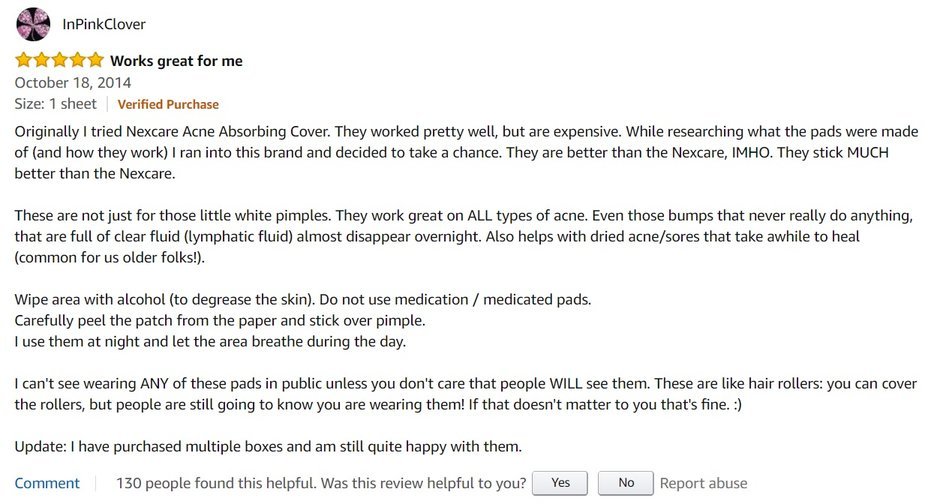 Where to Buy MEDca Acne Patches
Currently the best places to purchase MEDca acne patches are Amazon. The product is well priced, always under $6, with occasional discounts bringing it down to $5.
Never buy any skincare products from sellers you don't know or trust, especially if they offer a cheaper price! There are tons of counterfeit or damaged products on the market and saving a few dollars today might lead to spending a few hundreds to fix possible, unwelcome effects. You don't need that.
Questions to Consider Before Buying the Product
Can I use this in combination with other products? – It's generally inadvisable to use any other skin clearing agents when using the patches, but it all depends on your specific case. You can safely wear makeup over the patches.
How long does a pack last me? – It depends on how many blemishes you are going to treat and how well does your skin respond to treatment. Generally, the pack should last for 7-10 days.
Does it contain latex? – Most of the similar products on the market have confirmed that they don't contain latex, however, MEDca doesn't provide any specifications on this matter. You'll want to be careful if you're allergic to latex.
Does it cause dryness or irritation? – MEDca patches don't have any unwelcome side effects and are chemical and drug free. You may only experience such effects if you have hypersensitive skin.
Is the product suitable for all skin types and tones? – Yes, MEDca acne patches are specifically designed to be gentle on every skin type and suit every skin tone.
Alternatives to MEDca Acne Patch
In case you aren't able to get your hands on MEDca acne patches, here are two great alternatives:
Nexcare acne patches work similarly to MEDca, extracting the pus out of the blemish and speeding up healing and regenerative effects.
Being an unmedicated acne patch representative, Nexcare acne bandages don't cause any side effects like dryness or itchiness, are transparent and gentle on the skin.
The product comes in a variety of sizes, blends well with all skin types and is safe to use. In terms of customer experiences, Nexcare Acne Cover enjoys a solid 4 star user rating on Amazon with over 2000 reviews to support it.
Key features
No dryness or itchiness
safe to use
2. COSRX Acne Pimple Master Patch
Produced by the Korean skincare brand COSRX, this product represents the medicated type of acne patches
and is packed with a number of powerful acne-combating ingredients like Cellulose gum, Styrene Isoprene Styrene Block Copolymer, Polysobutylene, Petroleum Resin, Polyurethane Film, Liquid Paraffin and Tetrakis Methane.
The product is very light and almost unnoticeable on the skin, and works by reducing inflammation while speeding up healing and regeneration. The adherence of the acne patches are great and the product enjoys a solid 4 star user rating on Amazon with over 2000 reviewers having shared their opinions.
Key features
Reduce Inflammation
Speed healing and regeneration
Final Thoughts
MEDca acne patches are rather affordable, work pretty well and don't cause any side effects, which makes them a solid choice if you're looking to try such kinds of products. Bear in mind that acne patches are mostly good at fighting an occasional pimple or two, but they would be very inefficient when dealing with systematic, severe breakouts.
The majority of previous users are happy with the results and recommend giving the product a try, which in my opinion, is very safe to do. Even if the product doesn't work for you, at least you'll gather some experience at the cost of no side effects and just a few dollars.