We've all had that one blemish popping up at literally the worst time – before an interview, meeting new people, or any other occasion when you need to show your face in the public, and want it to be perfect.
Luckily, there is a way to deal with those nasty zits quickly and effectively. Acne patches are specifically designed to significantly reduce (and even eliminate) blemishes overnight, without causing any side effects or unexpected reactions.
Today, we take a detailed look at Mighty Patch, understand its strengths and weaknesses, whether it's worth a try and how to use it efficiently.
Acne patches (also known as hydrocolloid bandages and acne spots) are thin, usually transparent, small (8-12mm) round-shaped pieces of gelatin-like material that are applied to pimples and act as spot treatments. Many brands offer a high variety of sizes (from S to XL) making it easy to find a suitable one for every zit size.
Different acne patches are used to treat different blemishes (whiteheads, blackheads, cysts, pustules, etc.) and, depending on the brand and manufacturing techniques, there are two variations available – medicated and unmedicated acne patches.
Medicated acne patches are usually made of thin, stiff, non-flexible material that reminds plastic. Those are commonly infused with proven acne combating ingredients (like benzoyl peroxide, salicylic acid, tea tree oil or different combinations of those), along with some other, supporting ingredients that accelerate exfoliation and regeneration, and vary from brand to brand.
Medicated patches are very light and almost unnoticeable on the skin, and work by isolating the pimple from any outside effects, preventing dust and debris from getting inside the wound and discouraging you from picking on pimples, while allowing the active ingredients to do their work with greater efficiency and speed up recovery time.
Unmedicated acne patches are made of thick, flexible hydrocolloid material that reminds gelatin that treats an acne lesion just like any other wound. These are 100% drug and chemical free spot treatments and work by extracting the pus and guck from inside the zit, leaving a flat, less red and less inflamed skin are when removed.
The main acne combatant is the hydrocolloid dressing, which forms a protective layer when exposed to fluid (including sweat, oil and pus), discouraging you from picking at your face and keeping dust and debris out of the wound.
The hydrocolloid material is specifically made to absorb more fluid than usually, accelerating both exfoliation and recovery processes, while keeping the wound somewhat moisturized, which again, helps the skin heal faster.
What Type of Acne Patch is Right for You?
Although the answer varies from case to case and depends heavily on your skin type, genetics and individual chemistry, in the vast majority of cases, medicated acne patches are more suited for the earlier stages of zits – when there is a lot of inflammation and redness – while unmedicated types can easily deal with mature pimples – when you can literally see the white pus underneath.
Are There Any Side Effects?
Since unmedicated acne patches are drug and chemical free, they do not carry any side effects at all. The worst thing that can happen is that they are unable to treat your acne, but that's about it.
Medicated acne patches may have some mild side effects depending on your skin type and skin's response to active ingredients. For instance, if you can't tolerate benzoyl peroxide or have very dry and/or sensitive skin, medicated acne patches may cause excessive dryness, irritation and itching.
It's also worth noting that the concentration of active ingredients is higher compared to other skincare products, mainly because the patch isolates the pimple from the outside world. On the bright side, even if you're sensitive to active ingredients, the above mentioned side effects will be limited to the blemish area, in contrast to gels and creams that usually cover larger areas of the face.
Finally, don't use medicated acne patches if you're allergic to benzoyl peroxide or aspirin. The effects may be harsher and you'll end up in more trouble than before.
What is Mighty Patch and How Does it Work?
Mighty Patch is produced by the NYC-based brand Hero Cosmetics. Though being a newcomer, the brand is dedicated to delivering high quality skincare products and cosmetics that are based on natural ingredients. The manufacturer specifically made a trip to South Korea, where acne patch treatments originally came from a couple of decades ago, to learn all the ins and outs of the production techniques.
One thing that highly differentiates Hero Cosmetics and Mighty Patch from similar products is the fact that the patches are produced not just by following Korean skincare techniques, but are also are created in South Korea, under the direct oversight of the brand. This essentially means that there is no chance for a defective or counterfeit product to enter the market and users will always get the quality and value they are looking for, which is very important.
Mighty Patches represent the unmedicated version and come in medium sizes (12mm) with each pack containing 36 patches. They are thick, flexible, non-drying, 100% drug and chemical free products with good adherence, and work by directly sucking the guck out of the acne lesion. The patches also feature a neat matte finish, which allows them to blend fairly well with all skin tones.
The product works best for whiteheads, cysts and pustules, and can sometimes help coax fluids to bring all the pus to the surface of the skin. The product doesn't work on blackheads. Also, according to customers, the patches are able to deal with poorly squeezed, old, hardened cysts.
Pros and Cons of Mighty Patch
Like any other skincare product, Mighty Patches do have their pros and cons. Let's have a look at them:
PROS:
100% drug and chemical free.
Non-drying.
Great adherence, even for oily skin types.
Manufactured in Korea under full control of the brand.
Can easily be covered by makeup.
Blends well with all skin tones.
CONS:
Doesn't work on blackheads.
Doesn't come in multiple sizes (only 12mm).
Somewhat pricey.
Might Patches are incredibly easy to use. Here are detailed directions:
Wash your face
thoroughly with warm water and a soap (or a cleanser) to open up pores and clear oil. Pat dry.
(Optional) you can use a sterilized needle to poke a tiny hole inside the pimple to accelerate exfoliation.
Make sure your face is dried well. Patches don't stick to wet surfaces.
Apply the patch directly over the pimple and leave overnight for best results. In the morning, the translucent color will turn white (which is the pus), and you'll know the job's done.
Remove the old patch and apply a new one as needed. Repeat as many times as necessary.
What Results You Can Expect After Some Time of Use
Acne patches are specifically designed to show results very quickly. Usually, a single overnight application is enough to reduce the blemish considerably, make it less red and inflamed, and calm the skin. Keep in mind that the hydrocolloid dressing takes care of the pus inside the pimple, but the wound will still take time to heal normally.
Customer Reviews of Mighty Patch
Customer reviews are overwhelmingly positive (the product enjoys a 4.5 star user rating on Amazon with over 150 reviews, and close to 80% of those are 5 stars rated). The vast majority of users have reported the product to be pretty effective when dealing with whiteheads and cysts, along with great adherence and skin blending.
Here are some of the most impactful reviews: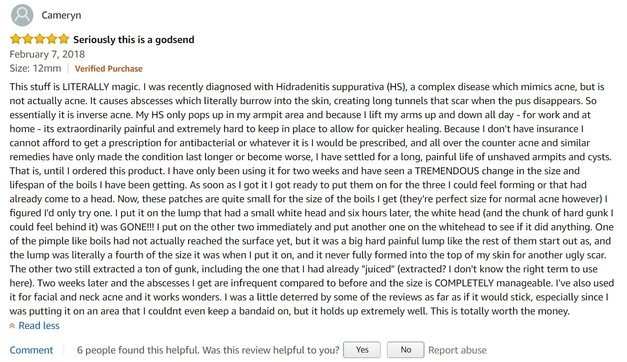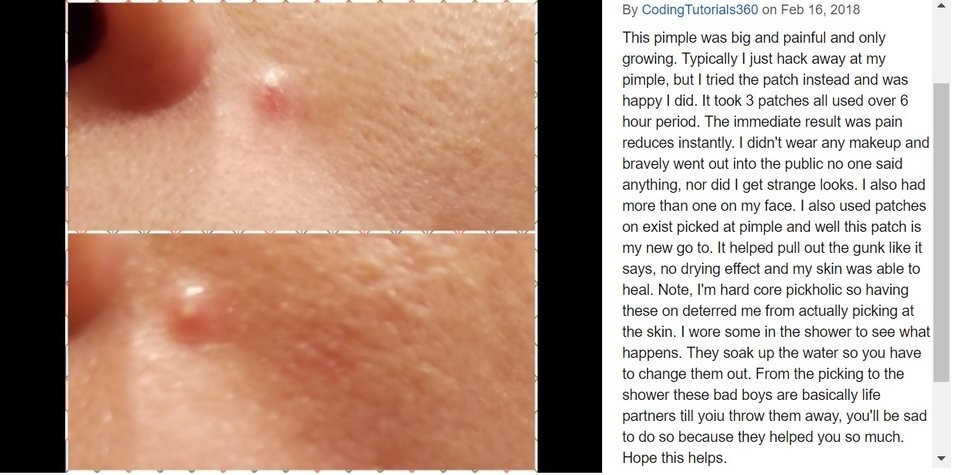 Where to Buy Mighty Patch
As of now, the patches are available only on Amazon.com. The product is somewhat pricey ($13 for 36 patches of medium size), but ships pretty quickly and is guaranteed to be of high quality. Avoid buying skincare products from sellers you don't know or trust. The market is flooded with counterfeit and defective products, and saving a few dollars today might lead to nasty consequences in the future.
Questions to Consider Before Buying the Product
Can I use this in combination with other products? – No. It's highly inadvisable to use any kind of skin clearing agents under the hydrocolloid dressing, since the results can be unexpectedly bad.
Can I cover those with makeup? – Absolutely. Mighty Patch blends well with most skin tones and if you cover them with makeup, they will be practically invisible in the public.
How long does the pack last me? – It depends on how many pimples you need to treat and how many patches will be required to get rid of a single blemish. These results usually vary from case to case, but generally, the pack should last around 10-14 days.
Does it contain latex? – No. Mighty Patch does not contain latex.
Does it cause dryness or irritation? – No. The product is specifically designed to be gentle on the skin without causing any discomfort. It also doesn't leave any marks or spots after removal.
Is this suitable for all skin types? – Yes. Mighty Patch can be safely used by all skin types and tones, without the fear of encountering any side effects.
Alternatives to Mighty Patch
In case you can't get your hands on Mighty Patch, here are two great alternatives to consider:
COSRX is a leading Korean skincare brand specializing in natural skincare products and cosmetics. The company is dedicated to delivering high quality products at an affordable price, which is made possible by them cutting packaging and marketing costs, which is a big plus for users.
The COSRX Acne Patch represents a mix between medicated and unmedicated types. The hydrocolloid bandage sucks the guck out of the blemish and secondary ingredients help speed up both exfoliation and recovery processes. Note that none of the ingredients are chemical by any means and are 100% safe to use.
Here is the full ingredient list: Cellulose gum, Styrene Isoprene Styrene Block Copolymer, Polysobutylene, Petroleum Resin, Polyurethane Film, Liquid Paraffin and Tetrakis Methane.
The patches are thick, flexible and gentle on the skin, adhere perfectly, suit every skin type, meld well with most skin tones and work best for whiteheads, blackheads and cysts. Customer reviews are generally positive (the product enjoys a solid 4 star user rating on Amazon with over 2400 reviews to support it.
Key features
Adult Acne & Scar, Beauty Tools, Skin Trouble
Hydrocolloid type
Pros
safe to use for all skin types
Convenient use
Low irritation
Cons
Won't work in super stubborn cystic acne
Nexcare is a specialized healthcare brand owned and operated by the company 3M, primarily focused on skin and wound care and infection prevention. While not being a traditional skincare and cosmetics brand, when it comes to acne patches, Nexcare offers some of the best products available on the market.
Being an unmedicated type of acne patches, the hydrocolloid bandage works similarly to Mighty Patch, extracting the pus out of the blemish and speeding up healing and recovery processes. No chemical or other supportive ingredients are present, which makes these patches 100% safe to use, even for the most sensitive skin types.
The product is thick, flexible and translucent, comes in a variety of sizes and blends well with most skin tones. In terms of customer reviews, Nexcare enjoys a solid 4 star user rating on Amazon with over 2000 users having shared their experience.
Key features
unmedicated type, are thick, flexible and transparent
use for all skin types
Pros
Gentle yet effective
Convenient use
Low irritationHelps reduce the urge to touch and pick at the blemishes
Cons
Not Made With Natural Rubber Late
Final Thoughts
Mighty Patch is a safe, well-designed, high quality product that comes at a slightly higher price compared to similar products. Probably the best thing about those patches is that the manufacturer has complete control over the production process, which means that the quality is always top notch.
Mighty Patch is a very solid product if you're considering to give acne patches a try, however, keep in mind that these are designed to combat an occasional pimple or two, and are pretty inefficient when dealing with severe breakouts. In the worst case scenario, the product will be of little to no help, but at least there will be absolutely zero harm done.