If you're constantly suffering from acne and have already started to think that you'll probably going to have them for the rest of your life and are about to give up, don't! The thing is, acne is a problem for over 80% of the world population and while the severity of each case varies greatly, all of those cases can be treated effectively. The only thing you need to do, is find the one product (or a combination of various products) that works for your skin type, unique chemistry and genetics.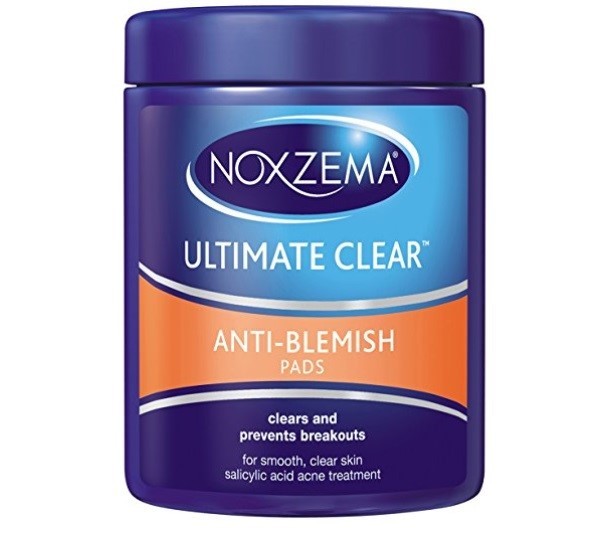 Today we take a detailed look at Noxzema acne treatment products, find out how they work, understand the strengths and weakness, who should use them and how to use them effectively.
How Noxzema Products Work
Owned by the internationally acknowledged British skincare company Unilever, Noxzema brand has been around for over 100 years. Ever since 1914, its products have been packaged and sold in iconic, dark blue colored jars and are primarily used as a daily face cleanser and makeup removal. However, there are also acne treatments focused on clearing mild breakouts, fighting occasional pimples and preventing future breakouts, while calming and soothing the skin and giving it a fresh and soft touch.
Among other ingredients, almost every Noxzema product contains camphor, menthol, phenol and eucalyptus, which give the products their distinctive, pleasant smell. All of those ingredients have highly potent anti-bacterial properties, but can irritate and dry the skin when used purely on their own (with no moisturizers). None of the products have any sun protection in them and you'll also need to use a cleanser fitting your skin type before each use.
In this review, we will be focusing on the most acne-targeted product of the brand – Noxzema Ultimate Clear Anti Blemish Pads. The active ingredient here is 2% salicylic acid, which acts as the primary acne combatant, supported by many other effective ingredients mentioned above.
Although the product does clear pores and treat current breakouts, Anti-Blemish Pads are designed to act primarily as an oil and grease remover, and is more focused on preventing future breakouts rather than dealing with the existing ones. It's not suitable for removing blackheads, cysts or any other type of moderate to severe acne. The jar contains 90 pads and is available in almost every drug and grocery store at around the cost of $5-$8.
Who should use Noxzema Ultimate Clear Anti Blemish Pads?
Noxzema Ultimate Clear Anti Blemish Pads are most suited for people with oily and combo skin types due to the aggressiveness of the antibacterial ingredients. People with dry and sensitive skin are highly likely to experience dryness and irritation, even when combining it with moisturizers.
Keep in mind that there is a small caveat concerning oily skin types as well. Usually, when you degrease and remove excess oil from the skin frequently, your body may respond by producing even more oil to compensate. This responsive reaction is rather normal and will discontinue after some time of consistent use. Also, using a moisturizer after each session will help decrease your body's urge to produce excess oil.
Allergies can be another concern. If you are allergic to salicylic acid, which is essentially aspirin, the product will prove to be unsuitable for you. You can still give it a try, but I'd recommend you to proceed with caution and use a tiny amount of it first and observe the skin's reaction before committing to daily cleansing. Also, the fragrance of the product can cause issues as well.
Although pleasant in general, the smell is very strong and some people may be allergic to the ingredients causing the smell, particularly menthol and camphor. It can also cause your eyes to water.
Pros and Cons of Noxzema Ultimate Clear Anti Blemish Pads
Here are the pros and cons of Noxzema Pads:
PROS:
Highly potent antibacterial ingredients.
Great for daily cleansing.
Highly suitable for oily and combo skin types.
Removes excess oil and dirt more efficiently than soaps and other cleansers.
Destroys whiteheads and any other on-surface located pimples.
Prevent future breakouts.
Affordable and long-lasting.
CONS:
May cause excess dryness and irritation.
Absolutely needs to be used with a moisturizer.
Strong smell.
Unsuitable for people allergic to aspirin, menthol and/or camphor.
May be unsuitable for people with dry and sensitive skin types.
Doesn't remove blackheads.
Not effective against severe breakouts or cystic acne.
How to Use Noxzema Ultimate Clear Anti Blemish Pads
Although the product is pretty easy to use, there are some things you should know and remember. Here are detailed directions:
Cleanse your face thoroughly before applying the product with an agent that fits your skin type.
Cover the entire affected area with a thin layer.
To avoid excessive dryness, start with a single application each day and gradually increase to three times daily.
Don't leave it on for more than 5-7 minutes.
Rinse thoroughly with water and avoid contact with eyes. If contact occurs, immediately wash the eye(s) with running water for 2-3 minutes.
Apply moisturizer after each session and use sunscreen if you're going out.
In case excessive peeling occurs, reduce the usage to every other day. If the problem persists, discontinue using.
What Results You Can Expect After Some Time of Use
The results are generally significant and very fast to occur. After a single application, you'll instantly feel the light stinging caused by the ingredients and know the product is doing its job.
After washing your face, your skin will be considerably less oily and feel very clean, soft and nourished. With consistent use, existing breakouts will get reduced and your skin will become less prone to future breakouts.
Customer Reviews of Noxzema Ultimate Clear Anti Blemish Pads
Customer reviews of Noxzema Anti Blemish Pads are generally positive. The product enjoys a solid 4 star rating on Amazon with over 70 reviewers sharing their experience. Here are some of the most impactful reviews:




Where to Buy Noxzema Ultimate Clear Anti Blemish Pads
You can purchase Noxzema Pads pretty much everywhere – Walmart, local groceries or drug stores, Amazon and their official website. The price is very affordable and usually varies from $5-$8 per jar.
Although the product is available in multiple places, I'd highly recommend to acquire it only from sellers you know and trust. There are a lot of defective/counterfeit products in the market and using those may cause a lot of unwanted reactions that may become a nuisance or even a real issue. When faced with such a choice, don't try to save a few dollars taking the risk of unwanted side-effects, particularly when the original product is not expensive to begin with.
Questions to Consider Before Buying the Product
Can I use it in combinations with other products? – According to the manufacturer, it's highly inadvisable to use Noxzema products with other skin clearing agents at the same time due to becoming vulnerable to excessive dryness and irritation.
Can use it under makeup? – You can safely apply make up after each session. Moreover, the makeup will also act as sun protection so it's even recommended in a sense.
Any allergic reactions I should worry about? – The product does have a high risk for allergies, due to containing tons of potent antibacterial ingredients. The primary allergy-causing ingredients you should know about are aspirin, menthol and camphor.
How long does the jar last? – The jar contains 90 pads so when using it daily, it should last for 30-45 days on average.
Is it suitable for my skin type? – The product is primarily suited for oily skin types since it's mostly focused on degreasing the skin. Dry and sensitive types may use it as well, but it may prove to be less effective.
Does it cause dryness and/or irritation? – It many cases, it may. The acne-combating ingredients are very strong, which is why you should always use a moisturizer after each session.
What types of blemishes does it work for? – The product is fantastic for clearing whiteheads and any other on-surface located blemishes. It is unsuitable for blackheads, cysts and pimples located deep inside the skin.
Alternatives to Noxzema Ultimate Clear Anti Blemish Pads
In case you can't get your hands on Noxzema Pads for some reason, here are two great alternatives to consider
#1 Green Tea Matcha Gentle Foaming Exfoliator
Green Tea Matcha by Once Upon a Tea is a very gentle exfoliator and cleanser suitable for all skin types including dry and sensitive skin. The product can be used every day – morning, midday and night – and doesn't cause irritation or excessive dryness. The product's all natural formula – with Green tea extract, eco-friendly silica microbeads and Moringa seed extracts acting as the main ingredients – is focused on fighting breakouts, reducing fine lines, minimizing pores and exfoliating blackheads from deep layers of the skin.
It is also an effective makeup remover and activates surface cell regeneration for a smoother, younger and firmer skin.
Customer reviews are generally positive (the product enjoys 4.5 user rating on Amazon with over 50 reviewers sharing their experience). You can see the full list of reviews here.
Key features
very gentle exfoliator
cleanser suitable for all skin types
#2 Paula's Choice–CLEAR Extra Strength Acne Kit
Paula's Choice Clear Extra Strength Acne Kit
utilizes the antibacterial properties of salicylic acid and benzoyl peroxide to combat even some of the
most severe acne breakouts and cysts
. The kit is composed of three 3 products – cleanser, exfoliating solution and daily skin clearing treatment – designed to act as your morning and evening skincare routine. It also reduces side effects like redness, itching and irritation, making it suitable for all skin types including dry, oily and sensitive skin.
In terms of customer reviews, there are not enough users sharing their experience with this particular kit, but the ones that have report pretty solid results and recommend giving it a try.
Key features
utilizes the antibacterial properties
reduces side effects like redness, itching and irritation
Final Opinion
Noxzema Pads are a solid choice for people trying to combat mild breakouts and occasional pimples. While it does work against existing breakouts pretty well, the product is primarily designed to reduce the chance of future breakouts when used consistently.
Due to the highly potent antibacterial properties of the ingredients, it is primarily suited for oily skin types. According to users and following the vast experience of the brand, the product delivers exactly what it advertises to at an affordable price. Unless you're allergic to aspirin, menthol or camphor, I'd definitely recommend spending a few dollars on these Pads and see what you get. 9 out of 10 times, you'll be more than satisfied with the results.