With around 80% of teenagers and adults struggling with acne on a daily basis while having different skin types, genetics, living under highly variable environmental factors and essentially having to go over a high number of skincare procedures and/or products, ranging from cleansers and acne combating agents to procedures like acupuncture and powerful medication like Accutane, to find the one that may finally work for their case, the choice becomes a really stressful challenge.
To make your life easier, we set out to research the vast skincare market and present you with the best acne solutions today in each of their respective categories. For this post, we have carefully researched over 15 acne patches and handpicked the top five choices that have proven their worth in more ways than one.
All the products on your list have been chosen based on ingredients (active, passive, primary secondary), exfoliative mechanism, brand reputation, previous customer reviews and ratings, cost vs. reward, time needed to produce noticeable results and the ability to cure acne while not causing any unwanted side effects.
Here are the top 5 most effective acne patches:
​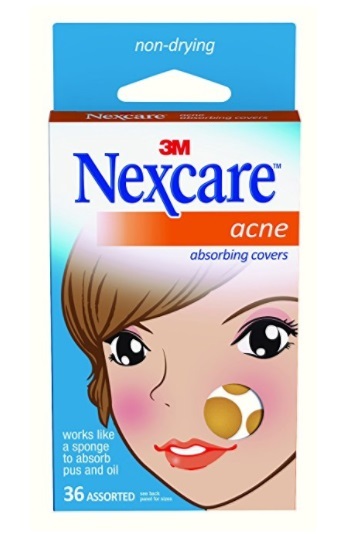 Nexcare is a specialized healthcare brand owned and operated by the company 3M. It is primarily focused on delivering products that are focused on skin and wound care and infection prevention. While not a typical skincare brand in its essence, when it comes to acne patches, Nexcare has succeeded in creating a high quality hydrocolloid bandage that treats a pimple just like any other wound.
Nexcare acne patches are unmedicated, thick and flexible hydrocolloid bandages that work very similarly to liposuction – extracting the pus out of the pimple wound. There are no chemical or supportive ingredients included, which makes it the safest choice even for the most sensitive skin types out there.
Nexcare acne patches are designed to fit every skin tone and type, blend well with the surrounding skin thanks to being transparent and work best against whiteheads and blackheads.
What we like
✓ 100% safe to use even for most sensitive skin types
✓ Quick to produce noticeable results
✓ Great exfoliation due to thickness of the product
What we don't like
✕ Somewhat poor adherence
✕ A bit pricey compared to similar products
Our rating
#1
#2 COSRX Acne Patch – Best Overnight Treatment for All Kinds of Blemishes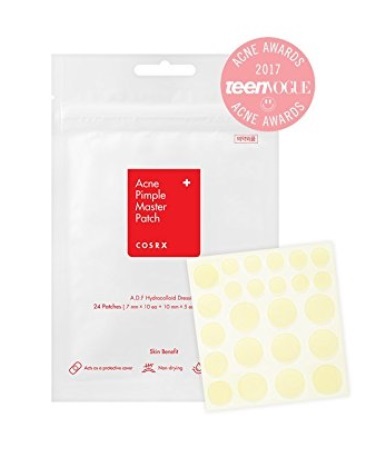 COSRX is a leading Korean skincare brand with over 13 years of experience in the industry, focused on delivering highly potent, yet affordable products that minimize chemical ingredients and utilize the healing properties of natural products. A key factor that's working in favor of the brand tremendously, in terms of delivering products that actually work at an affordable price, is their strategy to cut advertising and packaging costs, which hurts their marketing, but instead delivers products that people can use safely and experience improvements.
COSRX acne patches represent a kind of a mix between medicated and unmedicated types. While the hydrocolloid bandage still works by sucking out the guck out of the pimple, it doesn't solely rely on this process and contains supporting ingredients that help speed up exfoliation and recovery. Here is the exact ingredient list: Cellulose gum, Styrene Isoprene Styrene Block Copolymer, Polysobutylene, Petroleum Resin, Polyurethane Film, Liquid Paraffin and Tetrakis Methane. Note that none of the ingredients are chemical in any way and are 100% safe to use.
COSRX acne patches are designed for all skin types, adhere perfectly, blend fairly well with most skin tones, can be used as both daytime and nighttime treatment, work excellently for various types of zits including whiteheads, blackheads, cysts, etc. and do not cause unwanted allergic reactions.
What we like
✓ Suitable for all skin types
✓ Deals with most kinds of blemishes
✓ Great adherence
What we don't like
✕ Noticeable under makeup
✕ Ineffective for severe breakouts
Our rating
#2
Check best price
MEDca acne patches represent the unmedicated type and combat acne with the help of the hydrocolloid dressing. When applied to an acne lesion, it absorbs all the liquid including pus, oil and sweat, protecting the wound from outside factors and accelerating healing and regenerative processes.
The hydrocolloid bandage is made of thin, flexible material that is unnoticeable on the skin. Also, the thinness of the dressing allows it to adhere very tightly, ensuring that it won't fall at some point on its own. Unlike other acne patches, they can be covered with makeup pretty easily and, depending on your skin tone, will be less visible to others (the lighter the tone, the less visible the patch).
MEDca acne patches are designed to suit any skin type, do not cause side effects, irritation, dryness or itchiness, and are particularly effective when fighting big, pus-filled cysts.
What we like
✓ Great adherence
✓ Almost unnoticeable on the skin
✓ Effective against severe acne cysts
What we don't like
✕ Needs to be used frequently to produce sustainable results
✕ Don't work well for blackheads and whiteheads
Our rating
#3
#4 Mighty Patch Hydrocolloid Acne Absorbing Spot Dot – Best for Pus-Filled Zits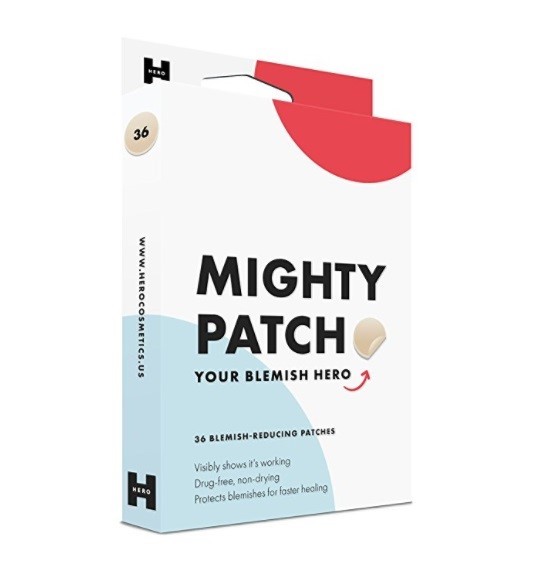 Mighty Patch acne treatment is produced by a new, NYC-based skincare brand Hero Cosmetics. The manufacturers made a trip to Korea, where these types of treatments originated from a couple of decades ago, to learn and understand the technique behind creating pimple patches that work by siphoning the guck out of the lesion. An important note is that Hero Cosmetics has full control over its production, meaning that there is almost no way you'll get a damaged and/or counterfeit product if you buy from the brand.
Mighty patches represent the unmedicated variant, suit every skin type including even the most sensitive ones, don't causing dryness, itchiness or burning, are 100% drug free and safe to use. The hydrocolloid dressing is made of high quality materials and absorbs liquid fast, while speeding up recovery and regeneration.
Mighty patches are thin and flexible, adhere to skin perfectly and are comfortable to wear on the face.
What we like
✓ Good adherence
✓ Gentle on every skin type
✓ Very comfortable to wear on the face
What we don't like
✕ Noticeable on the skin due to being yellowish
✕ Doesn't work for blackheads
Our rating
#4
Check best price
#5 Peter Thomas Roth Acne-Clear Invisible Dots – Best for Painful Zits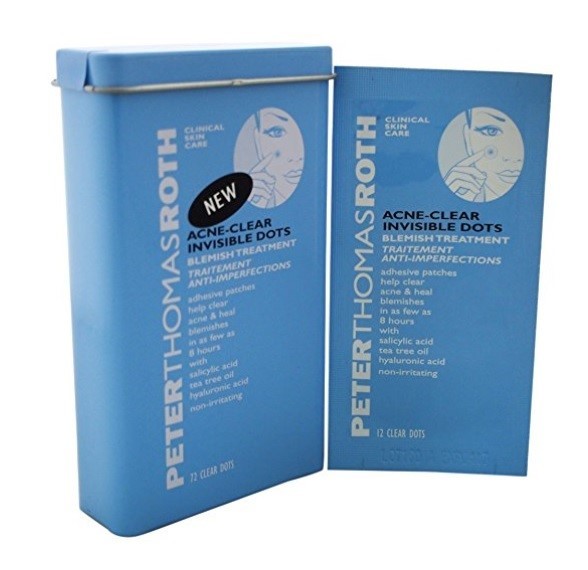 Peter Thomas Roth is a specialized skincare and cosmetics brand focused on producing products that combat acne and provide anti-aging solutions. Launched in 1993, the Hungarian brand has been utilizing the minerals and muds found in the Hungarian thermal springs, and combines natural healing properties of various ingredients, innovative technology and experience to produce products that work to effectively cleanse the skin without causing side effects.
The Acne-Clear Invisible Dots represent the medicated type of acne bandages, with salicylic acid being the active ingredient. Since the acne cover reduces any impact from the outside world and creates an isolated environment, it enables salicylic acid to work its magic with greater efficiency and accelerate exfoliation, healing and regeneration.
The patches are thin, flexible and transparent, adhere well and work for any skin type that isn't sensitive to salicylic acid or allergic to aspirin. Thanks to medication, the patches work very well for blemishes that are still in their shaping stage, when there is a lot of redness, itchiness, irritation and inflammation, reducing those effects and calming the skin.
What we like
✓ Effective against irritated, swollen and red acne lesions
✓ Good overnight adherence
✓ Salicylic acid eliminates acne causing bacteria and prevents it from spreading
What we don't like
✕ Ineffective for people who don't experience results from salicylic acid containing products
✕ Can be drying and irritating for sensitive skin
✕ Can't be used if you're allergic to aspirin (or salicylic acid)
Our rating
#5
Check best price
How to Choose the Best Acne Patch for Your Case
I'm sure that even when presented with the top 5 acne patches available on the market, you still struggle to answer the ultimate question:
"Which one is right for my case?"
Every person's chemistry is unique and there are a ton of factors influencing how your skin reacts to acne-causing bacteria, various treatment methods and possible prevention tactics, including environmental conditions, genetics, skin type, etc.
The choice is never straightforward and while Nexcare acne patches are the best in the vast majority of cases, for all you know, Peter Thomas Roth Acne-Clear Invisible Spots may better for your specific case.
To identify the best possible choice, here are the things you should consider:
How often you get acne and what kind
Your skin type and how it reacts to common skincare treatments
Allergies towards active ingredients
Cost vs. Reward
Size of the package
1. How often you get acne and what kind
The frequency of getting acne, the amount of acne you typically have to deal with and their most common types all play a big role. Pimple patches are designed to deal with the occasional pimple or two, yet they will be highly inefficient if you're having systematic breakouts. Also, various patches work best for various acne types – some are great for painful cysts, others only work on whiteheads or blackheads.
2. Your skin type and how it reacts to common skincare treatments
Depending on your skin type and its response to various treatments, you'll be able to choose which type of patches suit you – medicated or unmedicated. If your skin responds well to common skin clearing agents and ingredients that can usually be found in many skincare products (like benzoyl peroxide or salicylic acid) then the medicated type may suit you best, whereas if you have really sensitive skin and can't tolerate any chemical ingredients, you should absolutely go for unmedicated versions.
3. Allergies towards active ingredients
Most active ingredients are very aggressive and it's important to know whether you're allergic to them before using a skincare product. Also, note that the allergic reaction might be different depending on each person – for some it may be dryness, for others it may be itchiness, sharp pain or massive redness. Finally, try to memorize which ingredients you're allergic to – it will be a huge help when shopping for skincare products in the future.
4. Cost vs. Reward
The affordability of skincare products is also important. It is not uncommon for many well-known brands to overprice their products, simply because they have the reputation to back that up. Make sure to research thoroughly before buying and determine that the cost is really worth the reward. In some cases, cheaper alternatives can provide better results.
5. Size of the package
Finally, pay attention to the size of the package. Altering the size of the product is another way of subtly increasing the price. Also, you need to get an idea of how long will the product last – skin can be very delicate and sometimes it takes a long time to bring it to a satisfying condition.